You're looking to get a new pair of sunnies. You've seen some cool ones being advertised that would probably look good on you. Unfortunately, after trying several pairs and placing them back on the rack, one certain truth stands out - finding the right pair of sunglasses can cause you a severe case of frustration. And possibly cost you a little bit of your self-esteem.
Don't feel too bad though. It's got nothing to do with you specifically. It's all about your face shape. Not all designs will provide you with a great fit. You'll need at least a basic understanding of your face shape to find sunnies that will make you look like a model (or at least, feel like one).
What Is Your Face Shape And How To Measure It?
As we've already mentioned, there are several basic face shapes and finding the one that fits yours should help you determine which accessory will work well for you. So, how do you find out which one's yours? You need to measure your face.
Yes, you read it right. While you can approximate the shape of your face based on drawings and descriptions you'll find online, it's much easier to find your face shape using a more accurate method. All you'll need is a measuring tape and a mirror as well as a piece of paper and pen (or just the notes app on your phone).
Distance between your two cheekbones
The first step is to measure the distance between your two cheekbones. Place the end of your tape measure on the top of your cheekbone which is just below your eye. Then, measure the length to your other cheekbone. Take note of this number.
Your jawline
The second measurement you need to get is for your jawline. You'll find the end of your jawbone by feeling the area right below your ears. Place one end of the measuring tape on this point then measure the length, going around the bottom of your face towards the other end of the jaw bone. Write that number down as well.
The Face Length
The third measurement is for your face length. Locate the center of your hairline and place the end of your measuring tape on that point. Measure the length of your face from that point straight down over the top of your nose to the bottom of your chin. Take note of that number too.
Once you have all your measurements, you can use them to get a better idea of which face shape best fits you.

How to Determine Your Face Shape
There are 6 different face shapes - square, diamond, heart, oval, round, oblong/rectangle. Each type has certain specific characteristics that we've listed down below. Take note that your face may not necessarily feature all the characteristics of a specific face type. Most people have features that fit different face types. The key is to utilize the measurements you got to determine which face type "matches" you the most.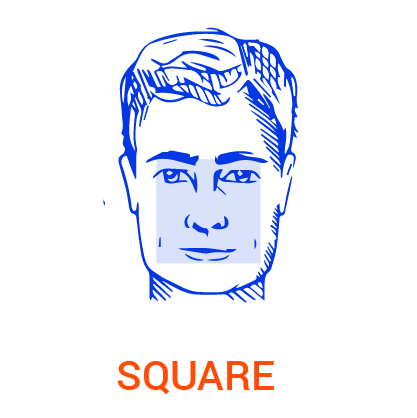 Square
A square-shaped face typically has a square/angular chin, a broad forehead, and a wide jawline. The width and length of the face are approximately equal in length. The hairline is almost straight.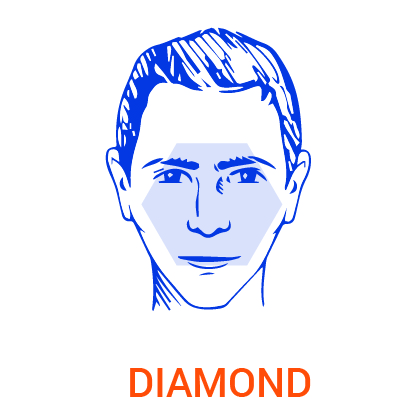 Diamond
As the name suggests, this face type is similar to that of a diamond. It features a narrow jawline and forehead while the cheekbones have the widest measurement. These cheekbones are also often high.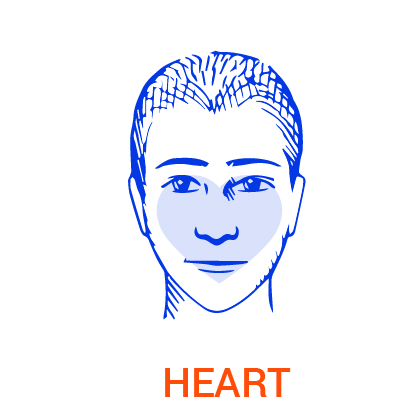 Heart-shaped
Heart-shaped faces have narrow chins and wide cheekbones and a broad forehead. The length of the face is longer than the width.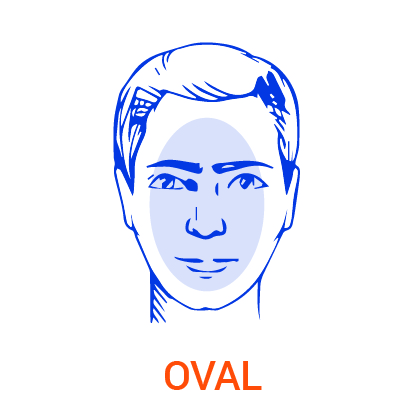 Oval
If you've got an oval-shaped face, then you've got no problem finding the best sunglasses for you. That's because just about any style would look awesome on you. Generally, the measurements of your face are well-balanced and proportionate. The cheekbones are slightly wider compared to the jaw and the forehead. The face length is slightly longer than the width.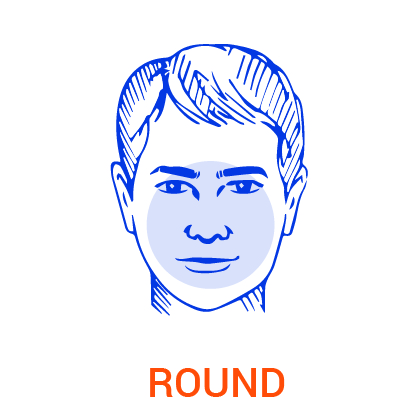 Round
Some of us were gifted with a "baby face." You'll find that this face shape features noticeable curves like plump cheeks, softer lines, and a gentle jawline. Even the chin is small and rounded. There are no sharp angles. The width and length of the face are almost equal.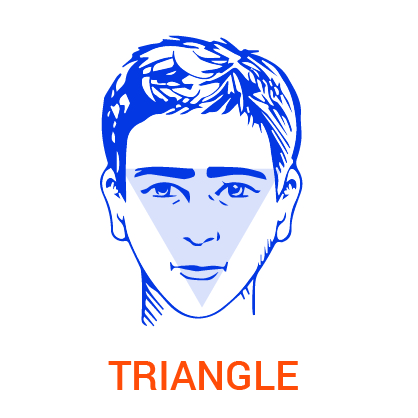 Triangle
Similar to the oval shape, an oblong-shaped face has three angles. This face type is usually long and narrow with the face length longer than the width. The measurements of the jawline, forehead, and cheekbones are generally equal. The chin is typically broad and angular like that of a square face.
Types Of Sunglasses
As you're probably already aware, Alpine Swiss launched its new product - mens polarized sunglasses. So you can choose different types of sunglasses. But, generally there are more sunglasses styles you can choose from. Of course, what you end up choosing is not just based on preference. Still, you aren't going to wear your new sunnies if you dislike how it looks, right? To help you figure out which of the sunglass shapes appeal to you (and fit your face shape), we'll give a short description of the most common ones below.
Aviator
Of all sunglasses types in the market, aviators probably are the most well-known. This style was originally made popular by pilots. It was worn by Tom Cruise in his movie Top Gun. Granted, that film has probably become quite obscure to the newer generations but the popularity of these glasses remains. You'll find that aviators generally feature teardrop-shaped lenses, metal frames, and clean lines.
Butterfly / Cat-eyed
It's easy enough to distinguish which frames will fit this style. The frame is oversized and curves upwards and tends to cover more of the face compared to other styles. You'll find that this style offers different shapes like round or oval-shaped cat-eye glasses as well as varying lengths of temple width and height.
Wayfarer
The Wayfarer is another iconic frame shape that has been around for decades and is considered to be a timeless design. This style is incredibly versatile since a lot of face shapes can wear it and look good. If you want to know what the Wayfarer looks like, just look up the Blues Brothers or James Dean.
Wrap
As the name suggests, this style of frame wraps around your face, covering most of your eyes and preventing any glare to sneak in from the side. This type of frame is usually worn by athletes or individuals who want to look like one. The frames are typically lightweight, streamlined, and designed to stay on even when performing strenuous activities like sports. Besides, they usually feature an aerodynamic design to help increase speed.
Create a Perfect Match
Now that you've figured out which face shape category you fall into, it's time to find your perfect match!
Square
Because this face shape is very angular, sharp-angled frames of a similar shape can make you look even more square and sharp. Small, narrow, and petite frames will make your face look bigger. To create a more balanced, softer look, you'll need to look for sunnies that are curved like round ones, teardrop-shaped, or oval-shaped. Other suitable designs include glasses with colored frames, cat's eyes glasses, aviators, and frameless glasses.
Diamond
To balance the angles of this face type, you would need to look for frames that accentuate the temples and brows. You may want to look for frames that feature a lot of design elements or bold browlines. The most suitable frame shapes are oval, rectangle, rimless, semi-rimless, horn-rimmed, and cat-eye frame shapes. Just make sure that your sunnies are not wider than your cheekbones.
Heart-shaped
Because of the "top-heavy" shape, you'll need to avoid glasses that are massive-looking as they'll only make the upper portion of your face look even bigger. You need to look for frame shapes that shift attention towards the lower portion of your face, elongating it and creating a more balanced look. These include round or rounded glasses, cat-eye glasses, teardrop-shaped glasses, butterfly glasses, frameless ones, and aviator-styled frames.
Oval
It's quite easy for an oval-shaped face to pull off frames that are wider than the broadest part of their face. The styles that would suit this face shape include wayfarer, round, horn, oval, square, cat's eyes style, aviators, and butterfly glasses. However, avoid massive-looking glasses or those with too wide frames. Also, narrow frames would not look good on an oval-shaped face.
Round
Because the shape is round, it's best if you look for glasses that will help you lengthen your face, make it more narrow and create contours. Look for a frame that has a greater width than height. For example, aviators, wayfarers, cat's eyes, square or rectangular glasses, wrap style glasses, and shield glasses.
Rectangular/Oblong
Because of the narrow shape of the face, you aim to make it seem broader which is why huge frames are suitable. Aviators and round-framed glasses are perfect as well. Narrow frames, as well as those with small glasses, will not fit an oblong-shaped face.
While it seems like buying a new pair of sunglasses requires quite a bit of effort on your part, in reality, it's not. Once you've determined what your face shape is, the fun begins. You get to try out different frames to see which ones suit your preferences the most. By figuring out your face shape beforehand, you eliminate frames that aren't suitable. So, the only problem left is which pair makes you look as awesome as you feel. As a bonus, you won't ever have a problem choosing glasses of any kind ever again.
---