10 Men's Fall Outfit Ideas To Stay Classy And Comfy
2023-09-20
This season is exciting for men's fall fashion because of the latest trends. Male fall outfit ideas can help guys update their comfy fall attire and autumn look. Although women are more in the loop when it comes to fashion men should not fall far behind because great fashion is reflective of great taste. There are a lot of cool men's fall style ideas that can get them initiated into men's stylish outfits. Guys can choose from classy to casual fall outfits depending on their purpose, preference, and personal style. Fall looks encompass a wide range of styles that will satisfy a wide range of tastes and personalities all in keeping with the season's colors and themes.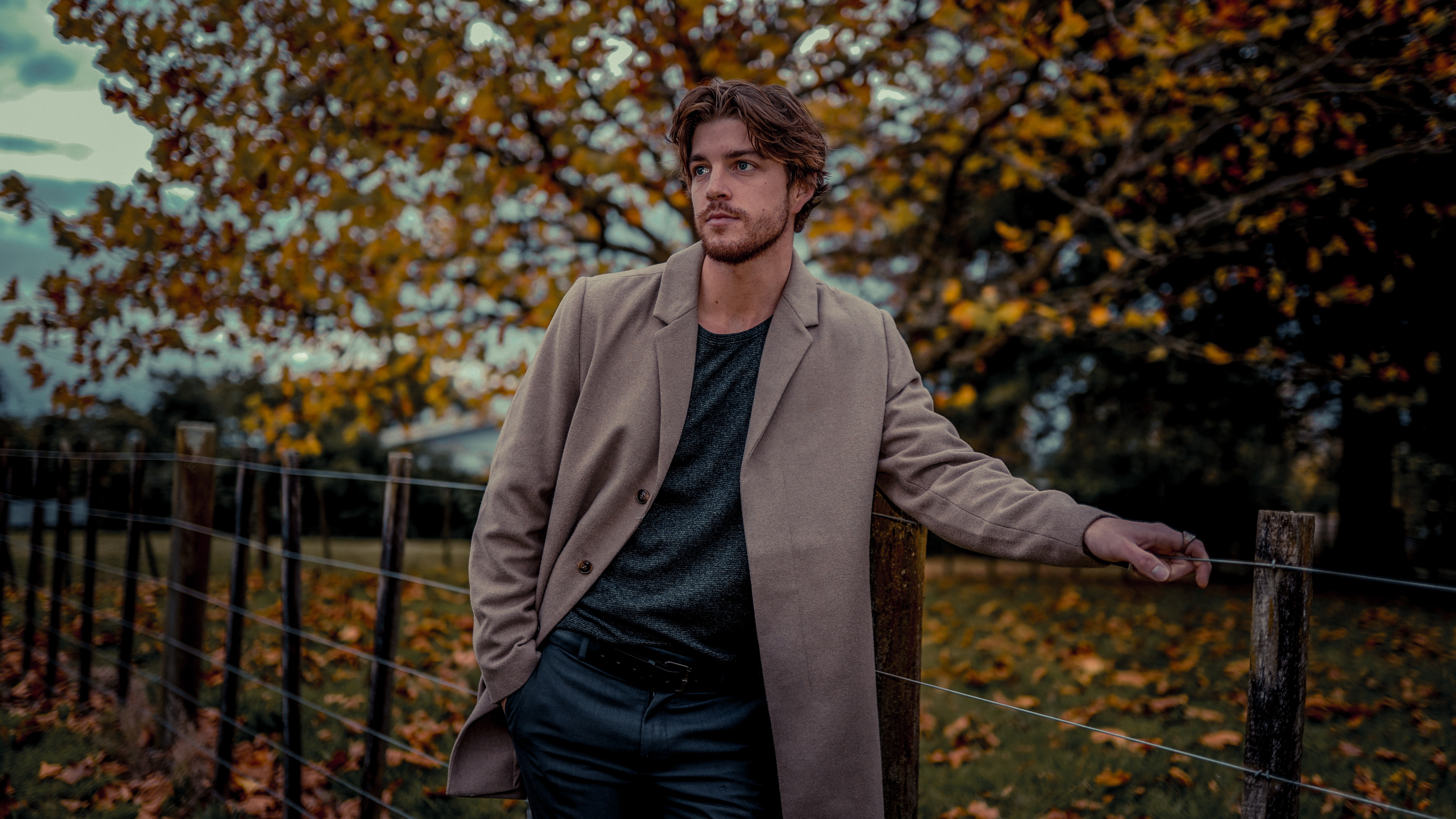 Embrace the Fall Textures
One of the most appealing aspects of fall fashion for men is the rich variety of fabrics it offers, making the outfits truly stand out. Spring and summer attire tend to be somewhat limited in terms of texture, with linen and cotton twill being among the few fibers that provide any tactile or visual interest.
However, when it comes to men's fall looks and style, the season is a sensory delight. Men's fall outfits get to shine with classic materials like denim, plus modern, weather-ready options like fleece and waxed cotton.
Highlight a pair of corduroy pants, this outfit captures fall perfectly with its soft texture and warm color. Pair them with a simple white shirt to maintain a balance in men's fall look.
Add a bit of stylish warmth with a brown leather jacket, which brings not only a layer of comfort but also a casual charm ideal for fall get-togethers.
Opt for olive green chinos to reflect fall colors, and their adaptable shade pairs well with other autumnal colors.
Add a navy sweater on top for additional warmth and a classic style touch, with the deep blue beautifully offsetting the olive green.
Complete men's fall style with a chic coat or jacket that not only provides a shield against the brisk fall winds but also brings the outfit together with a neutral and stylish finishing touch.
Denim For Fall Fashion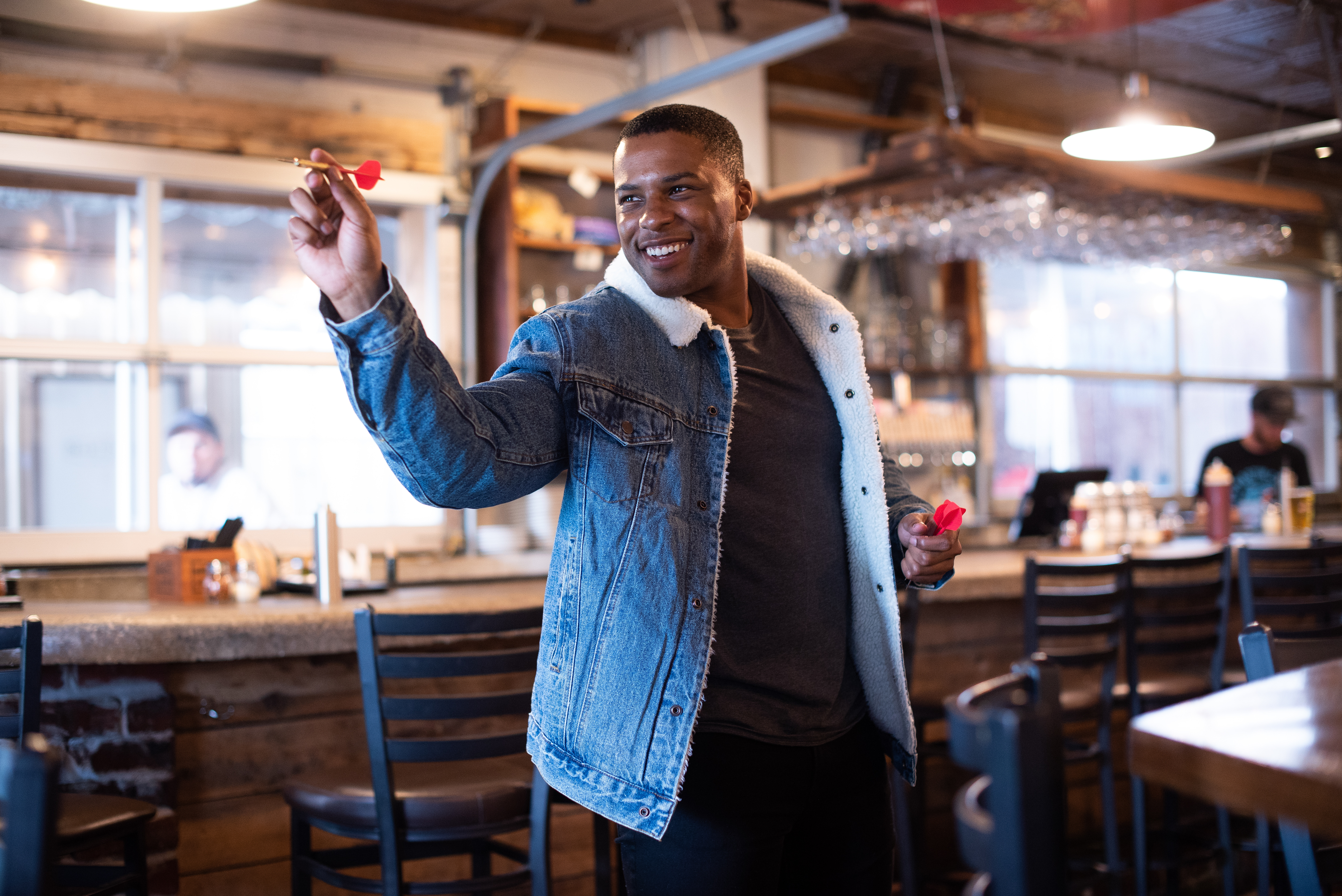 Think about wearing denim for your casual style during the fall. Denim is the penultimate accessory for men. It is iconic and transcends seasons. Denim can be worn anytime, anywhere and the result is always a great style. Men look great in denim because it gives them that tough and manly look. There are many types of denim apparel to choose from but the most iconic is the denim pants and the denim jacket. You can never go wrong with these two and having them in your wardrobe is almost a necessity for the men's fall look.
● Double denim - is a recent trend that can either pay off or end in disasters. The idea is to pull the fall style off successfully. Double denim simply means wearing denim jeans with a denim jacket. It may seem overkill but if there ever is a time to go all-out denim it is now said menswear editor Tony Cook. The trick to wearing double denim is to ensure that both types of denim are visibly different. You can do this by pairing dark denim pants with a lighter shade denim jacket.
● Nineties denim - the nineties are back and so are the types of denim. Yes, those iconic nineties denim that is looser fit with a pale finish. Pair this throwback style with solid colored hoodies and heavy jackets and dark shoes to add visual weight to the entire ensemble
● White Denim - white can put a lot of men at unease but pulling the look right gives a fresh and chic appeal. Choose denim that is off white rather than stark white and use tops that are simple and classic with the rest of your wardrobe.
Oxford Cloth Button Down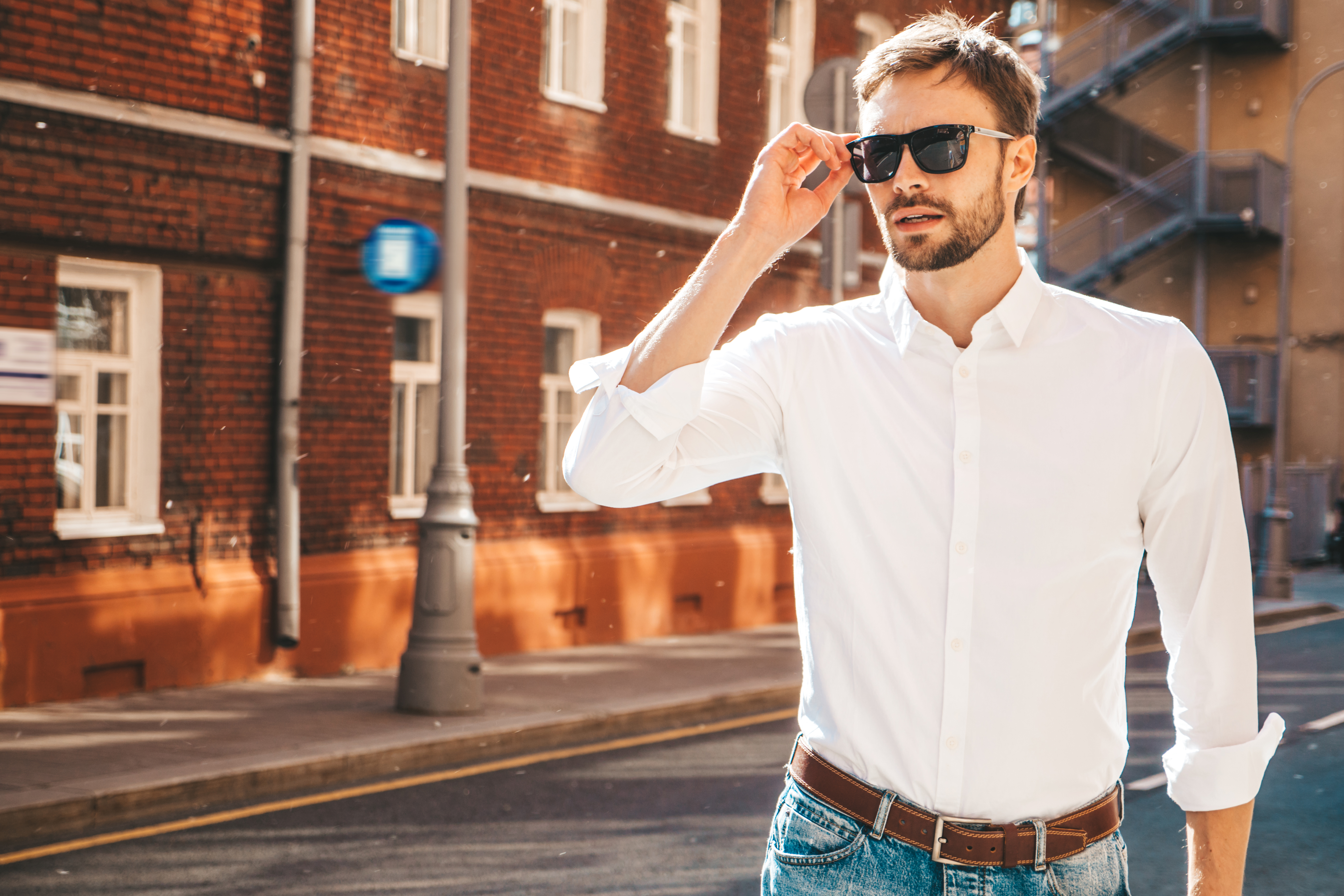 The Oxford Cloth Button Down Shirt is a classic stylish outfit for men and is a staple in men's fall style. The Oxford shirt is essential in any man's wardrobe and traverses the gap between smart and casual. The oxford shirt takes its name from the woven fabric Oxford cloth and the name has stuck ever since. This shirt is flexible and can be worn on any occasion but there are some rules to follow.
Formal - Oxford is not the fanciest weave to wear for formal occasions. Poplin and pique weaves are more commonly used in dress shirts. However, you can wear Oxford with a suit if you know how to get it right. The trick is to up the formality using high contrast colors. For example, pair your Oxford shirt with a burgundy knitted tie, navy cotton suit and oxblood loafers.
Business casual - Business and casual contradict each other but if you have to bridge the two when office dress codes continue to relax you can use your Oxford sure as the perfect garment. Oxford shirts are perfect as a business casual dress. Wear it with a blazer or as part of tailored separates and you'll still come across as stylish and never under-dressed. Complete the fall look with a sleek leather business briefcase. Not only does it add a touch of elegance to your ensemble, but it also provides functionality by keeping your documents and essentials organized.
Smart casual is the staple dress for day to day duties. It can be a trick dress code to pull off but the Oxford shirt was made for this. To change the vibe of the Oxford you can opt for a denim toned blue version with sand chinos. You also have the option of tucking it in or leaving it out depending on the look you want to achieve.
Everyday fall outfit - Some days you will need an outfit that can fit all occasions, such as a dinner with the in-laws after work. A long-sleeved Oxford shirt goes well with a navy sport coat and some washed down jeans. To complete the look, wear a pair of suede Chelsea boots.
Layering as a key for men's fall fashion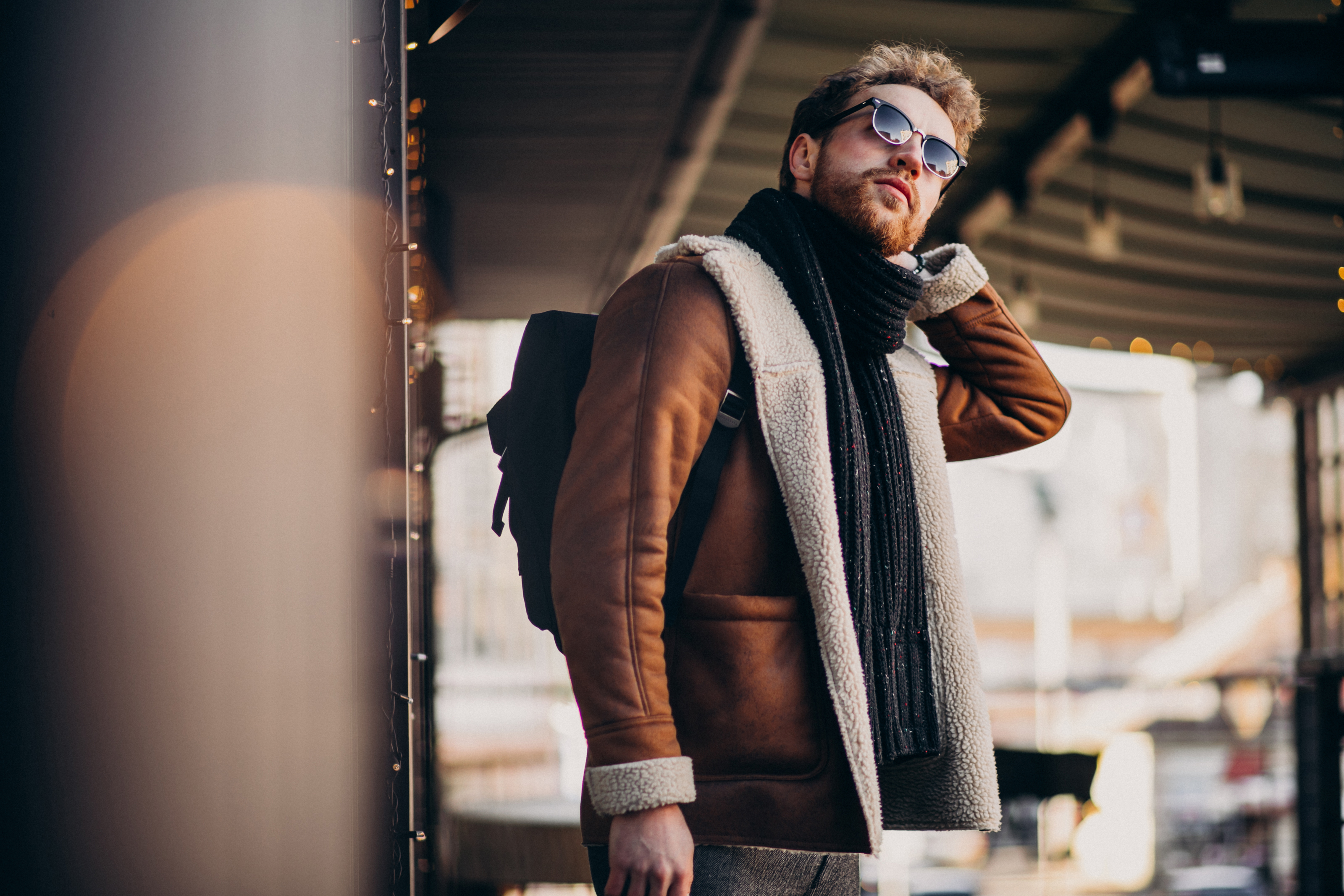 The fall is the season to layer up. In addition to considering tone and texture, crafting the perfect fall style for men often revolves around the art of lightweight layering. Autumn strikes a balance between not being too warm or too cold, offering a period of shifting conditions – a transition that becomes particularly evident when moving between indoor and outdoor settings. For those seeking autumn outfit ideas for men, the key lies in building a wardrobe that includes several lightweight layers, such as a t-shirt, a work shirt, and a raincoat. Wearing several thin clothes other than a single thick coat looks much more fashionable and feels more comfortable.
For men's outerwear nothing is more manly and classy for autumn look than a leather jacket. Leather jackets are popular in men's fall fashion because of their iconic status being associated with such fashion icons as James Dean and Steve McQueen.
Another men's fall attire idea is a classic pea coat jacket an embodiment of fall's cozy charm that never. It wraps you in warmth and sets the tone for comfort and class that never goes old in men's fall style.
Look neat with knit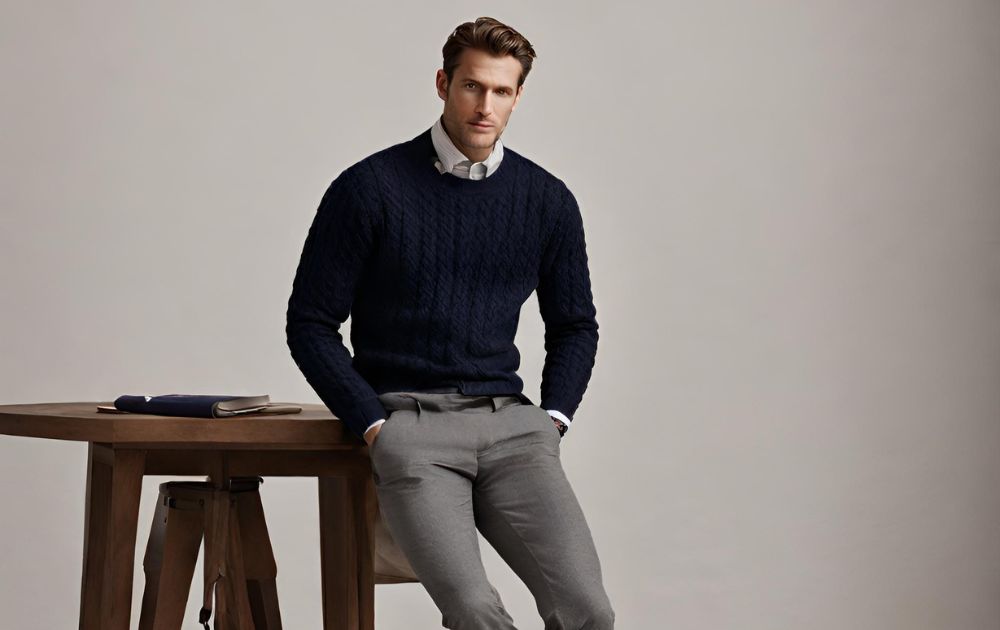 Knitwear lets you achieve a 'rugged yet cuddly' look for fall fashion. However, there are a few rules when wearing knitted clothing in men's fall style. First, opt for thin and smooth knits. They make a fine option for layering as opposed to big and bulky knitwear. Second, your outfit should be well-fitted, not baggy. Third, consider neutral colors like beige and khaki to easily mix and match layers. Here are some ideas for wearing knits this fall:
Thick knit with a prominent rolled collar. A navy merino crewneck, brown-knitted tie, a white oxford button-down, and a pair of grey chinos. Grey cable knit, black jeans, and boots.
Add a "mistakes to avoid" or a similar phrase to separate the intents between these two
Avoid looking boring by adding a patterned knitted sweater among your layers. Make sure your outfit colors match each other, such as a camel coat and a dark blue sweater.
If you're wearing a dark-colored jacket, the rest of your outfit should be in lighter shades. Wearing different shades of white makes your look interesting and doesn't make your outfit appear dark and gloomy.
Wear a grey or white crew-neck shirt, topped with waxed cotton jacket, and a pair of rugged wrangler jeans. To complete this look, use a brown leather belt and a pair of brown boots.
Ready for Rain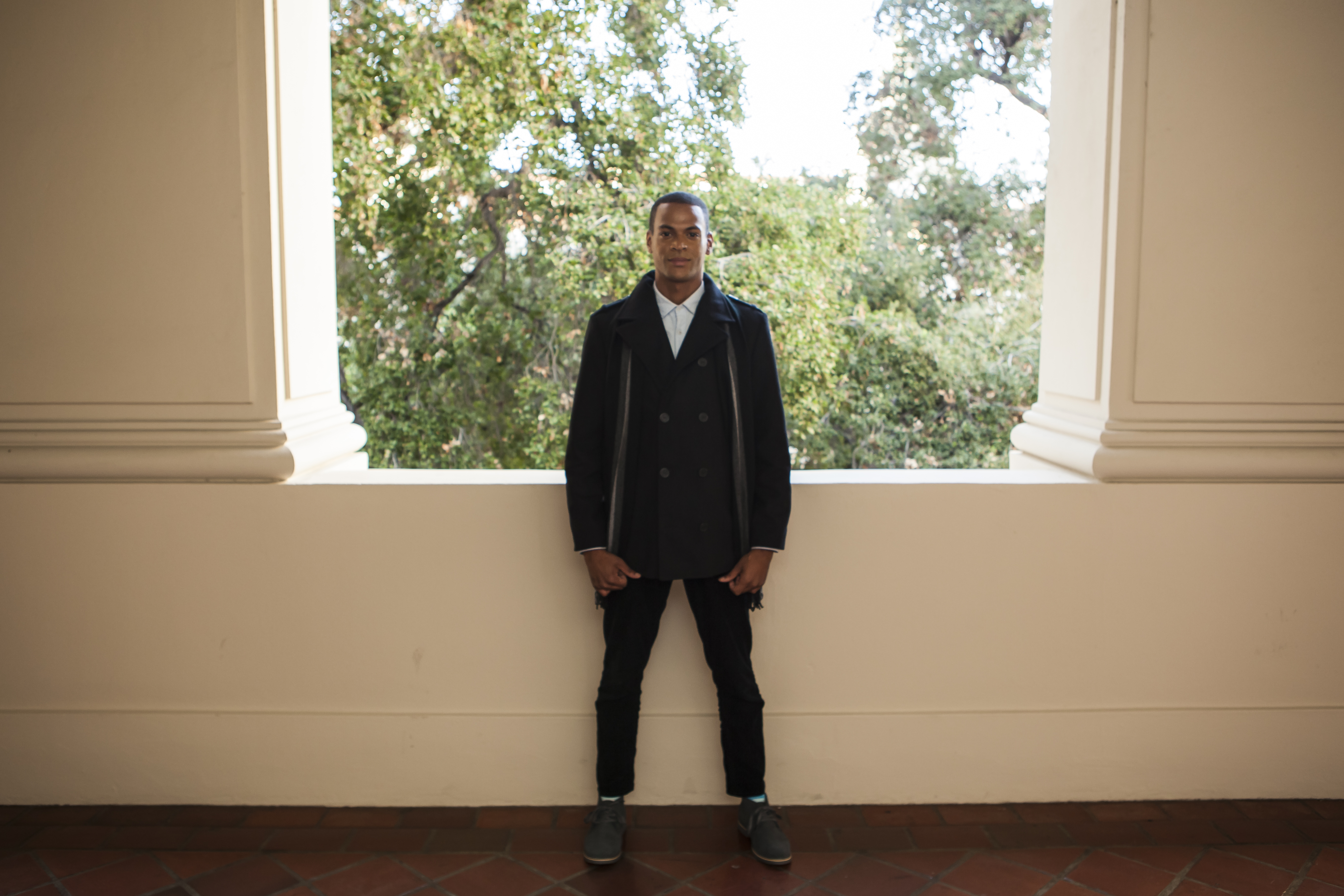 Being prepared for the unpredictable autumn weather is essential for fall outfits. That's where a waterproof coat or jacket comes into play, ensuring you'll not only maintain your style but also stay comfortable in the face of unexpected showers.
Raincoats, a must-have for men's fall outfits, come with breathable fabrics and convenient pockets, making them a practical addition to your wardrobe. What's more, they easily fold away when the weather clears up. As an added bonus, technical outerwear has never been more on-trend, adding a contemporary flair to fall fashion for men.
Smart casual look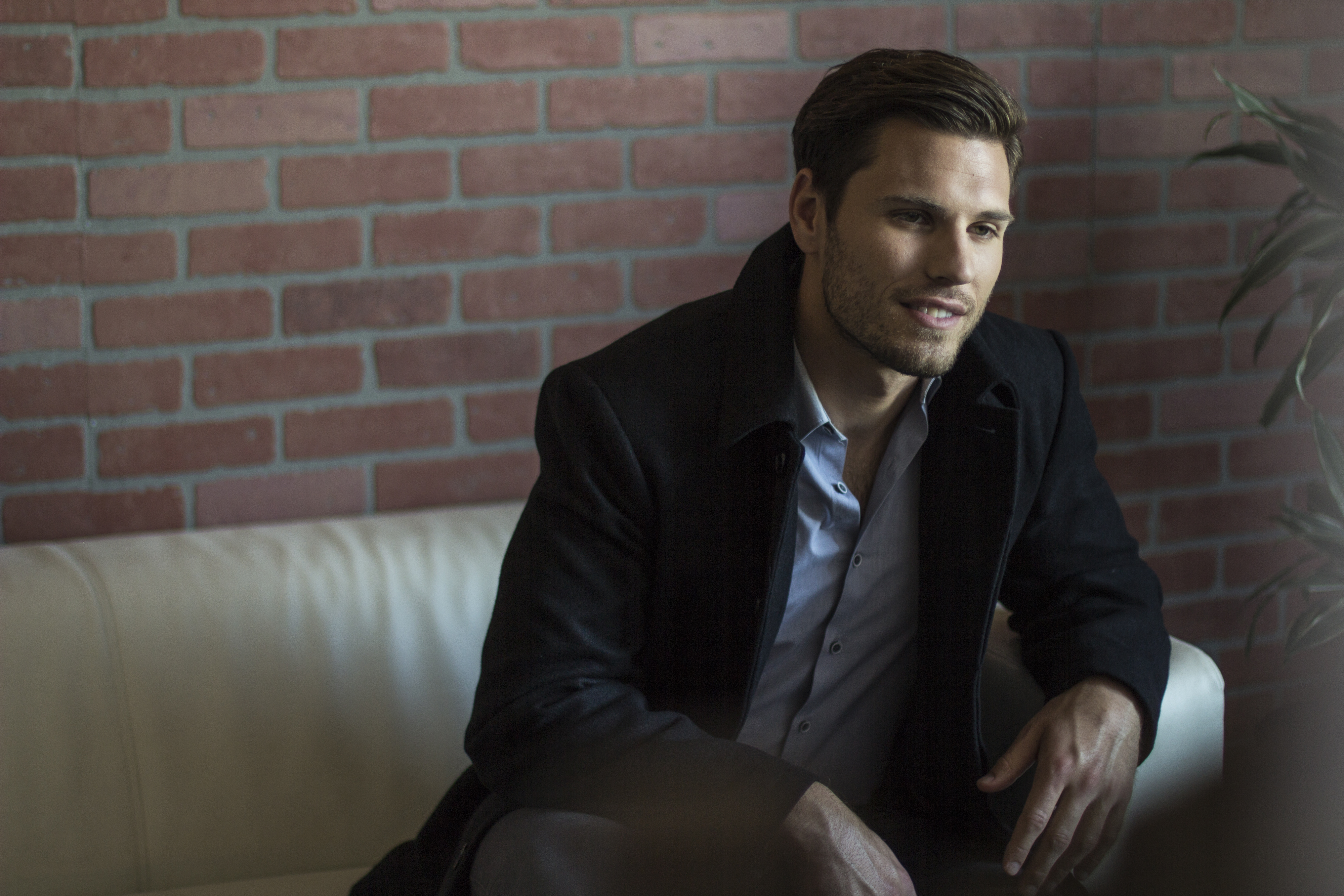 Going on a date? Have the 'boy next door' look by wearing a casual check shirt, fitted dark wash denim, a pair of boots, a brown belt, and a green shawl cardigan. For a classic and stunning fall outfit that you can wear on your business trip or a special occasion, you can look awesome in a simple, horizontal striped shirt topped with a simple navy blue blazer.
. For special formal occasions, these outfit ideas will have you looking your absolute best:
Choose a dark gray suit. It's a go-to for formal events because the dark color looks confident and smart.
Wear it with a basic white dress shirt. It's a simple choice that looks clean and pairs well with the dark gray.
Add a burgundy tie. It gives your look a fun splash of color and a bit of personality.
For a bit less formal look, try a navy blazer with brown dress pants. It's a combo that's both smart and stylish, good for semi-formal events.
Include a patterned pocket square to add a little extra style and make your outfit stand out more.
With these ideas, you'll look stylish and leave a lasting impression at any special event.
Footwear for Every Occasion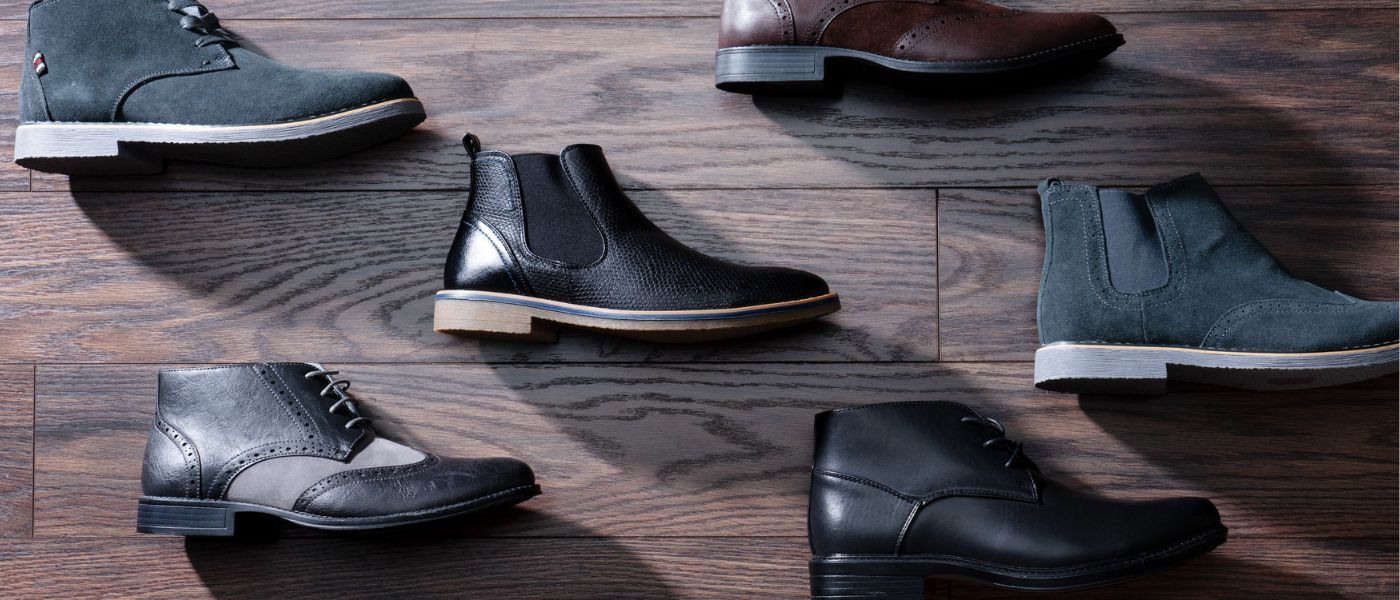 Footwear plays a crucial role in elevating men's overall autumn attire. Here are some fall fashion ideas for men that focus on the right footwear:
Dress shoes: Elevate your formal attire with classic dress shoes. A pair of black or dark brown leather oxfords exudes sophistication and complements a range of formal outfits. Pair these dress shoes with a charcoal suit and a crisp white dress shirt. This combination epitomizes timeless elegance and is suitable for weddings, galas, or any formal event where you need to make a lasting impression.
Sneakers: Slip into leather sneakers for a comfortable yet stylish foundation. These sneakers are perfect for a casual day at the office or a weekend outing with friends. Match them with gray slacks for a relaxed yet put-together look. The combination of leather sneakers and slacks strikes a balance between comfort and style. Top it off with a lightweight knit sweater to stay cozy without sacrificing style.
Trainers are comfortable men's shoes and they are cool again to wear with jeans where once it was a no-no. Jeans with trainers can give off a men's casual fall fashion style and comfortable vibe that is ultra-stylish. Outfits for men that can top this ensemble include a t-shirt or lightweight jacket for a relaxed appearance or a collared shirt and blazer for smart-casual occasions.
Boots: You can't go wrong with men's fall outfit when you pair your jeans with stylish men's boots. You just have to choose the perfect style for the occasion. If you are after casual and urban go for chunky boot or hiking boots. For a smart casual appearance go for a Chelsea or chukka boots. Color should also be a factor in your choice. Suede and brown design are more casual and relaxed while black is sleeker and more sophisticated.
Accessorizing for fall fashion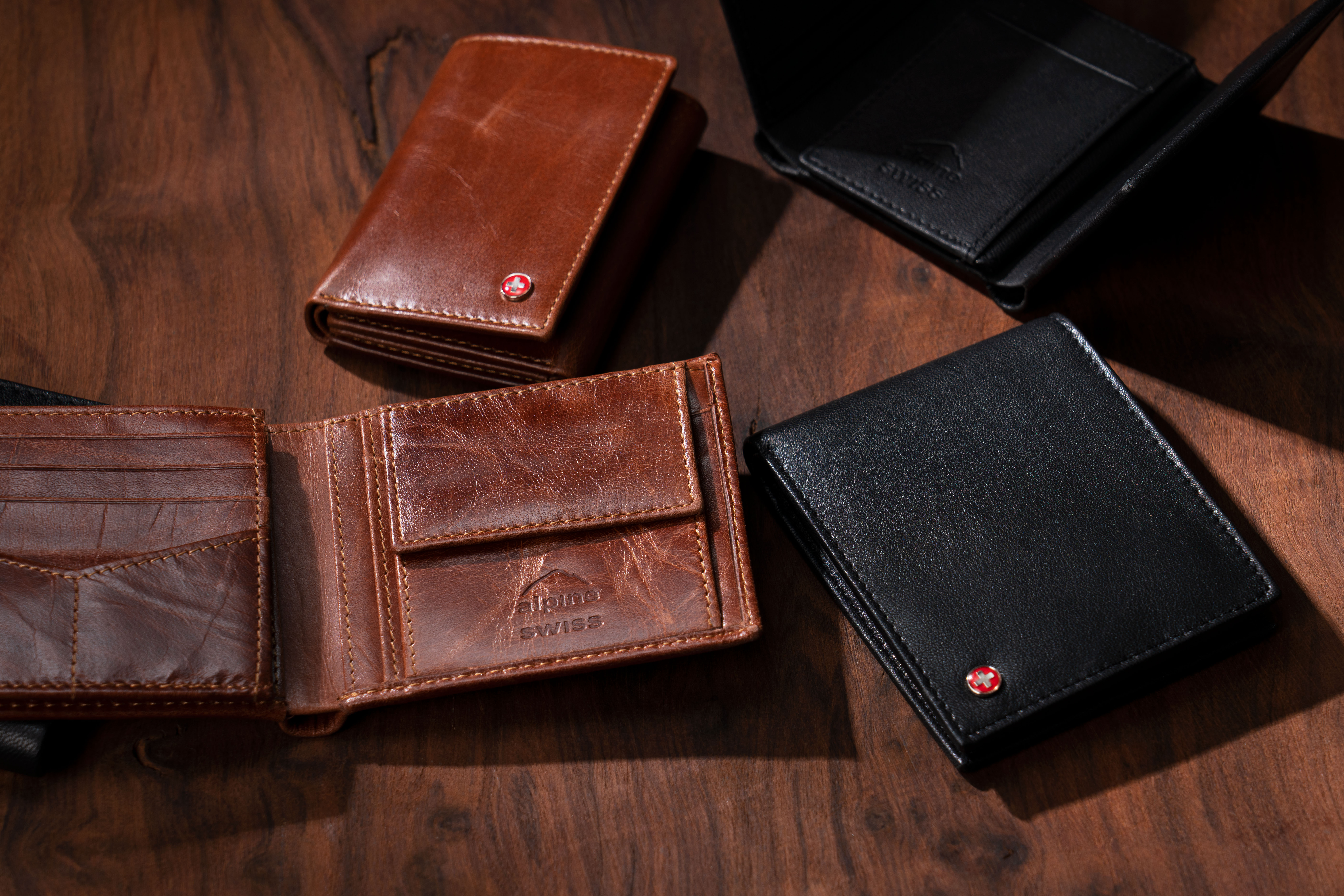 Accessories can elevate your outfit from ordinary to exceptional. Consider these ideas for adding that extra touch to the fall style:
Layer a scarf over a tailored overcoat, enhancing warmth and creating classy and elegant look.
Complete the look with dress shoes– they offer both style and functionality, ensuring you're well-prepared for the colder months.
Elevate your outfit with a sleek leather wallet. It's a subtle yet impactful accessory that reflects your refined taste and attention to detail.
Add an elegant belt to tie everything together seamlessly, ensuring your outfit is both stylish and well-coordinated.
Final words
Men can be as stylish as women this coming season with the wide array of men's fashion outfit ideas to choose from. Fashions are not just about aesthetics but also function and the material of autumn's best finds serve to protect against the harsh weather, rainy and windy days. Enjoy the colors of the month by taking a walk in stylish clothing that will surely make people give you a second look. Rule any occasion in style. Be at your best at the office with a style that makes people believe that you can command any situation because your great style speaks of your inner charisma and capabilities. Finally, make casual days fun where you can relax and enjoy the autumn with simple and elegant clothing styles.
Mariam Simmons
Mariam Simmons is a fashion enthusiast and Content Manager at Alpine Swiss. She loves traveling to the world's top stylish destinations and gets inspired to create helpful fashion and lifestyle guides. With over a decade of writing experience, her main goal in creating content is to ensure readers learn something useful and provide value instead of noise.
---