How To Wear A Pea Coat For A Stylish Look
2020-01-16
A great pair of jeans is a staple in every man's closet. Shirts, shoes, and boots are too. But what about the timeless topper known as the peacoat? It's definitely a popular go-to when it comes to the average man's fall/winter wardrobe. It's a classic winter coat that is practical yet stylish, adding a touch of flair to any outfit. The pea coat style has been around since the 16th century and continues to be the favorite when it comes to staying warm during winter walks from deck to dock.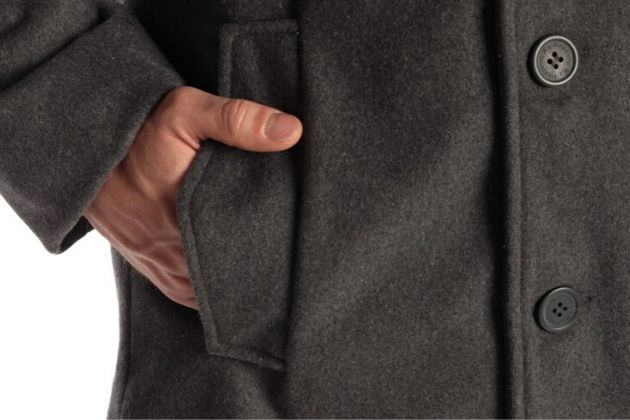 What Is A Peacoat
The pea coat is described as a woolen coat that is hip length and features a double-breasted style with a tall collar and wide lapels. It also features large buttons at the front of the coat as well as slash pockets. Over the years, not much has changed with mens pea coat outfit. It's one piece of clothing that was perfection personified; it didn't require any changes or refinement since it first came ashore.
Origins of the Pea Coat
This stylish yet functional winter coat was first introduced in the 16th century by the Dutch Navy. It was originally designed to keep sailors warm while out at sea, even during harsh weather conditions. The wide collar can help protect them from the cold when popped up. The double-breasted design was not just for keeping sailors warm; it helped prevent chafing when they climbed up the ship's rigging. The short length made it easy for them to stay mobile while they maneuvered around the ship as they performed various tasks. And the large buttons made them easy to grasp.
By the 18th century, this jacket was adopted by the British Royal Navy as part of their uniform. A century later, it became part of the military wear of the US Navy. While the history of peacoat outfit is anchored in the navy, it has become a staple for men who wish to have a compact, casual winter coat at their disposal, whether they're a sea dog or not. Now to questions arise: 1. Should you wear a peacoat? 2. How to wear a peacoat?
Why wear a pea coat?
Fashionable and functional. A pea coat provides you with cold weather protection while gifting you with a sense of style. Moreover, the quality of the material - the thick wool - prolongs the lifetime of the coat. It can last for decades. As an added bonus, wool is a flame retardant material which means your pea coat can keep you protected if you have to run through fire either on land or at sea.
Aside from more-than-adequate protection, the pea coat adds a certain flair to any outfit, transforming your casual look to something more sophisticated, enabling you to switch from work to weekend wear. In short, a pea coat is the perfect "accessory" in jacket-wearing weather, no matter the occasion because it's endlessly versatile.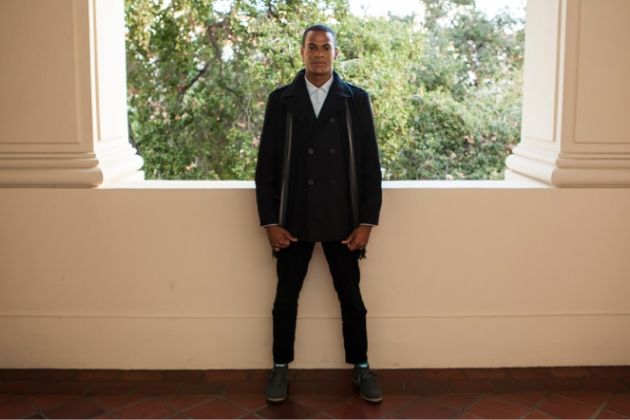 Different Pea Coat Styles
There are three different mens peacoat styles that one can choose from. These winter coats also come in a variety of materials and colors. And while we dearly love the classic style, what suits you best would really be up to your personal preferences. That being said, below is a short, descriptive guide on the variety of peacoats you might come across which can help you make the right choice.
The Classic Peacoat
This is the most popular among all peacoat styles. It has a cropped, double-breasted cut with a slight flare at the hips. Much like the peacoat of old, it provides you with room to move, whether you're weaving your way through sidewalk traffic or in a bar.
The Bridge Coat
This peacoat style was originally intended for officers who served on the bridge of a ship. It's quite similar to the classic because it still features the large collar and the double-breasted cut. However, it has a longer length. Instead of ending just below the hips, this style is far longer - reaching to the thigh or even up to the knee. It's slightly similar to an overcoat, in terms of length. Some bridge coats feature brass buttons which make them more suited to dressing up rather than casual.
The Single-Breasted Peacoat
Yes, there are peacoats that do come with a single-breasted cut. It has no overlapping flaps and only features a single row of buttons. Compared to the classic, this style is much more casual. The single-breasted cut is perfect for individuals who are a tad chunkier in the middle because the single line of buttons gives one a slimmer appearance. Plus, the excess fabric of a double-breasted cut adds bulk to your middle. That being said, the single-breasted peacoat does work well with all other shapes as well.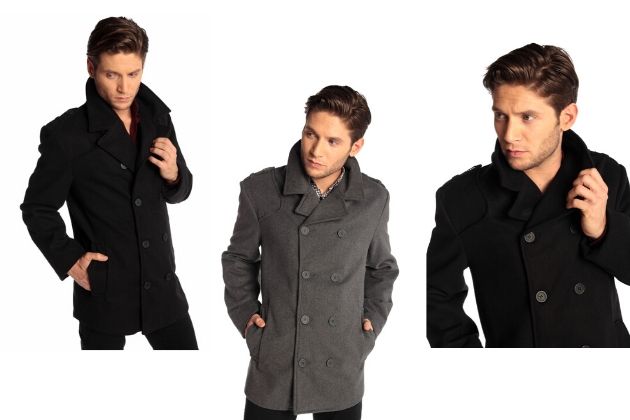 Choosing Peacoat Outfits
As we've already mentioned, a pea coat is perfect for dressing up or down. It's really dependent on your preference or style as well as the occasion. What's truly important when choosing a peacoat is that you get the fit right. You may already have noticed that the peacoat is a close-fitting jacket that can potentially flatter your shape (when worn right, of course).
So, how should a peacoat fit? Since this is a fall/winter coat, you'll likely be wearing this on top of one or more layers of clothing. This means that your coat should comfortably fit over a thick sweater at the very least. One good rule of thumb is to try one size larger than your usual. Other areas that you need to consider when measuring the fit of the peacoat include:
Make sure that the coat lies close to your body but doesn't feel too tight on your chest and midsection. Your arms shouldn't feel constricted; ease of movement is key.
The sleeves should not cover the sleeves of your sweater (or whatever clothing you have underneath) but they should not extend farther than the tops of your hands.
Ideally, the high, wide collar of the peacoat should taper to your waist. It should also sit near to your neck.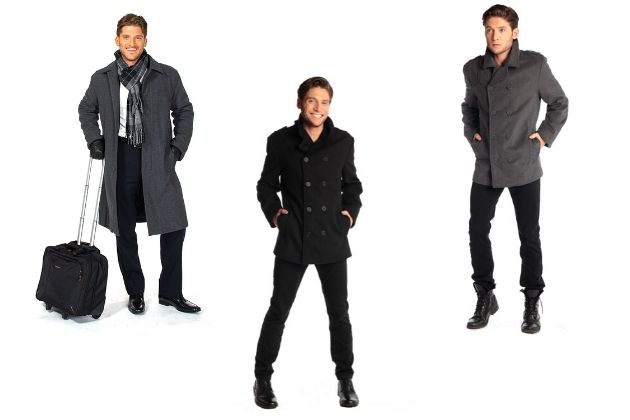 How to Wear a Peacoat
Roguish but cool - that's the peacoat for you. Whether you're pairing it with a casual get-up or corporate wear, this versatile winter coat will make you look rugged, sharp, and all-around good. As you've already seen, there are plenty of men's pea coat styles to choose from. And there's no need to overthink what to wear with a peacoat. Of course, if you want some ideas, we've got several looks we can show you.
Navy Pea Coat
Due to its nautical heritage, navy is the classic color and the most natural choice. But it's also quite versatile. It can be paired with jeans or a pair of chinos in a variety of colors for everyday casual wear. For a cool laid-back style, you can wear it over a cable knit sweater or turtleneck. It can even be worn over a suit or a white shirt with a tie for a more formal look.
Black Peacoat
Black is another traditional color that works well with a lot of looks. You can team it up with a simple sweater for a casual look. Light-colored pieces can produce a more dimensional appearance. A black pea coat is best when you're trying to achieve a more formal look such as corporate attire. The beautiful thing about black is that it can usually work with different color combinations.
Grey Peacoat
Among men's pea coat styles, grey is the best alternative to black. However, it doesn't easily pair with other colors in comparison. You'll need to be strategic about which shades to wear it with. White, navy, burgundy, and emerald green can pair with it quite well.
Green Peacoat
Green is another great alternative in peacoat styles. The most vertical shades are khaki, forest, and emerald green. They can be teamed with dark navy, dark wine, rich burgundy, and other rich, classic tones. This color works well for both casual and formal attires.
Camel Peacoat
If you favor more neutral colors, the camel peacoat is a good option. These rustic, autumnal tones work well with casual get-ups as well as dressier outfits. It can be worn with black for a modern, youthful look. It can also be paired with khaki, beige, and wine-colored pieces.
Brown Peacoat
This shade is a lot similar to camel, though it is a lot darker. Much like black peacoats, this style goes well with almost everything. While it isn't the type of peacoat color that you wear for formal occasions, it can be worn with slightly dressier attire.
Peacoat Outfit over Casual Attire
A peacoat with jeans is probably one of the first things that came to mind when visualizing an example of casual attire. But don't limit yourself to just that. If you're wondering what to wear under a peacoat, then you should know that the sky's the limit. Chinos are just as casual as jeans and come in a variety of colors to pair with your mood. You can go with the classic roll neck or cable knit sweater for a cool but casual date attire. For an even more laid-back style, you can choose a crew-neck shirt or even a hoodie. A peacoat looks just as good paired with leather boots or canvas sneakers. Be creative and make sure to inject some personality to your casual mens peacoat style.
Peacoat over Suits
When it comes to wearing a peacoat with a suit, some fashion experts would say it shouldn't be done. An overcoat does make the best statement when worn over a suit. It also affords you more room and polish. But that doesn't mean that you can't use a peacoat in its stead. One way to wear this piece with a suit well is to make sure that the suit blazer is not longer than the peacoat. You can get a bridge coat style instead of the classic to create this look. Or, you can pair your classic peacoat with a white shirt and colored tie, leaving the suit blazer in your closet. This sophisticated work look teams up well with leather Oxford shoes. We'll leave the color of your suit pants up to you.
Peacoat with a Popped Collar
Other than the trench coat, the peacoat is perhaps the only garment that won't look ridiculous when you pop the collar. Aside from providing you with additional protection against the cold, the large collar creates a sharper look that would enhance any casual get-up. You can wear your peacoat with a popped collar with jeans and a pair of sneakers. You can opt to use it with a sweater or a turtleneck. Just make sure that when you do pop the collar, it's appropriate for the weather - on cold, blustery days. Otherwise, it may come off as out-of-place and pretentious.
Now you know well how to wear a pea coat. As you can see, the mens peacoat outfit is one of the most versatile pieces of men's winter clothing you'll ever meet. From casual to formal, your peacoat will work with just about anything in your wardrobe. It's a good investment to make even if you already have a winter jacket in your closet.
Mariam Simmons
Mariam Simmons is a fashion enthusiast and Content Manager at Alpine Swiss. She loves traveling to the world's top stylish destinations and gets inspired to create helpful fashion and lifestyle guides. With over a decade of writing experience, her main goal in creating content is to ensure readers learn something useful and provide value instead of noise.
---