Body Shape & Men's Style: How to Dress for Your Body Type
2023-08-23
Ever wondered why clothes look better on other people but not you? An outfit catches your eye. You love how it looks and even the way it feels. The specific dressing style is the perfect reflection of your personality. You grab it from the rack, go into the dressing room, and try it on. Unfortunately, your reflection and what you should look like in your mind's eye doesn't match. What's that all about?
Well, it's all about body types. Specifically, it's about how to dress for your body type. Everyone's body is different. No one is built the same. That's why what looks good for one person, may not look all that great on another. But if you know about different body shapes and understand your specific body type, then you're more able to choose clothing styles that fit the best features of your body. In other words, knowing how to dress according to your body shape will enable you to look good in your clothes all the time.
While everyone is built a little differently, most people fall into one of the different body types. Below, we'll discuss each type in length and help you learn how to determine men's body type.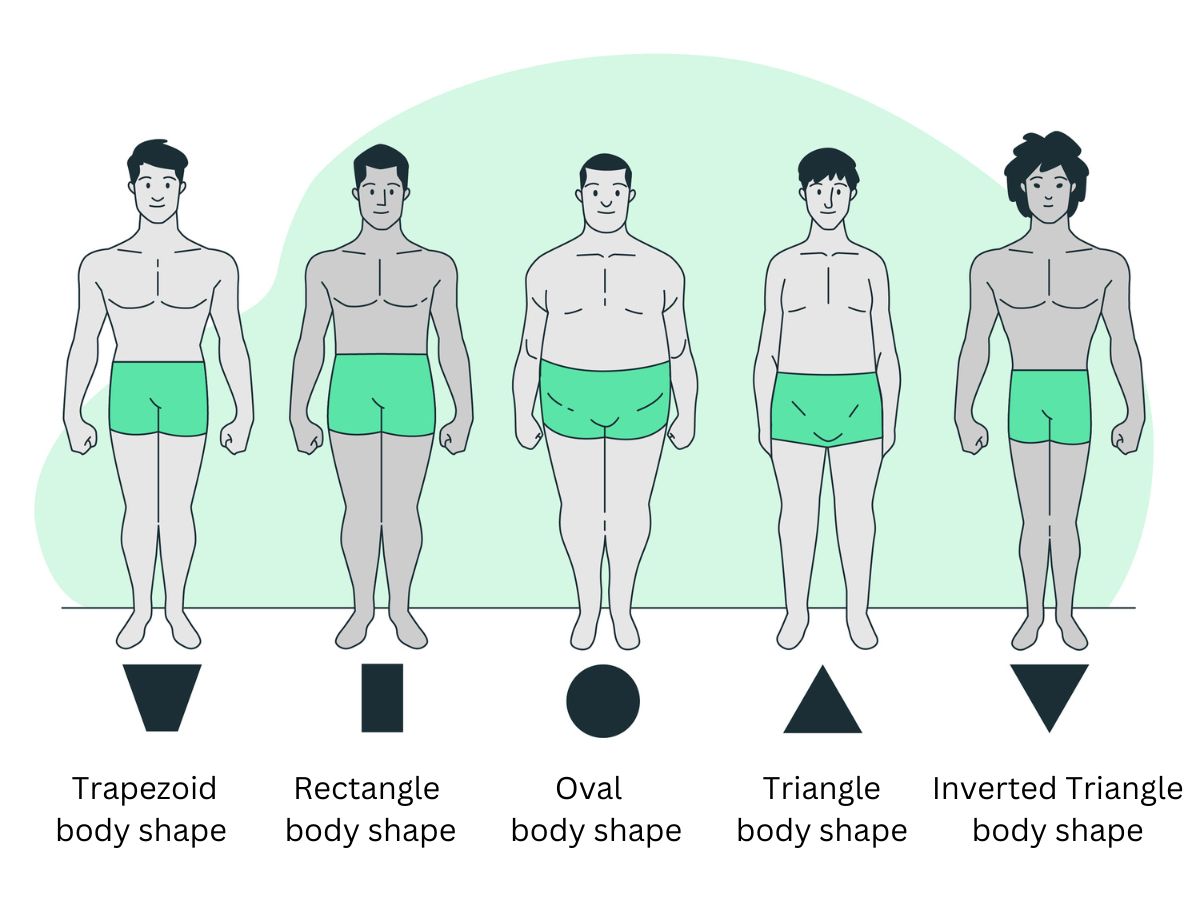 The Importance of Dressing for Your Body Type
Enhance Your Best Features
When you are aware of how to style clothes for your body type, you will accentuate your best features and enhance your self-confidence. Whether it's showcasing broad shoulders, defining a slender waist, or elongating your legs, choosing clothes according to your body shape will draw attention to your most attractive traits and make you feel more attractive and empowered.
Promote Body Positivity
Remember when your clothing style fits your body type, you don't conform to societal beauty norms but rather celebrate body diversity. When you rock clothes that flatter your unique shape, it boosts body positivity, and you start loving and accepting yourself just the way you are. And guess what? Your unique style can inspire others to do the same, making everyone feel included and confident in their bodies. So, fashion is a fantastic way to express yourself and embrace the beautiful variety of clothing styles for body shapes for different sizes out there!
Save Money in the Long Run
Wearing clothes that are best for your figure, you're less likely to purchase ill-fitting or trendy pieces that you may wear only once. You can build a versatile collection that stands the test of time, reducing unnecessary spending on items that don't suit your body shape or personal style. Additionally, classic and well-fitting pieces tend to remain stylish year after year, ensuring that you always have reliable and fashionable options at your disposal.
How to dress for your body type?
Once you have determined what is your body type, the next step is to learn the dos and don'ts of dressing for your body shape. Below, we discuss what how to find clothes that suit your figure and what kind of clothes you should wear including what colors.
Triangle
Men with the triangle body shape are bottom-heavy. They have narrow shoulders and a slightly wider chest. Their waist and hips are much wider in relation to the upper part of their torso. Most men are predisposed to this body shape.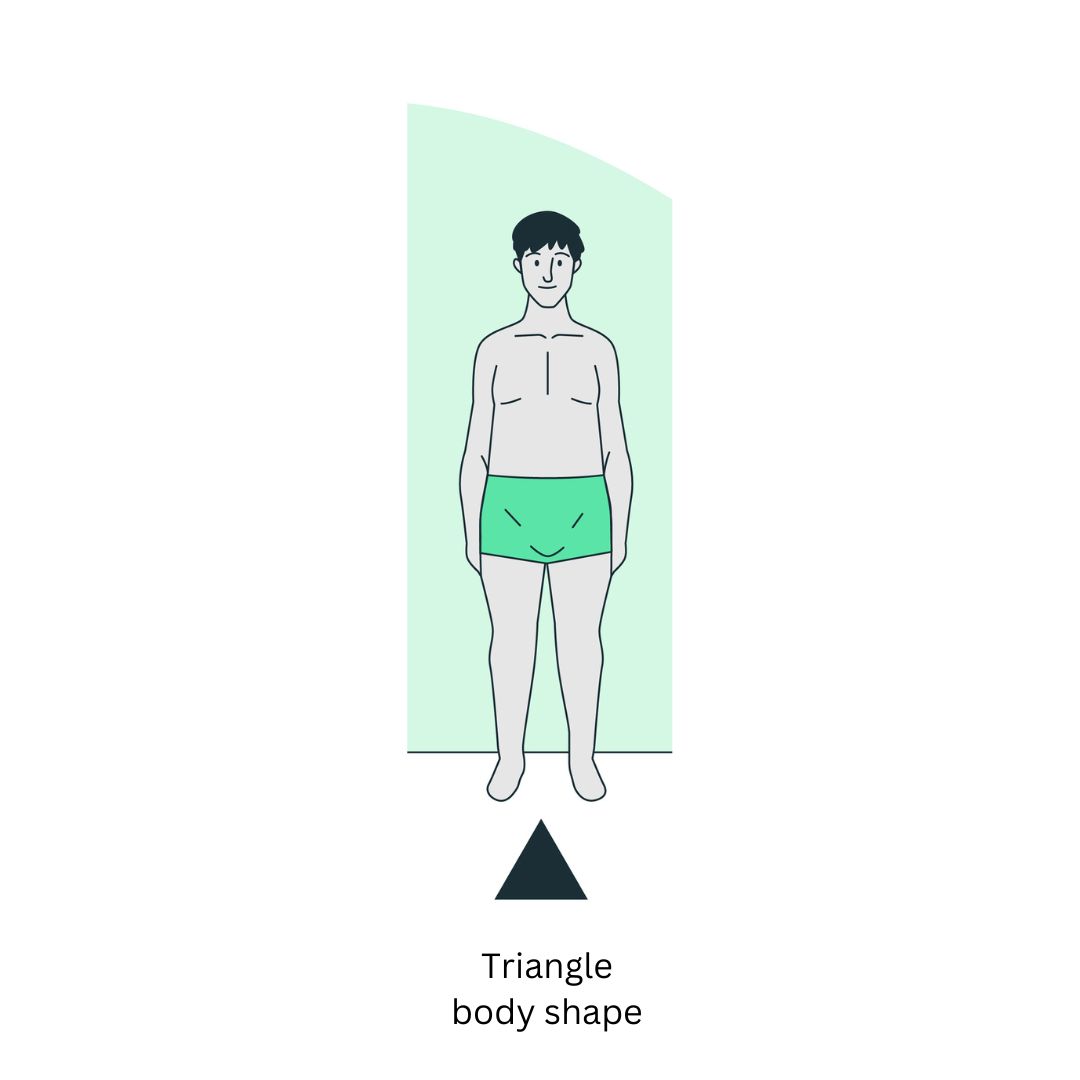 How to Dress for Triangle Body Shape
As we've mentioned, this body shape is bottom-heavy. So, the goal is to create a more proportional shape while styling your look for your body type. This means that you need to choose clothes that will bulk up your shoulders and chest to balance with the width of your waist.
One example of the clothes that fit triangle body shape is patterned blazers and fitted waistcoats. When paired with solid-colored pants can take away the focus from the waist.
Jackets with structured shoulders such as a topcoat or an overcoat also give an illusion of a square frame. A jacket that has slouchy shoulders like a bomber jacket, on the other hand, will highlight your sloping shoulder line. Single-breasted suits are also a good choice as these have a slimming effect on this body shape.
As for color and patterns, go for vertical stripes to slim down your figure. Horizontal stripes are only helpful if they are only present from the chest up, giving you a more bulky appearance on top. Brighter color panels on top with darker colors across the midsection can also help create a more balanced shape.
So, what shouldn't you wear? Don't wear fitted polo shirts and roll necks as these make your neck and shoulders more slender while emphasizing the width of your waist. Skinny fits and extreme tapers put the focus on the center of your body where you'll be roundest.
Men's shoes and accessories for triangle body shape (Bottom-Heavy)
For this body type it's better to choose accessories that draw attention to the upper body, like statement necklaces or scarves, to balance out the narrower shoulders. Hats and caps can also help add visual volume to the upper part of the body. You want to put more emphasis on the upper part of your torso, so keep your shoes on the simple side. Don't go for extra large sizes. Dress shoes are more in line with your body type.
Inverted Triangle
Obviously, the inverted triangle body shape is the opposite of the triangle body type. In this case, the shoulders and chest are much broader compared to the waist and hips. This body type is top-heavy.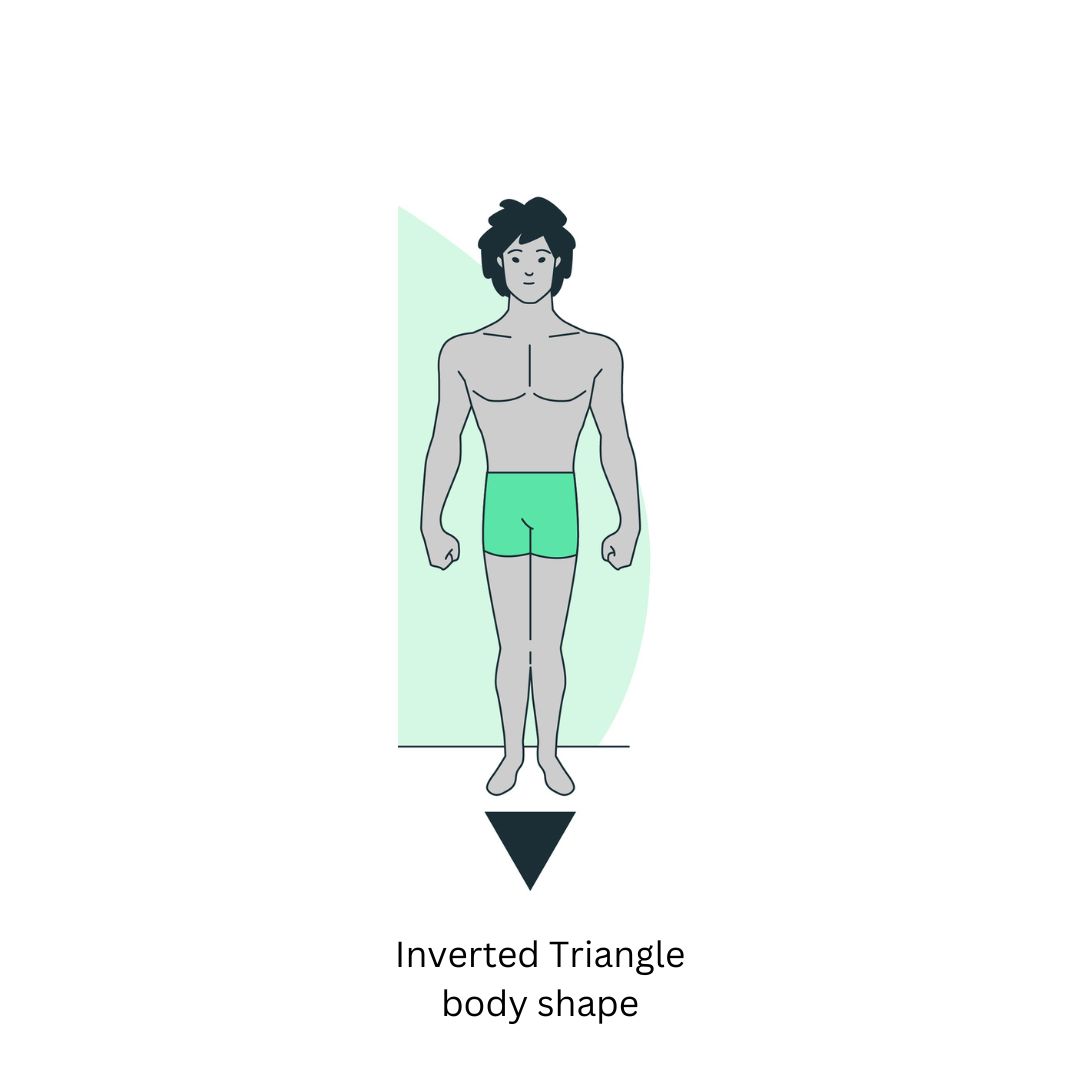 How to Dress for Inverted Triangle Body Shape
When it comes to finding clothes for inverted triangle body type the key is to slim down your upper torso while adding bulk to your waist and hips.
V-necks and polos slenderize your neck and make your shoulders look smaller while drawing the eye away from the broadest part of your upper body.
Horizontal stripes around your midriff section can make your waist look wider.
Straight-leg pants and jeans won't make your legs look too skinny. Leather Colorful belts will also work to pull away the focus from your shoulders.
Shirts with any kind of detailing around the shoulders like prints and patterns as well as scoop necklines will draw the eyes to your already broad shoulders.
Dressing suit jackets and blazers that feature wide lapels or shoulder padding will also fit this body shape and emphasize your bulky top half even more.
Men's accessories for inverted triangle body shape (Top-heavy)
Unlike triangle body shape here you need to draw attention to the lower body, such as belts or waistbands, to create the illusion of a more defined waist. Try wearing bracelets or watches to draw attention away from the broad shoulders and towards the wrists. Additionally, a well-chosen travel bag can complement your lower body and complete your overall look with style and functionality. Fancy footwear and colorful shoes are ideal for this body type to help you draw attention to your feet. Shoes with a thicker sole also work.
Oval
Men who have an oval body type have slim shoulders and hips while the center of the body is wider, with the waist being the widest part of their frame. They tend to have short but broad limbs.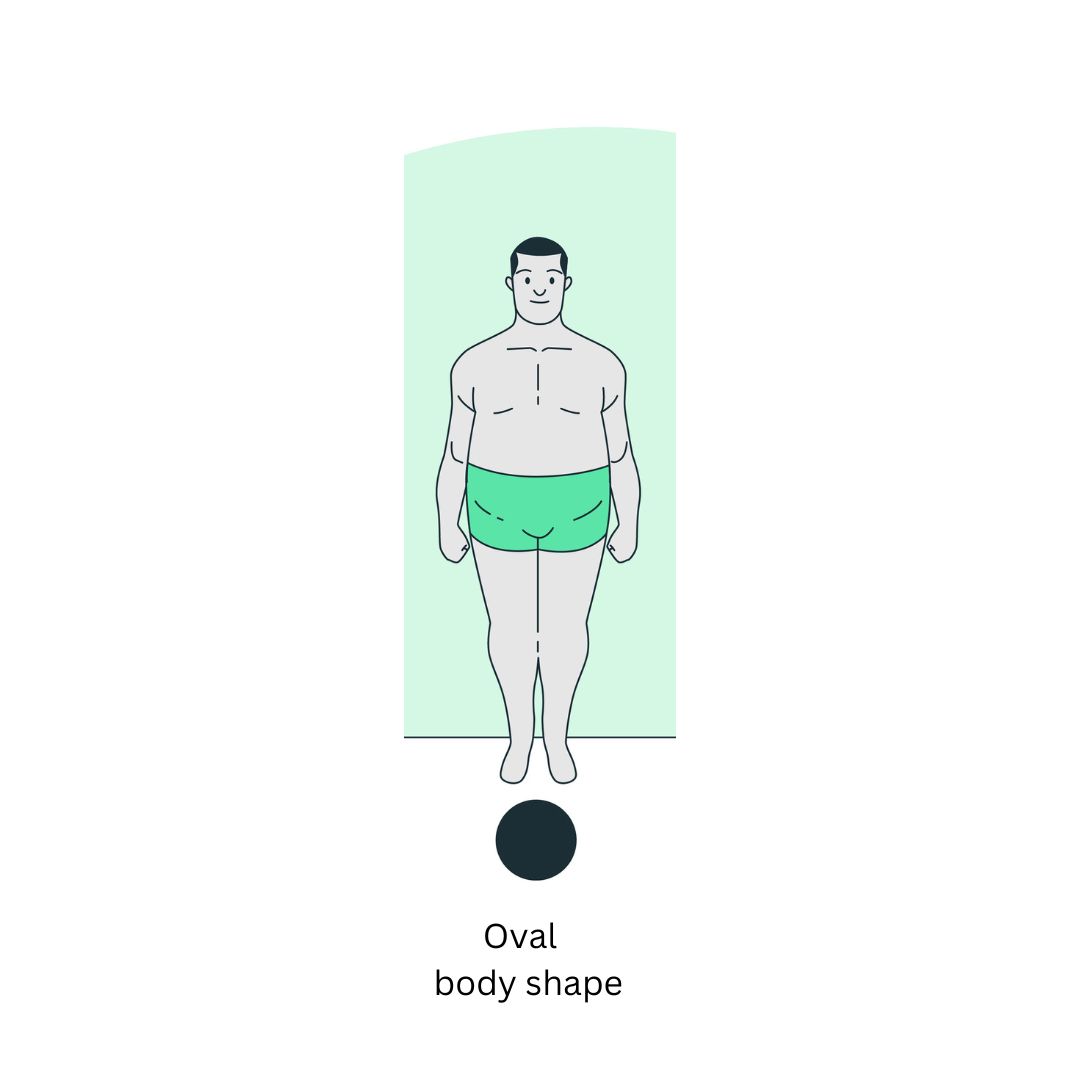 How to Dress for Oval Body Shape
To avoid emphasizing the roundness of your midsection, you need to add more width to your shoulders while slimming down the middle, creating a more streamlined silhouette. Obviously, horizontal strips are out. Vertical lines and checkered patterns have a slimming effect.
Dark colors that are used to "slim down" an appearance of your figure are fine too. Long-sleeved shirts can lengthen the appearance of the limbs.
Shirts should have a good fit for this body type - not too tight, not too loose.
Pants should be fitted but loosely tapered to create a more flattering appearance - not too narrow, but not shapeless either.
Jackets should be single-breasted and only slightly tapered for more flexibility around the waist and a relaxed, slimming fit.
Avoid wearing tight fits as they will emphasize your bulk. Horizontal lines and patterns will draw attention to your midsection. Double-breasted suits will make your waist look wider. The same goes for colored belts.
Men's accessories for oval body shape (Wider center)
For men with an oval body type, the focus should be on accentuating the upper body to create a balanced look. Try stylish ties, pocket squares, and statement watches to draw attention to the upper body. Opt for slim leather belts to define the waist without adding bulk to the center. Avoid oversized accessories and experiment with patterns for added visual interest. Whether you're using casual shoes like sneakers, dress shoes, or different business casual shoe styles, make sure that you choose those with a narrower toe. This will help make your legs look longer. Except for boots. Avoid boots because these will shorten your legs. Oxfords, derby shoes, and monk shoes that don't have decoration or cross seams near the toe cap can make shoes look longer which makes these shoes another good option.
Rectangle
The rectangle is also known as the slender body type. Men with this body shape have shoulders, waist, and hips in alignment. This means that they all have roughly the same width.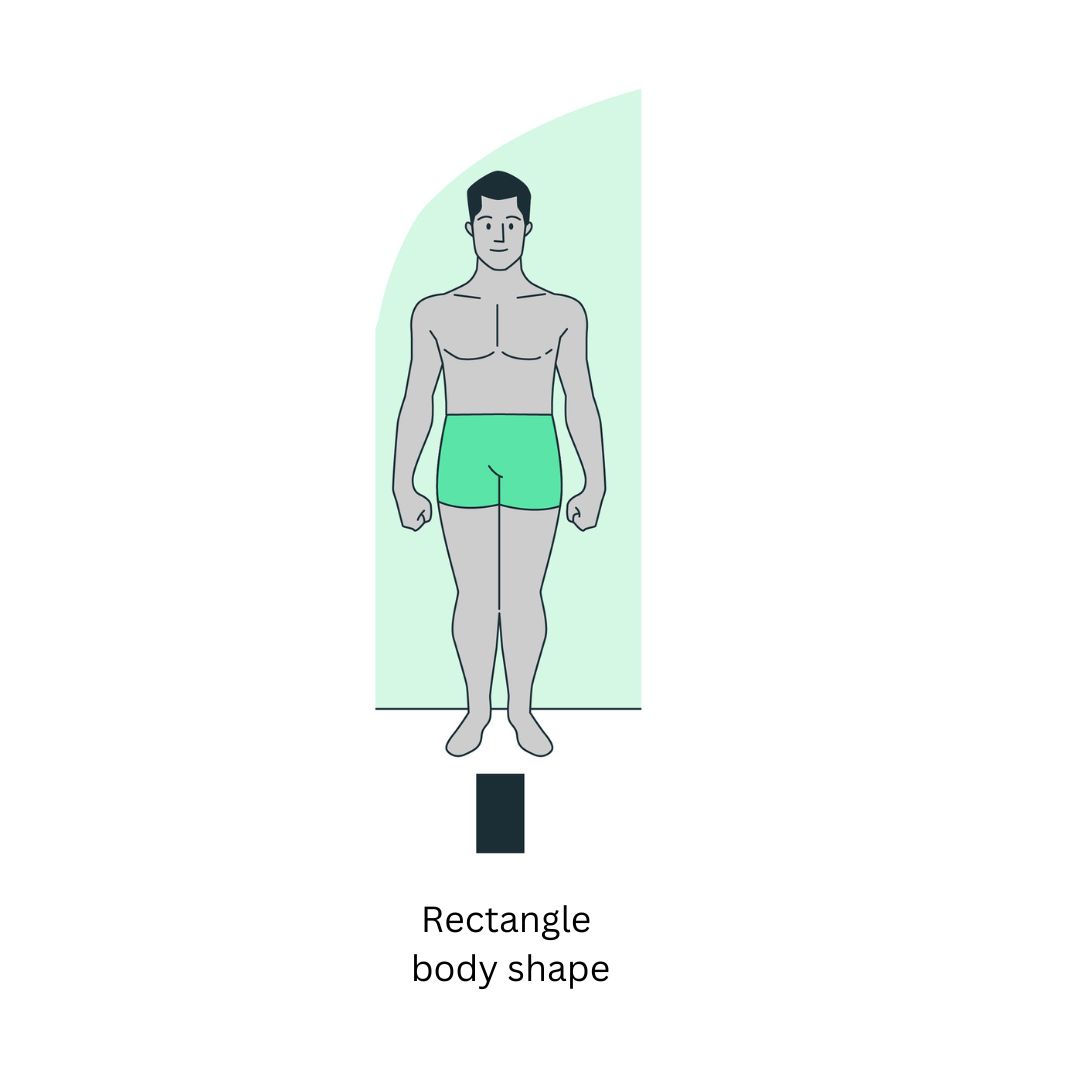 How to Dress Rectangular Body Shape
A rectangular body shape requires the illusion of structure which means you need to add more bulk to your shoulders while creating a slight taper from the top of your torso going all the way down to the waist. To produce this effect, you can wear horizontal stripes across your shoulders and chest.
You can also wear structured blazers and jackets which add width to your shoulders. Have your tailor take them in a bit in order to create the illusion of a narrower waist.
Men's scarves can add size to your neck and shoulders, whether tied or draped.
Pops of color or prints across your shoulder and chest can also broaden your upper torso.
To add more bulk to your frame, you can go with layered looks such as a button-down shirt and a crew neck sweater.
One thing you should avoid wearing if you have this body type is the double-breasted jacket because it just emphasizes your square frame even more.
Men's accessories for rectangle body shape (Slender)
Gentlemen with a rectangle body shape can accentuate their natural proportions and elevate their style with a few key accessories. For the beginning well-fitted belts are good that define the waist. You can also experiment with matching the belt with your shoes or layering scarves for added flair, and go for patterned ties and pocket squares to show off some personality. Don't forget about stylish leather wallets for a touch of sophistication to add some extra charm to your outfits.
Trapezoid
The trapezoid is a little similar in shape to that of the rectangle because the difference is very small. Men with this shape have broader shoulders and a wide chest while the waist is a just a little bit narrower. If you're not sure what is your body type, you can use a tape measure. It's also good to have a second pair of eyes.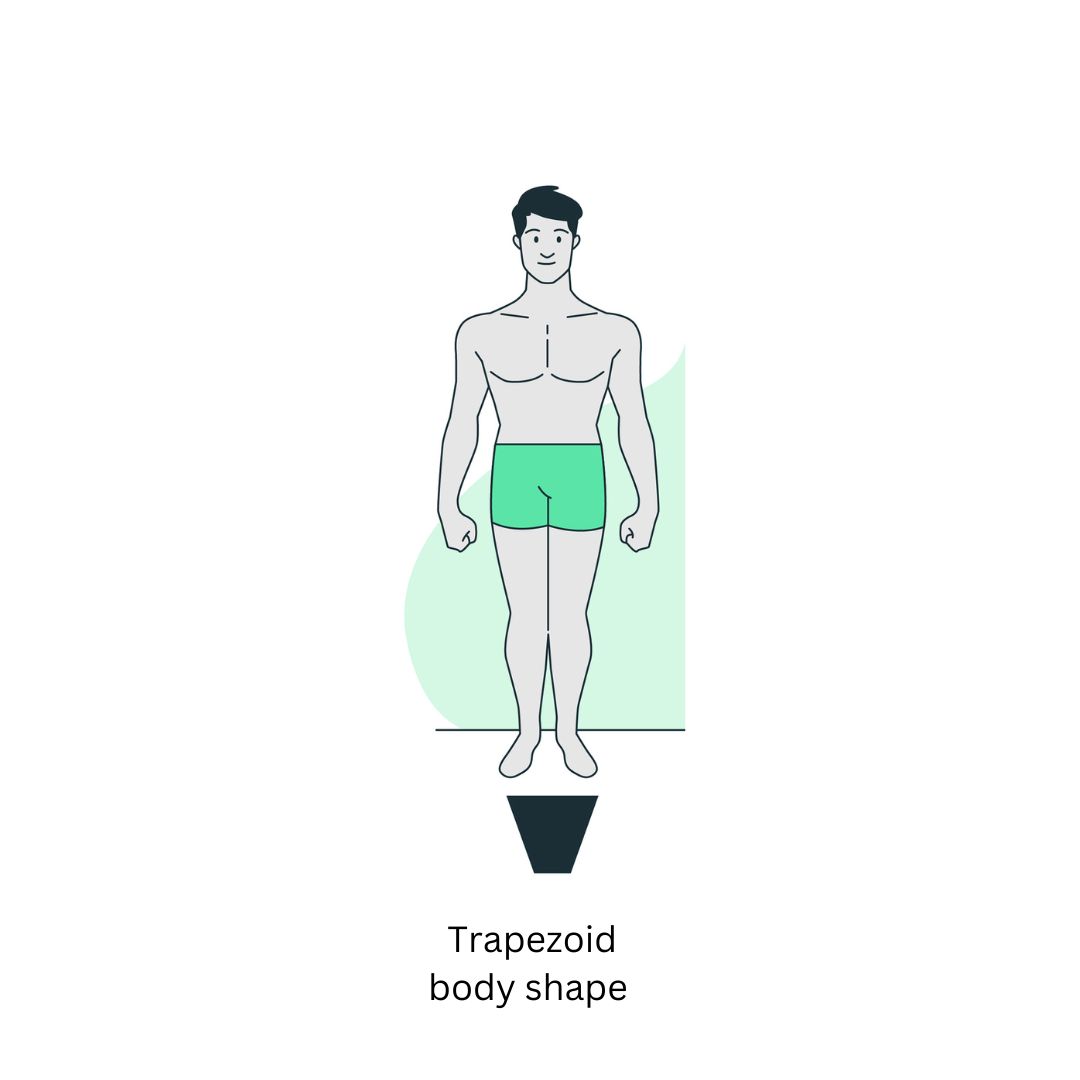 How to Dress Trapezoid Body Shape
The trapezoid body type is considered to be the best-looking shape. Models and mannequins tend to have this shape because it is so well-proportioned and finding the dress style for body type is easier. There's no need to add or detract from any part of your body which means that you can try all kinds of clothes and probably still will be good choices for this shape. Of course, there are some key pieces that you should have in your closet.
Close fit trousers, a blazer or suit jacket, fine-knit jumpers, turtlenecks, and figure-hugging shirts are just some of the clothes that should be in your closet.
And while it's best if you experiment with different styles to find the one that suits you best, avoid wearing baggy clothing. You want to show off your shape, not hide it.
Men's accessories for trapezoid body shape (Broad shoulders)
For men with a trapezoid body shape (broad shoulders), the right accessories can complement their strong upper body. Consider wearing aviator sunglasses or structured hats to accentuate the shoulders. Pocket squares or handkerchiefs in suit jackets can draw attention to the shoulders and chest area. Play with patterns and textures in ties or bow ties to add visual interest. For men with a trapezoid body shape, shoes with slight volume in the toe area and a slightly elevated sole can help balance their proportions and elongate their legs, creating a more harmonious and confident appearance. Sneakers and casual shoes like moccasins or chukka boots work well to complement various outfits.
It's all in the fit
There's no doubt that your clothing styles should match your body type. Which means you first need to understand what your body type is. But even with all the do's and don'ts we've covered, there's one more rule that you need to keep in mind - fit is everything. Without a good fit, the right clothes can only get you so far. It's the difference between looking good and looking great. Proper fitting clothes will enhance your good features while working with your body to hide parts of you that detract from your overall look.
Mariam Simmons
Mariam Simmons is a fashion enthusiast and Content Manager at Alpine Swiss. She loves traveling to the world's top stylish destinations and gets inspired to create helpful fashion and lifestyle guides. With over a decade of writing experience, her main goal in creating content is to ensure readers learn something useful and provide value instead of noise.
---