How to Style a Scarf: Man's Guide to the Scarf
2022-10-11
There are many reasons why a man would want to wear a scarf. The main reason is warmth and comfort. Tying a scarf around your neck is an easy way to survive the cold weather and enjoy the outdoors.
Scarves are also a wonderful way to elevate your style. Yes, that's right.
Many people think that scarves are women's accessories. Well, not so.
As a matter of fact, men started wearing scarves 2,000 years ago! It's an old-age manly tradition. Scarves have been around for as long or longer than neckties, bows, and cravats. So if you're still hesitant about using a scarf, don't be. Instead, just learn how to wear a scarf!
Mastering the art of man scarf fashion is easy. There are many ways to wear a scarf: follow this guide to find them out!
So, let's get started, shall we?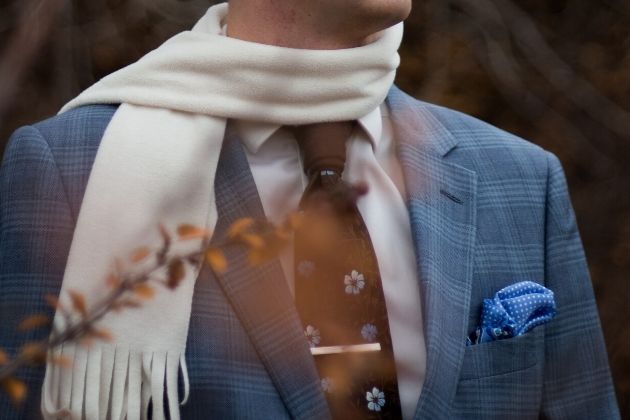 How to Put On a Scarf
What's a male scarf?
Men's scarf usually goes 80 inches long and 6-7 inches wide. Scarves vary in designs and types. They can be made of wool, cotton, cashmere, and even synthetic fabrics. There are so many men's scarf styles, and so many ways to tie a scarf (we'll talk about them in detail later).
When to wear a scarf
Scarves are worn in the winter. They are an excellent way to keep yourself warm outdoors. It works well with many men's winter outfits, particularly jackets and coats.
Types of men's scarf
Casual/winter scarf - made to protect you from the elements, winter or casual scarves are usually made from wool, cashmere, or polyester.
Sports scarf - this is a thinner yet weather-resistant type of scarf used by winter athletes. Many sports scarves are circular and don't need to be tied or wrapped.
Business casual scarf - this is a long and rectangular scarf that is paired with business or semi-casual attire.
Dress scarf - one of the most men's scarf styles. This makes an elegant addition to a gentleman's topcoat or overcoat.
Formal evening scarf - this is usually made of silk satin and in most cases, in black or white or a combination of the two. Formal evening scarves are not wrapped, draped over the back of the neck or thrown over the shoulder.
Reversible scarf - comes in two distinctive patterns that are woven together in harmony, a reversible scarf is an elegant piece of accessory suitable for formal occasions.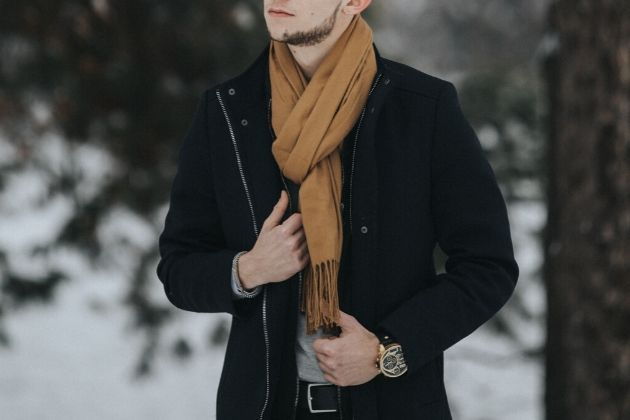 How to Wear a Scarf for Men
Every man can easily learn how to wear a scarf, and there's absolutely no need to overcomplicate it. Below are the different ways to tie a scarf.
Drape It
One of easiest way to wear a scarf is to drape it around your neck. The draping technique is usually used for style, not for function. Make sure to keep the length on both sides equal and you're good to go.
This is a versatile men's scarf style, that matches both casual and formal outfits. Take the classic blue suit for example. To create a stunning contrast in your blue suit, drape a white scarf over your shoulders. It looks neat, fresh, and super attractive. You can also tuck it into your blazer for a sharper look.
Wrap it Once Around
If you're in a rush, you can achieve both the style and function of the scarf with this tying technique. You don't have to tie a knot and the ends need not be equal in length.
Do the Overhand
This is a very simple tying technique that creates a clean, functional knot. Simply drape it over your neck, with one end longer than the other. Then, take the long end and cross it over the short end.
Reverse the Drape
This technique is similar to the overhand scarf knots only that both ends fall on your back, rather than your front body. This is a more casual scarf style. You can wear checkered shirts and jeans, style your scarf like this, and be winter-ready!
Parisian Scarf Knot
This is a classy way to wear a scarf. It's great for colder weather and looks sharp with either a casual jacket or a formal overcoat.
Tie the Scarf
This is a fun way to wear a scarf. Simply tie like a formal necktie and you'll make a great, fashionable addition to your casual wear. Choose a thinner, lighter, and shorter scarf for this style.
A few rules to remember when wearing a scarf:
Keep it simple. Only use the scarf styles you are most comfortable with.
Pay attention to the scarf length, width, and thickness. They can all limit your knot style options.
Prioritize function over style. It's the best way to feel comfortable.
Keep it loose. Remember, a scarf is not a necktie.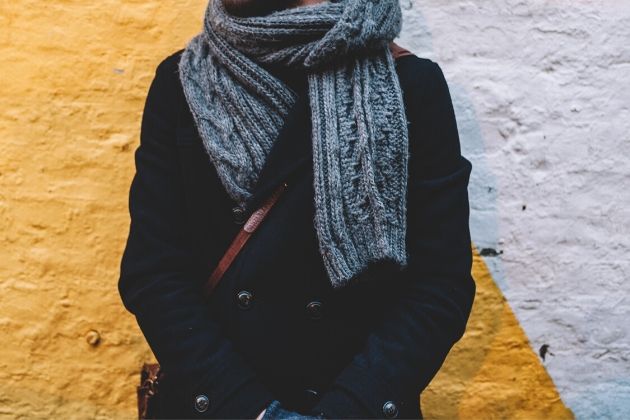 How To Wear a Men's Scarf - Dos and Don'ts
A scarf might be the simplest, most basic neckwear in your wardrobe. You may find out how to tie a scarf for men in many ways, but to look good wearing one, you need to be aware of the following dos and don'ts:
Pick the right thickness
Don't go with wool scarves in October when it's still a little warm outside. Instead, opt for a thinner and lighter fabric that's enough to keep you comfortable and not toasty hot.
Layer it right
Bulkier scarves are best paired with sturdier jackets while lighter scarves (such as those made from silk and cotton) go well with lighter jackets.
Choose the right color
If you're not a 'scarf guy' and you're not confident about mixing and matching colors, you will never go wrong with choosing a scarf in neutral shades, such as black, grey, brown, or navy. If you wear a lot of brown and cream, then a beige scarf is a great addition to your wardrobe.
When wearing a scarf, contrast also plays an important role. For example, if you're wearing a red coat, a white scarf will look fantastic. If you're wearing denim, a black scarf is a sure way to make your look stunning.
Pick a scarf that flatters your face
Choose the colors and patterns that best complement your skin tone and hair color. By wearing the right scarf, you can easily wear outfits in colors that don't normally suit you. For example, if you hate wearing beige because you feel like it makes you look pale, go ahead and wear that color and just accessorize with a scarf that flatters your face. This way, you will look great and feel confident.
Don't be afraid of bold prints and patterns
Just as you can wear neckties and socks with prints and patterns, you can also wear an attention-grabbing men's scarf style even if your top or pants already have elaborate designs. While you should have scarves in plain colors, you can easily elevate your style with patterned scarves. For example, a plaid scarf is a wardrobe staple, especially during the holidays while Merino and cashmere scarves look and feel cozy no matter what you're wearing.
Know when to skip it
A scarf is more like an accessory, not a necessity. If you're wearing a turtle neck or a buttoned-up jacket, you'll definitely do well without a scarf.
Scarves are a wardrobe must-have for both men and women. In addition to providing warmth and comfort, it is an easy way to elevate your style. By knowing how to choose and use a scarf, you can pull together a winter-ready outfit and feel more confident with your look.
Mariam Simmons
Mariam Simmons is a fashion enthusiast and Content Manager at Alpine Swiss. She loves traveling to the world's top stylish destinations and gets inspired to create helpful fashion and lifestyle guides. With over a decade of writing experience, her main goal in creating content is to ensure readers learn something useful and provide value instead of noise.
---