The Best Work Bags for Men
2022-09-13
Whether you're going to university, work, or just around town, having a bag has become a necessity. Most men's fashion only allots 4 pockets. The best men's work bags help you carry much more. It's important to consider both comfort, durability, and practicality when looking for a bag. What makes the best men's bag for work won't necessarily apply to all men's office bags. Here are some suggestions.
Types of Work Bags
When looking for your new bag, consider three different categories: Briefcases, Messenger Bags, and Backpacks. While there is some crossover between these categories, briefcases tend to emphasize durability and professionalism, messenger bags are about comfort and practicality, and backpacks focus on utility and capacity.
Briefcases
Briefcases are some of the best work bags for men, feature security measures, and only have one handle on the top. These types of office bags are made for short distances and typically only hold papers, documents, or thin tech like laptops, but they are durable and protect their important professional contents. They are the most professional of all our options.
Expandable Attaché Case Dual Combination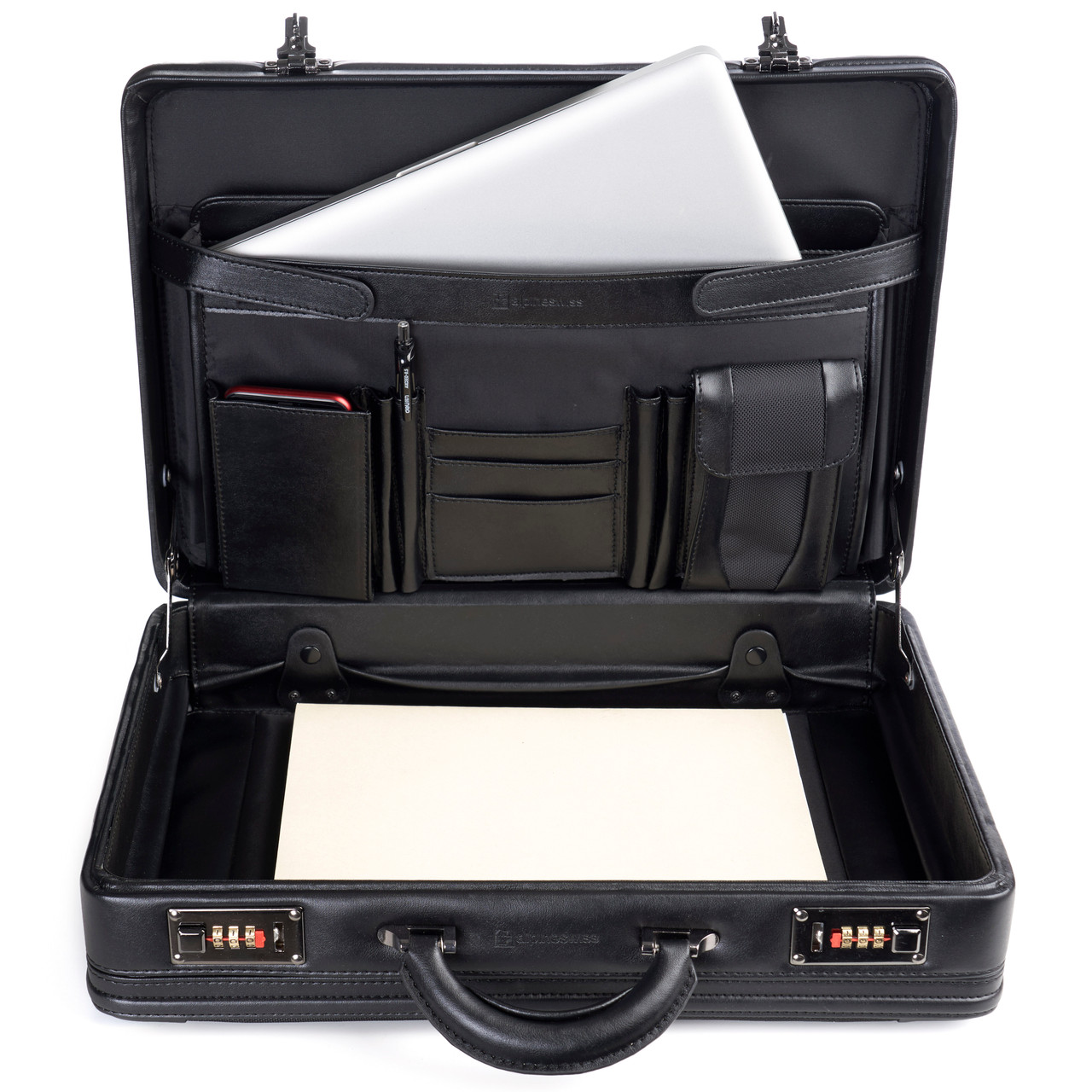 The dual combination briefcase emphasizes security. They usually feature two combination locks, a metal body coated in black leather, 4 metal feet, and expandable pockets. They are also TSA-approved for easy transit through airport security. This is considered the golden standard for the office and represents one of the best office bags for men that work in a professional office setting.
Expandable Leather Attaché Briefcase
Similar to our first entry, but benefits from a slightly lighter build due its leather design. It is still expandable and frequently comes with dual combination locks. The difference between this and the dual combination attaché briefcase is one of preference, and you should make the effort to see both these types of cases in person before making a decision. This is one of the best bags for office work.
Leather Briefcase Flap-Over Locking Case
If the attaché cases represent security and durability, this office bag for men is about luxury and comfort. Sacrificing the hard outer layer in favor of a lightweight build and the dual combination locks in favor of a single locked metal clasp. These cases are usually TSA approved as well, and focus on material quality. While lacking a hard exterior, this still represents one of the nice work bags for men, still stands up on its own, and is still built for durability.
Messenger Bag
Messenger bags are in some ways an upgraded briefcase, albeit one that sacrifices the hardcover for soft leather or another type of fabric in exchange for a lighter weight. They are distinguished by a strap meant to be worn on the shoulder across the chest and have become trendy in cities due to cyclist and student preferences. They distribute weight well and can carry more over a longer distance.
Conrad Messenger Bag with Tablet Sleeve
This men's professional work bag is lightweight, strong, and built to last. It represents one of the best work bags for men with a daily foot or cycle commute. It features 1680 Denier fabric, 8 gauge-style zippers, a padded interior, space for a laptop, a tablet sleeve, 3 front pockets for phones or keys, and metal attachments. Weighing just 2 lbs, and usually on sale for under $50, this bag won't disappoint.
Colombian Leather Messenger Bag
The Columbian leather messenger bag represents a more premium messenger bag that gears toward professional workers with a daily commute. It's TSA approved and has the same capacity as the Conrad messenger bag, but is built from Columbian Vacquetta Leather that is both durable and striking. It exchanges the three front pockets for one large pocket.
Genuine Leather Flap-Over Messenger Bag
This is one of the best men's work bags that offer both style and professionalism in the form of a messenger bag. TSA approved, this bag exchanges the main zipper for a buckled flap for the main two compartments. It also features 3 RFID-protected credit card slots and a similar capacity as our other two entries.
Backpack
Backpacks have the largest capacity of our entries due to their distribution of weight over two shoulders and even the hips on larger models. They're usually made of tough fabric or polyester and allow for greater movement as they are more secure to the body. Outdoor activity, work, or heavy labor will usually favor backpacks due to their sheer utility and ability to contain heavier objects.
Sloan Slim Laptop Backpack
The Sloan backpack is not the backpack you expect. It has a sleek black leather finish anda simple zippered appearance. It features a dedicated padded laptop pocket for notebooks up to 16", a deep main pocket, 2 mesh zipper pockets, and a small slip pouch. The Sloan is both understated and striking for the professional workman on the move.
Lightweight Sling Bag Crossbody Backpack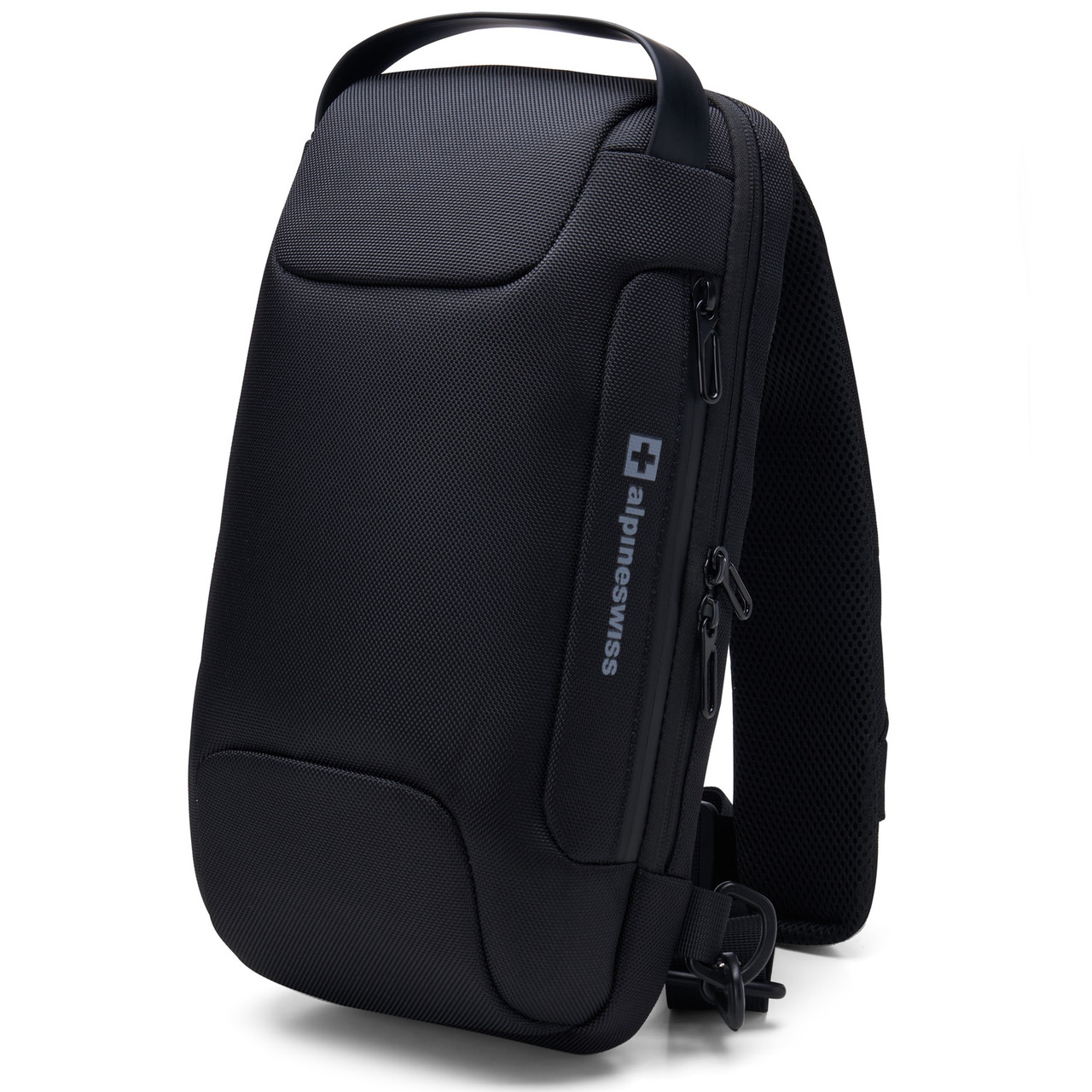 This backpack rethinks backpacks and brings in design elements from messenger bags without sacrificing carrying capacity. With just one strap, this backpack has a pod-like design, 1 main compartment, 3 slip pouches, a quick access zipper pocket on the strap, and a small hidden back pocket. It's water resistant, versatile enough to be worn on the front or back, and is the most affordable bag on this list.
Sling Bag Crossbody Backpack
The sling bag is the most traditional-looking bag on this list, but still features a solo strap design and has many modern elements. Made from water-resistant polymer, it has one large main compartment, 2 interior slip pockets, a front and back pocket, and a side slip pocket.
Conclusion
Knowing which of these men's bags for work is right for you is a matter of preference, but also comfort, utility, and durability. A bag is an essential part of any working man's ensemble, and your unique needs should be considered when selecting a bag. Whatever those needs are, Alpine Swiss is a great place to start your search.
Mariam Simmons
Mariam Simmons is a fashion enthusiast and Content Manager at Alpine Swiss. She loves traveling to the world's top stylish destinations and gets inspired to create helpful fashion and lifestyle guides. With over a decade of writing experience, her main goal in creating content is to ensure readers learn something useful and provide value instead of noise.
---