Mens Wardrobe Essentials: 14 Minimalist Fashion Must-Haves
2020-11-30
First impressions last. What you wear will influence how people see you. Dress like a thug and people will likely be dialling 911 before you even make a sound. Dress fashionably and you'll see doors opening up for you. In fact, according to an OfficeTeam survey, 80% of executives think that your clothes can influence your chances of getting a promotion.
While all of this sounds mightily unfair, it's just the way the world works. This is why it is incredibly important to be careful about how you present yourself. This means building a wardrobe that has all the essentials, from men's casual wear to men's business attire. This wardrobe also includes a list of shoes every man should own.
But why can't you stick to what you already own? It looks good enough. Unfortunately, some of the clothes you own probably need to go. Moreover, how likely is it that you already have them? That's where we come in. This is a checklist (with some tips thrown in) of the must-haves you'll need so that you'll always be dressed to impress.
What is a minimalist wardrobe?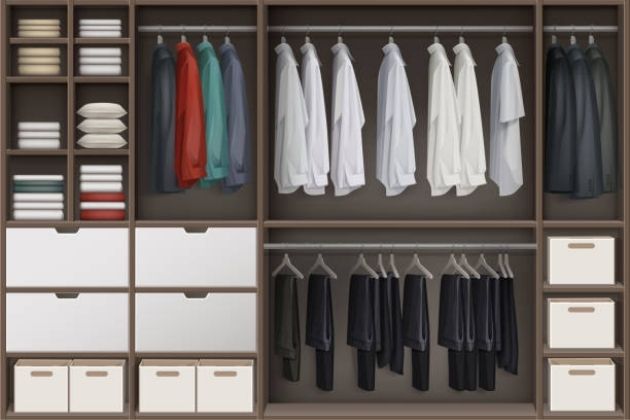 Ok, so we already know the importance of having a wardrobe that makes you look good no matter the occasion. But what is this "minimalist wardrobe" thing you saw in the title? In design, minimalist often refers to simplicity, paring things down to the basics. It usually translates to the use of neutral colors. But when it comes to minimalist fashion, it's not the same.
It is not about having a collection of neutral-colored clothes that feature simple, streamlined designs. That's an aesthetic, not an approach - just one aspect of the minimalist style. A minimalist wardrobe means that you only have high quality pieces in your closet that you love - clothes that you wear all the time.
Why is that? Because an average person only used 20% of the clothing items he or she has in the closet. Which means 80% of your wardrobe remains unused, cluttering your closet. That 80% causes decision fatigue - too many choices - which then makes you feel less confident about your final choice in clothing.
The goal of having a minimalist closet is that every time you open it, you are only faced with pieces that you can't wait to wear. And whatever you do pick will always make you feel confident and amazing.
Now, before we begin with our list of men's wardrobe essentials, let's just touch lightly on what a capsule wardrobe is and how it is different from what we're doing. So, a capsule wardrobe is similar to a minimalist wardrobe wherein both only have clothing items that you absolutely love. However, the similarities end there. With a capsule wardrobe, men's or women's, the number of items in your closet is limited. For some, that would mean having only 37 pieces in the closet per season. You can't add or subtract to it during the season. Two weeks before the season ends, you plan and shop for your next capsule wardrobe. Take note that your capsule wardrobe can contain old pieces and new ones, as long as the total number of items remain the same. The goal of this type of wardrobe is to save money as well as time and energy spent buying clothes and choosing what to wear everyday.
Because we're building a minimalist wardrobe, you don't have to worry about limiting the number of items in your closet. But we do have to make sure that everything within "sparks joy" in your life. So, let's begin.
Outerwear
Overcoat
Classic and versatile, an overcoat is an essential to any fall and winter wardrobe. It's stylish and can easily be worn over a business suit. It can also be used to dress up your casual outfit. If you're not sure what material or color to get, stick with wool and dark neutrals. Overcoat is a must-have within men's outerwear collection.
Puffer Jacket
Also known as a down jacket, this is a fall and winter staple that will keep you insulated from the cold. Aside from being practical, a puffer jacket can be worn with most outfits. Of course, not all puffer jackets are created equal. We're not suggesting you go full Michelin Man here. A lightweight, low profile one would work best as this will allow you to wear it with most of your wardrobe and throughout different seasons. You can go for dark colors if you want to be able to pair it with men's business attire. You can also choose to make it a statement piece by opting for a bold color or pattern.
Denim Trucker Jacket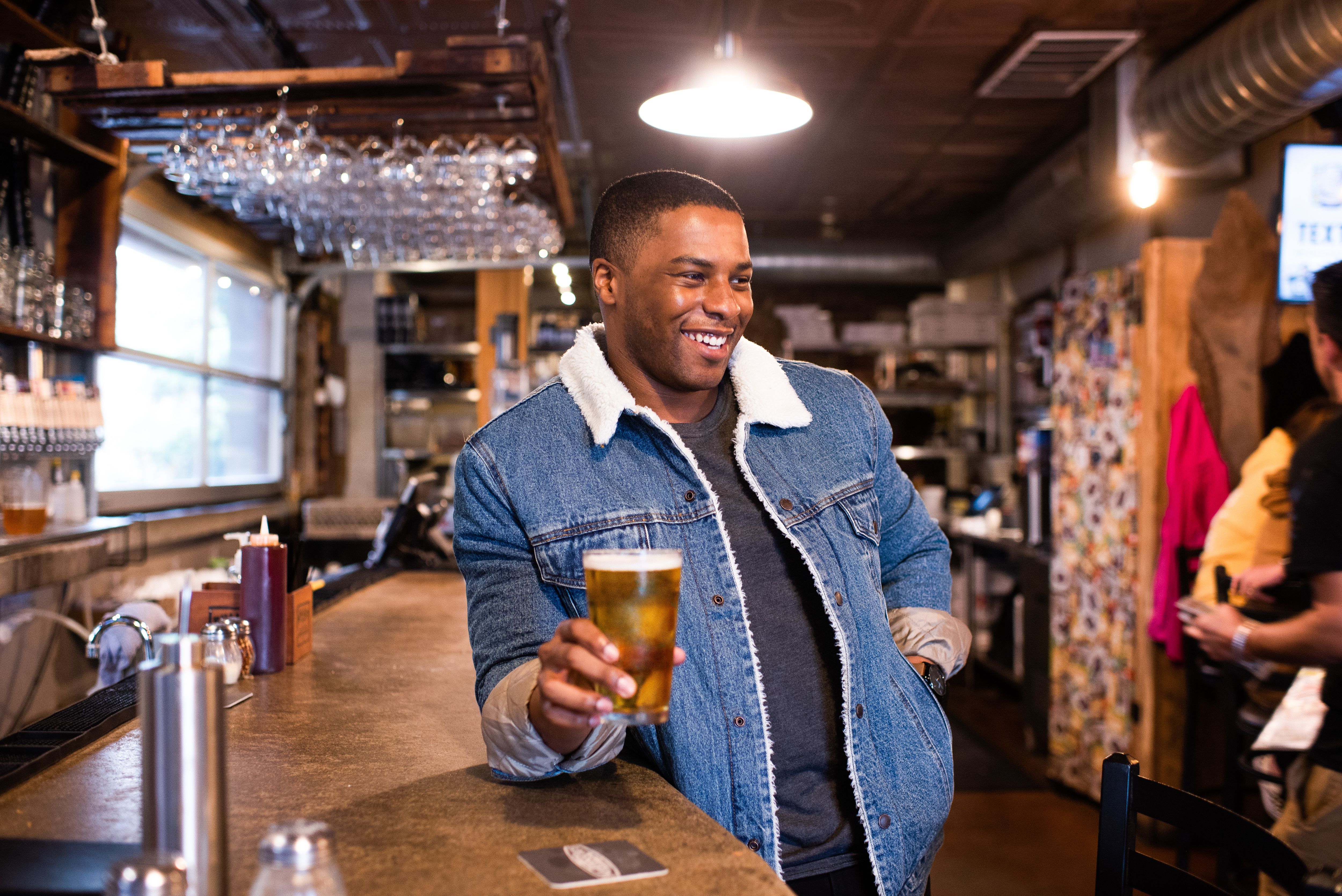 We all know that denim is the king of men's casual wear. A trucker jacket, on the other hand, can make anyone look effortlessly cool and stylish. And when you combine the two? You've got gold. A denim trucker jacket can easily be matched with just about any kind of outfit. It's perfect for times when a lighter outwear is required. Plus, the material is tough and durable, something that will last in your closet for many, many years.
Casual Wear
Jeans
What minimalist wardrobe would ever be complete without a pair or two of slim-fit jeans. These will never go out of stylez making you look good no matter what's on trend at the moment. Slim-fit jeans are a must-have in any man's casual wardrobe, regardless of style, because they are neither too tight or too loose. They fit just right. If you want to level up this clothing item's versatility, we recommend going with a dark wash. This way, you can wear it to the office on smart casual Fridays.
Oxford Shirts
Oxford shirts are considered part of men's wardrobe essentials within men's dress shirts because of their versatility. These can be worn with jeans or chinos for casual occasions. You can wear it open over a fitted shirt. You can even wear it with a suit to dress down your two-piece, making you look less stuffy but still professional. The key to adding this versatile piece to your closet is to choose the right colors that go with your skin tone. For example, if you have light skin and light hair, we recommend white, baby blue, pink, blue gray, and gray. If you have tan skin with dark hair, you should go for white, navy stoke sky blue, olive green, and dark gray.
Polo shirts
The polo shirt is another versatile piece you should have in your closet. It's easy to match with other pieces of clothing as long as you stick to block colors and no logos. Polo shirts are perfect for spring and summer. It isn't ideal for layering. Though if you need to, make sure that you choose a casual blazer with a higher collar and a heavier material.
T-shirts
You can never go wrong with a handful of high quality tees in your closet. Get an assortment of plain, block colored shirts that can easily be paired with jeans or shorts. Black, grey, white, and navy are colors that offer maximum versatility. Plus, they'll never go out of style.
Footwear
Oxford Dress Shoes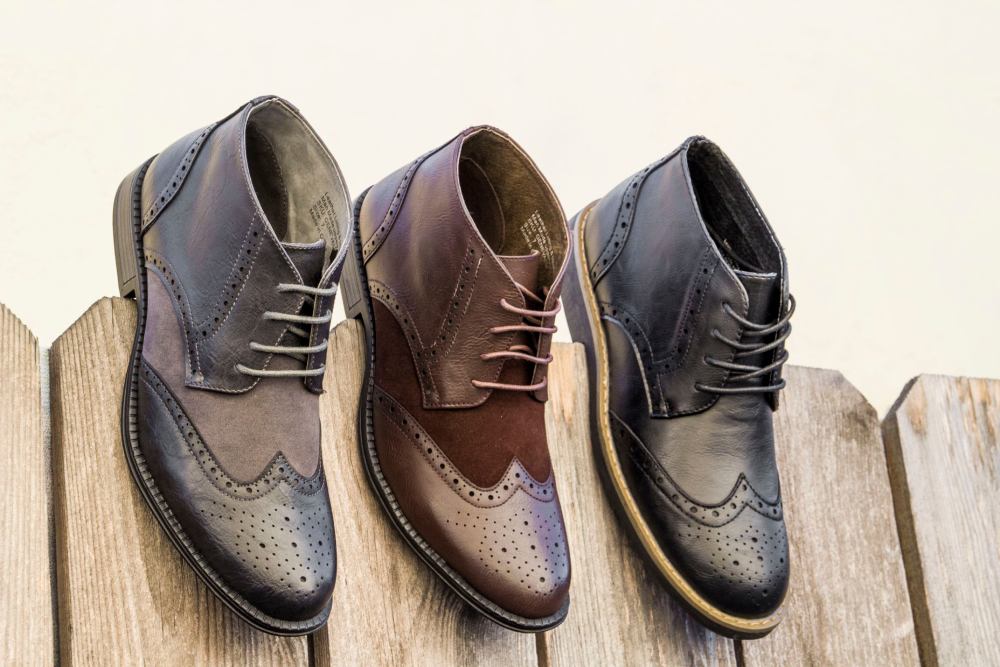 Men's dress shoes are must-haves in every man's closet. A well-made pair of Oxford dress shoes should have you covered for any and all formal occasions you'll have to attend.
Work Boots
A pair of mens ankle boots is key to looking good and keeping your feet snug and warm during the winter. It sure doesn't hurt that you can wear them when hiking tricky terrain. And when paired properly, you can even wear them throughout most of the year.
Sneakers
Your wardrobe won't be complete without a pair of sneakers. Your everyday sneakers can be paired with just about anything you have in your closet. Some men's casual sneakers can even be worn during the winter. As for color, you can rock the generic white or go for something flashy that suits your personal style.
Accessories
Belts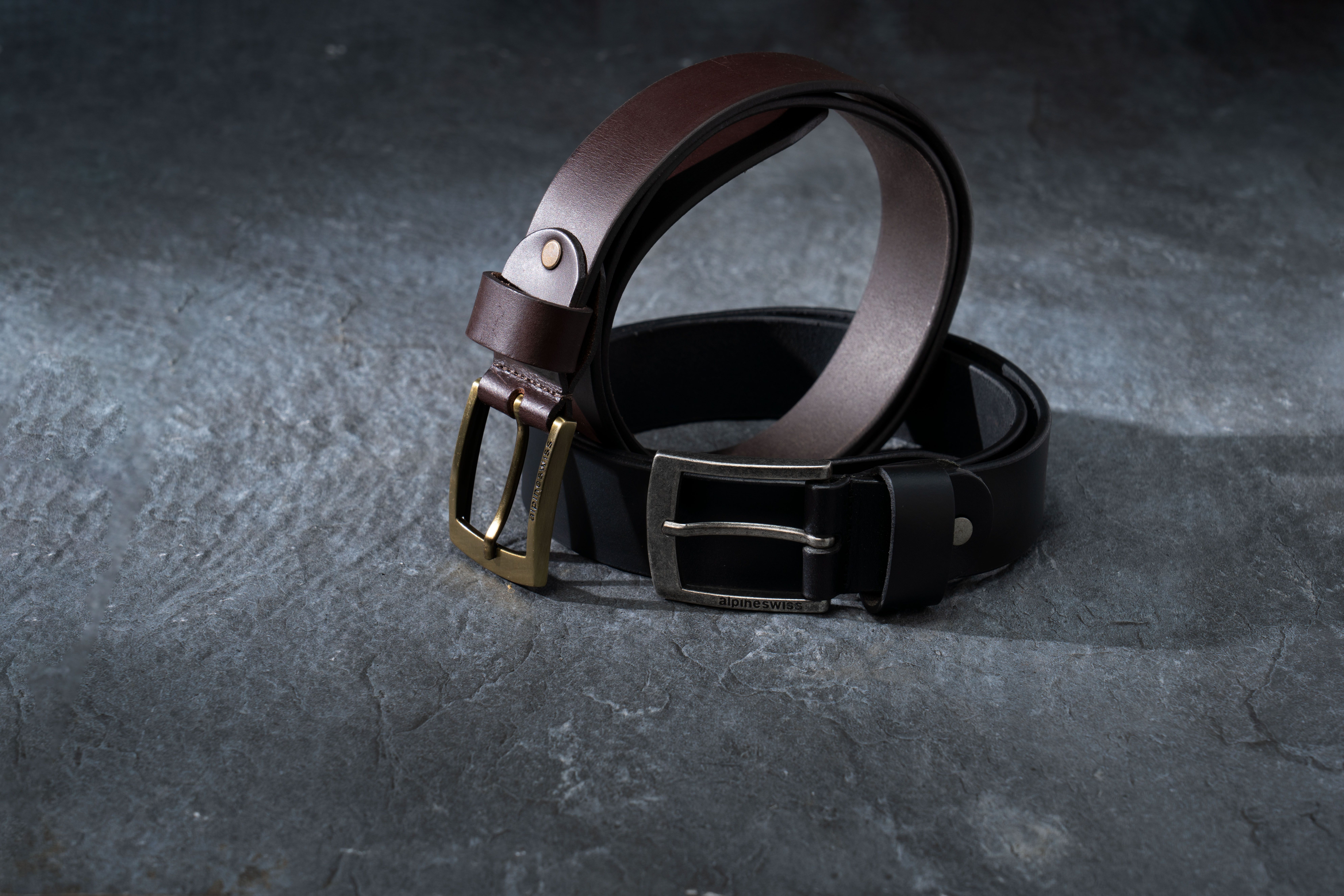 It doesn't matter how good your pants look on you if you can't keep it from hanging low on your backside. This is why men's dress belts were invented. And if you're sticking to only one belt, a brown leather one should be your top choice. Not only can it be worn with a variety of men's outfits, the material will ensure that it will look better with age.
Socks
No man can live without socks. That's just a fact. The question is, what type of mens socks should you get. There are three that we recommend - bamboo to keep your feet dry, ankle socks when you're wearing dress shorts, and winter socks to keep your toes toasty and warm.
Sunglasses
A pair of good sunglasses are key to keeping the sun out of your eyes and preventing everyone from seeing your hangover from last night. There are a variety of styles you can choose from. You can never go wrong with the classic men's polarized sunglasses, like a pair of aviators. But you can also pick something more modern. Just make sure that the shape of your sunnies fit the shape of your face.
Wallets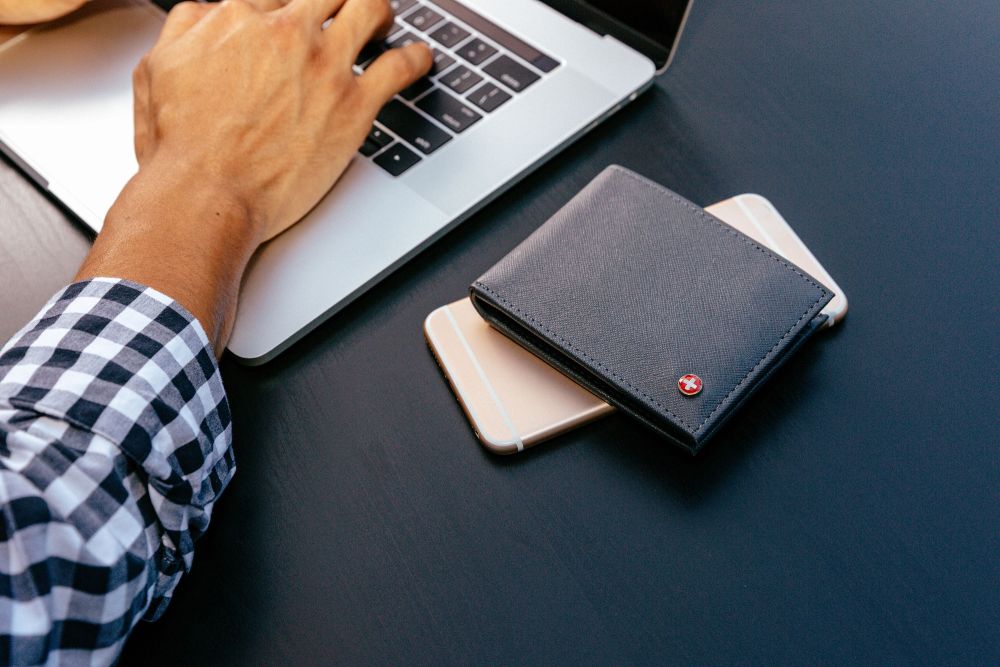 While a digital wallet is now possible with your smartphone, a physical one is still a necessity these days. After all, that's where your license will go along with some credit cards and a bit of cash. And since you're bound to be carrying one out the door, there's no reason you shouldn't get one that's functional and stylish. We recommend going with the slim men's wallets that fit perfectly in your pocket and don't ruin the line of your coat or pants because of its bulk.
Conclusion
Our list is by no means a complete one. There are plenty of other men's wardrobe essentials such as a suit, sweater, jogging pants, shorts, loafers, a watch, cufflinks, etc. A lot of the essentials in your minimalist wardrobe will depend on your lifestyle and sense of style. And that's the beauty of fashion. We can give you some ideas of cool outfits for men. We can give you advice on what works best with what. But at the end of the day, you get to dictate what you love and what makes you look at you.
Mariam Simmons
Mariam Simmons is a fashion enthusiast and Content Manager at Alpine Swiss. She loves traveling to the world's top stylish destinations and gets inspired to create helpful fashion and lifestyle guides. With over a decade of writing experience, her main goal in creating content is to ensure readers learn something useful and provide value instead of noise.
---