​2020 Must-Have Men's Spring Boots for Every Budget
2020-02-05
The new year is here and it's the perfect time to upgrade your wardrobe, footwear included. We are always impressed with the taste of men wearing boots. It is not always that simple to find stylish men's boots these days, after all.
In this article, we are going to give you a line-up of what boots to wear. This includes warm men boots, the best casual boots for spring, and other men's boots style. We certainly have a lot to cover, so let's get started.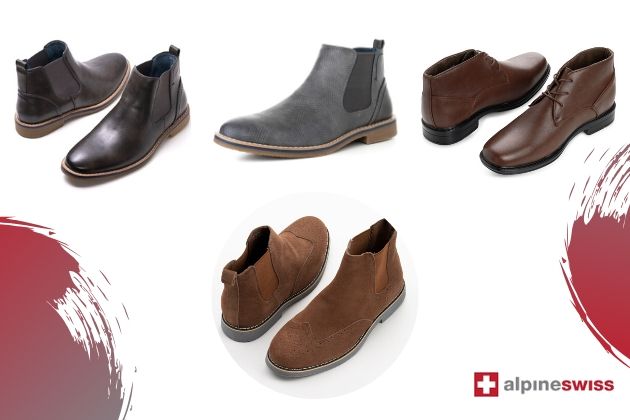 Men's Spring Boots
Let's start with absolute classic pieces. Chelsea boots are close-fitting, ankle-high boots, usually made out of leather. It has an iconic side elastic design that can be difficult to miss.
Alpine Swiss Owen Chelsea Boots
This pair might be a newly-released design but it dons a classic silhouette, making it a timeless piece. It sports a man-made faux leather upper, but the lining and insoles are genuine leather. What we like best about it, though, is the navy and white stitching. It adds interest to the classic piece. Aside from that, we also appreciate the pull-on tab and padded footbed. These small details make this pair easy to put on and comfortable to use.
Alpine Swiss Men's Leather Lined Dressy Ankle Boots
Also, leather-lined is this next pair, the Men's Leather Lined Ankle Boots. It is more formal looking than the previously featured pair, but don't let it stop you from using this for casual wear.
Alpine Swiss Nash Chelsea Boots
Looking for a real conversation-starter? Then the Nash Chelsea Boots could be right up your alley. It has a snakeskin upper texture with genuine leather lining insoles. Like the Owen Chelsea Boots, it also has a navy and white contrast stitching and twin elastic sidings.
The padded footbed and the back heel panel are both designed to provide more comfort while the pull-on tab is a nice touch for added convenience.
Wearing Boots In Spring
Before moving on to our other spring boots choices, we're going to share with you some tips on how to wear boots for spring first. Here they are:
Take your socks into consideration. What socks are you planning to wear your boots with? Make sure to bring them if you're planning on trying on a few pairs personally. In this way, you can make sure that you will be able to account for their thickness when searching for the perfect size.
Search for genuine materials and known brands. Sure, while genuine leather and suede may require a bit of an investment, these pairs are worth every penny. Not only will they age well, but they are also going to be more durable.
Choose pieces that can easily transition. Styles like chelsea can easily transition from being casual to formal depending on what clothing you're going to pair them with. Most of us, after all, don't need an entire wardrobe of shoes. Investing in a few pairs that can easily adapt to different looks are more preferred.
Anyway, let us now move on with more spring boots selections!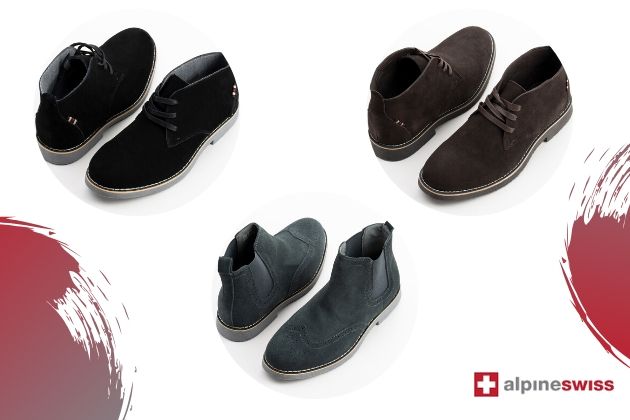 Suede in Spring
Alpine Swiss Men's Suede Wing Tip Chelsea Boots
Another chelsea piece is the Men's Suede Wing Tip Chelsea Boots. The suede material makes this pair perfect for both casual and formal wear. Available in three colors of camel, gray, and black, they are all made of genuine suede with elastic side panels.
Another point of interest is the wingtip and brogue detailing, after which this pair is named after. For comfort and ease of use, this also has the same pull-on tab the earlier pair had and a fully-cushioned footbed. If you're looking for suede chelsea boots, then this is a great pair to invest in.
Alpine Swiss Beck Suede Chukka Boots
Let's move on to a different style, the chukka. Pronounced as "chuck-ah", this type of boot is an ankle boot made of two pieces of material (usually leather), with two to three eyelets and a rounded toe. Like the chelsea, it is also a classic style, but it is usually more casual than formal. If you're looking for a formal piece, then we recommend getting one in leather rather than suede.
Speaking of suede, the Beck Suede Chukka Boots is a good choice. It is comfortable yet polished-looking at the same time. The only downside is that the style is a bit narrow, so if you have a wide feet, then we definitely advise sizing up.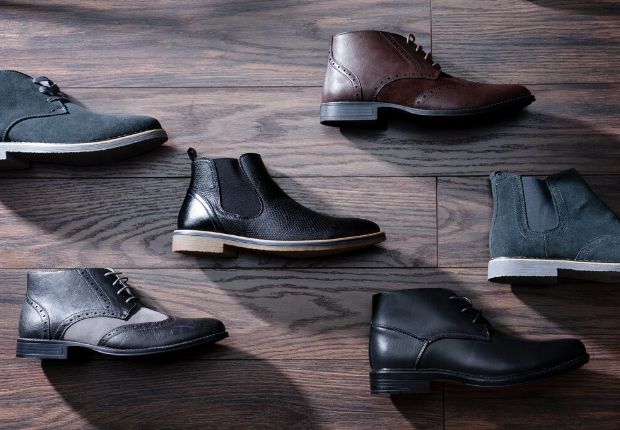 Man Wearing Boots
After another two selections, it's time for another male fashion advice. Here are some male celebrities who rock wearing boots. Check out their photos (and Instagram accounts) for more inspiration:
David Beckham
Ryan Gosling
Scott Disick
Harry Styles
Luke Evans
There are certainly other celebrities out there who can carry their boots throughout the seasons but the five above are our favorites. There are also a lot of other stylish men wearing boots on Instagram and Pinterest. Anyway, allow us to feature more stylish boot options to choose from.
Leather Boots Men
Anyway, now that we have completed our boots line-ups and fashion tips, here are some more tips on how to maintain your boots and make the most out of them:
You can waterproof your pair. There are protective sprays out there that are formulated to waterproof and lay a protective layer on your shoes to prevent staining from rain and snow. These should be used once a week especially during the rainy season.
Deal with stains immediately. There are a lot of elements that can stain your beloved leather pair. Prevent this from happening by applying a stain remover as soon as possible.
Don't forget to condition them. Just like human skin, leather can run out of moisture and crack if not regularly maintained with a specially formulated conditioner. Be mindful of the color of your chosen conditioner, though. Make sure that it matches your shoes to prevent staining.
Men's Suede Boots
As for caring for suede, here are more useful tips:
You can waterproof your pair. Just like your leather shoes, did you know that there are also water-repellent sealant sprays for suede boots as well? Unlike leather protective sprays, though, suede sprays can last for several months until they are needed to be reapplied. Make sure to read the packaging of your chosen product to learn more about the proper application and frequency of use.
For stains, use talc. If your leather pair needs its stains removed immediately, it is even more crucial to do so for suede since its material is more absorbent. Even water can stain it. To deal with potential water stains, patthe problematic area with absorbent cloth then apply talcum powder to it. Let the powder set overnight then brush it off with a suede brush the next day to remove. Voila, the stain is gone!
Brush it. Speaking of suede brush, even an old soft-bristled toothbrush will do. Give your suede a quick refresh by brushing it. If it looks really worn down, then steam it for a few seconds first before doing so.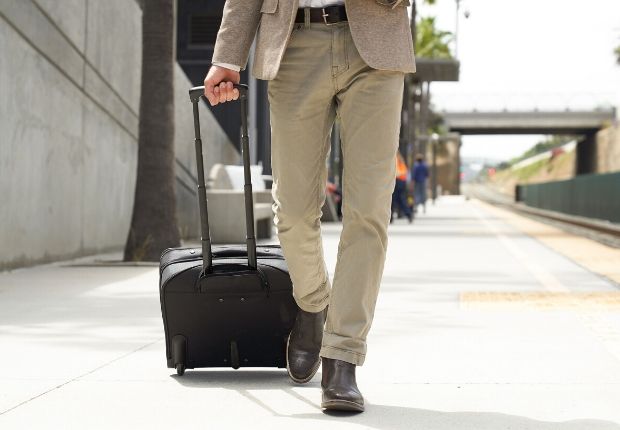 In Conclusion: Men's Ankle Boots
We understand that it can be challenging to decide which boots to wear for spring. Unlike fall and winter, the temperatures are a bit higher and they can be quite hot and uncomfortable to wear. This is the reason why we recommend sticking to ankle boots instead. By doing so, you can still keep your feet's cool and comfort but still be elegant and stylish at the same time. We hope that you have enjoyed our tips and line-up. Until the next stylish season!
Mariam Simmons
Mariam Simmons is a fashion enthusiast and Content Manager at Alpine Swiss. She loves traveling to the world's top stylish destinations and gets inspired to create helpful fashion and lifestyle guides. With over a decade of writing experience, her main goal in creating content is to ensure readers learn something useful and provide value instead of noise.
---