Top 7 Men's Shoes To Wear With Shorts
2021-07-23
Shorts are simple pieces that work great for casual settings. However, when paired with certain styles of shoes, you can elevate your look and even make it appropriate for more formal occasions.
In this guide, master the art of matching men's shoes with shorts. We'll talk about the different styles of mens shoes to wear with shorts. We will also give you wardrobe ideas to pull an amazing outfit each time.
How to Pair Men's Shoes with Shorts?
You don't always have to wear the same shoes for all your shorts. Here are the different styles and types of men's shoes to wear with shorts.
Sneakers
Men's casual sneakers are probably the most versatile shoes you could own. Sneakers with shorts are a match made in heaven. However, there are certain rules to follow to pull off a clean and amazing look. The cut of your shorts is the biggest consideration when choosing a sneaker style to match it.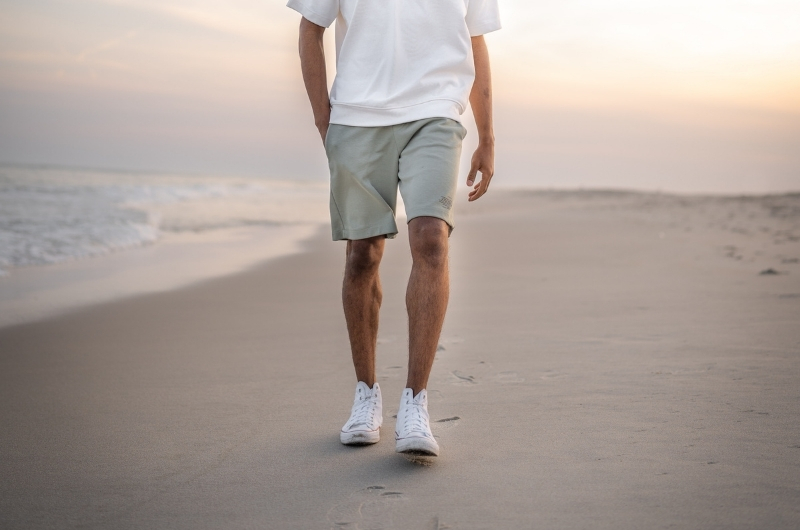 Consider these tips for men's casual shoes with shorts:
Chunky sneaker silhouettes for wide, long shorts.
Minimalist sneakers are a thing these days and are perfect for knee-length and shorter shorts. However, just because they're "in" doesn't mean the chunky kicks are out. These kicks still deserve a spot in your wardrobe, especially if you like wearing wide, long shorts.
White sneakers are a must-have. White sneakers are the most versatile shoes you can have in your wardrobe. Shorts and white sneakers are a perfect combination, whether you're wearing jeans, chinos, or the trendy athleisure style. These are perfect when you want to wear mens summer shoes with shorts.
Loafers
Want to elevate your look for a weekend brunch with friends but don't want to be over-the-top? Go for loafers and shorts. While they aren't as casual as sneakers, these kicks are very versatile too.
Depending on how formal or informal of an outfit you want, you can pair loafers with various styles of shorts. Loafers are some of the best shoes to wear with chino shorts and make a great semi-formal outfit for the summertime.
Meanwhile, if you want to go casual, wear loafers with denim and khakis, and go sockless during warm seasons. Another option of wearing loafers with shorts: tailored shorts just above the knee, a belt, and a tailored shirt.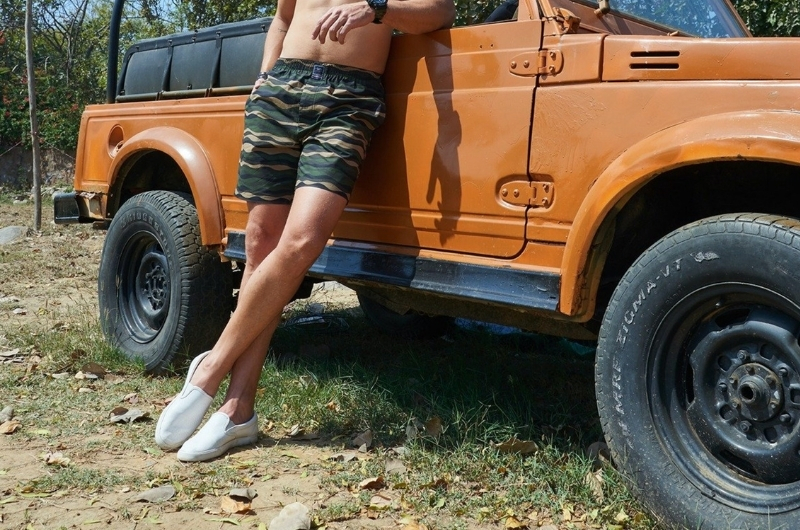 Moccasins
Moccasins and shorts work well together, basically because they are essentially loafers. When paired with shorts, these kicks make for a comfortable and casual look.
High-top moccasins go nicely with jeans, capris, and shorts. You may opt for natural leather and suede colors for a subtle yet distinct look. And just like sneakers, you can wear these shoes with or without socks.
A crew-neck tee and shorts are among the most versatile outfits you can have, whatever the day. Finishing the look with moccasins is a sure-fire way to breathe a touch of elegance into your outfit.
Boat Shoes
Boat shoes are warm-weather shoes that can instantly dress up your look. Given its versatility, you can pair it with different styles of shoes. For smart casual, chinos and boat shoes go hand-in-hand. Consider rolling up your trousers' cuffs to create an effortless look. If buying boat shoes, opt for colors like navy, tan, white or pale blue.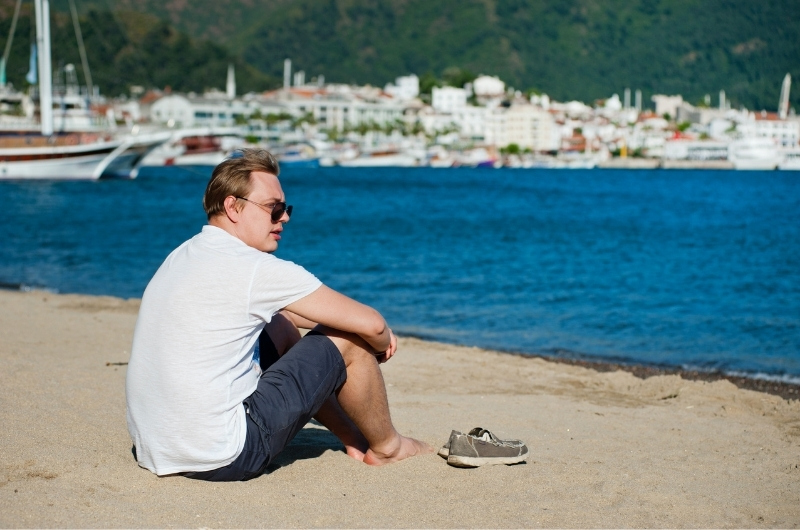 Brogues
These wet-weather farm shoes have been around for a long, long time and they are still a popular footwear choice among modern men. These classic kicks are probably the most versatile shoes a man can have. They are office-ready, suit-friendly, and of course, (first) date-appropriate. Even though brogues are considered men's dress shoes, they also pair nicely with shorts.
Can you wear oxford shoes with shorts?
Unfortunately, they are too formal for shorts. If you want to wear mens shoes with shorts, you can opt for casual loafers, brogues, or boat shoes instead. Brogues and shorts are a killer combo for the warmer months. Ditch the socks and choose shorts that are just above or below the knee. You can pair the look with a shirt, knitwear, and even a blazer. You can also wear it with a polo.
Sandals
Sandals are your best friend during the hot season. They're probably the best option for men's summer shoes with shorts. They are a winning combination that's perfect for casual summer events, whether in the city or at the beach.
Whether you're headed to a backyard barbecue or a pool party with friends, sandals are the best choice. Don't think they're just good for the groceries. You can look stylish and dressed wearing sandals and shorts too.
However, do note that the sandal you choose will affect the style of shorts you wear, and vice versa. For example, slightly raised sandals pair nicely with cotton Bermuda shorts whereas flip flops and shorts made of denim or ultra-light cotton are a refreshing combo. Cargo shorts and sandals are a classic men's summer outfit as well.
Ankle Boots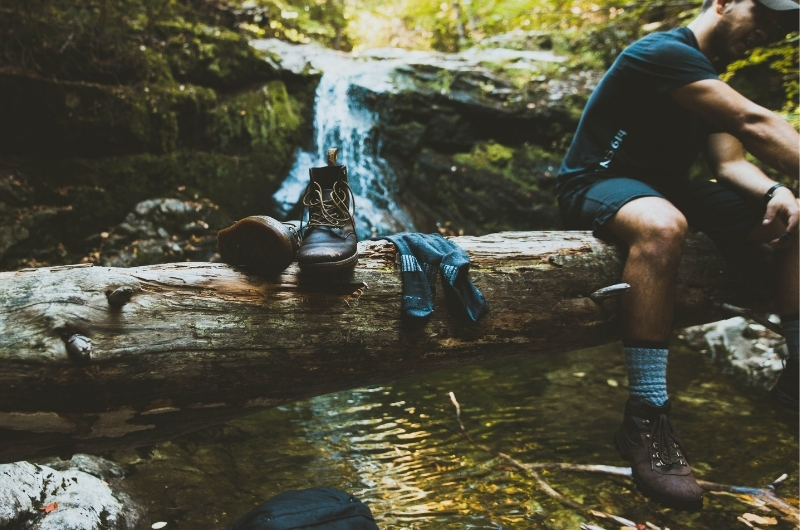 Ankle boots are one of the most versatile boots that you can wear with shorts. They suit a range of outfits, from casual to smart-casual looks.
When sporting ankle boots with shorts, your best bet is a pair of Chelsea ankle boots. They are sleek and easy to wear. For your top, you can wear a button-up shirt or a roll-neck sweater. Chukkas and other lace-up styles of ankle boots also pair well with shorts.
When it comes to must-have footwear for men, ankle boots are always included. What's more, there are so many ways to wear them. For example, these are perfect shoes to wear with khaki shorts. On lazy days, you can put together a red plaid long-sleeve shirt, brown or khaki shorts, and a pair of casual ankle boots.
How about a polo? Yes, you can pick that too. Go with a pink polo and black shorts for an appealing look. Add some extra depth to your ensemble by sporting black leather boots. For a fancy, casual look, you can try a shirt, biker jacket, and casual boots with socks.
Conclusion
So many different styles of men's shoes go beautifully with shorts. If you have sneakers, loafers, brogues, classic shoes, and sandals in your wardrobe, you can ensure a stunning look, whatever the occasion.
While shorts are best reserved for casual occasions, with the right footwear, you can dress up your outfit and pull off a fashionable look each time.
Mariam Simmons
Mariam Simmons is a fashion enthusiast and Content Manager at Alpine Swiss. She loves traveling to the world's top stylish destinations and gets inspired to create helpful fashion and lifestyle guides. With over a decade of writing experience, her main goal in creating content is to ensure readers learn something useful and provide value instead of noise.
---