Types of Briefcases: Most Common Picks
2019-04-01
The bag industry is worth $30 billion. This isn't surprising at all, considering the fact that bags are a personal necessity. We use it to conveniently and comfortably carry our belongings. We bring it to work, the beach, on errands and anywhere else we go. It houses all our important stuff. It's essentially part of our life.
Bag trends come and go. There are hundreds of types of bags available in the market today. But, there's one type of bag that will never run out of style.
The briefcase is one of the most common types of personal luggage. It is used by business people, lawyers, executives, and other professionals to carry files, important documents and other related materials.
But modern briefcases are more than that.
Briefcases, like most other things, have evolved over time. From holding papers and documents, this popular personal luggage comes with additional features designed to meet the changing needs of today's hardworking professionals.
Forget about the box-type bag you see in old movies or the one you had in your garage. You will find different types of briefcases available in the market today. This guide will help you learn about the most common picks.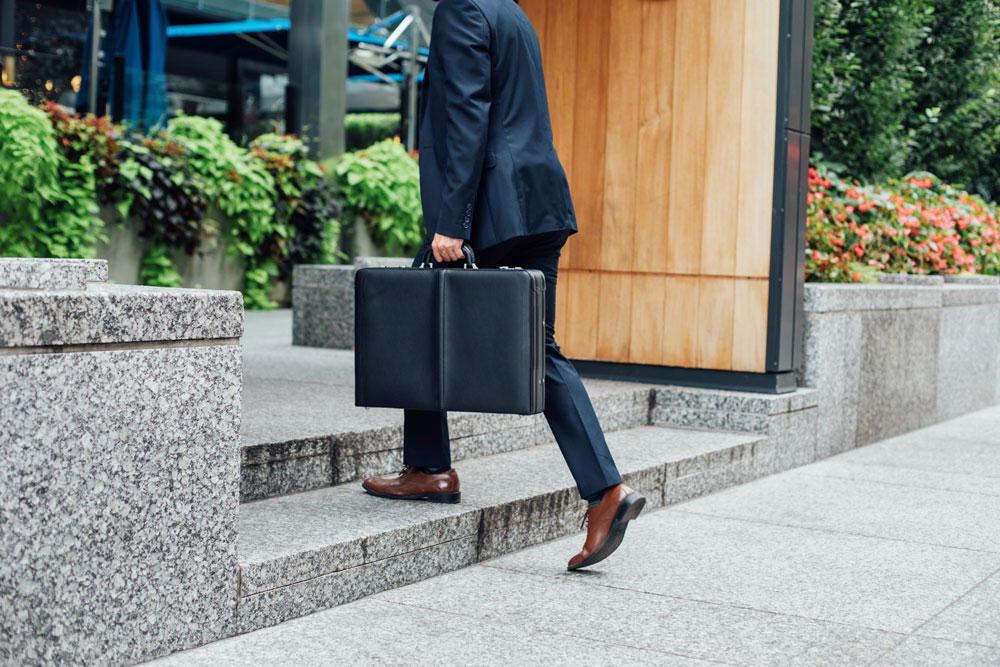 Alpine Swiss Briefcase
If you're after style and functionality, the Alpine Swiss briefcases are among the choices you should consider. Alpine Swiss began as a company known for making premium-quality wallets but recently, they started to lead the briefcase industry as well.
This carrier features a very professional look because it's made from genuine leather. It's built around a thin wooden plate, therefore offering great stability and durability. While the Alpine Swiss briefcase looks like the traditional box-typed luggage, it is very functional. Aside from your laptop, the briefcase can securely carry your other devices at the same time, such as your phone and iPad. It also has an organizing section designed to hold cards, papers, pens, USB, stick, and the like. This leather briefcase is a great option for men and women alike.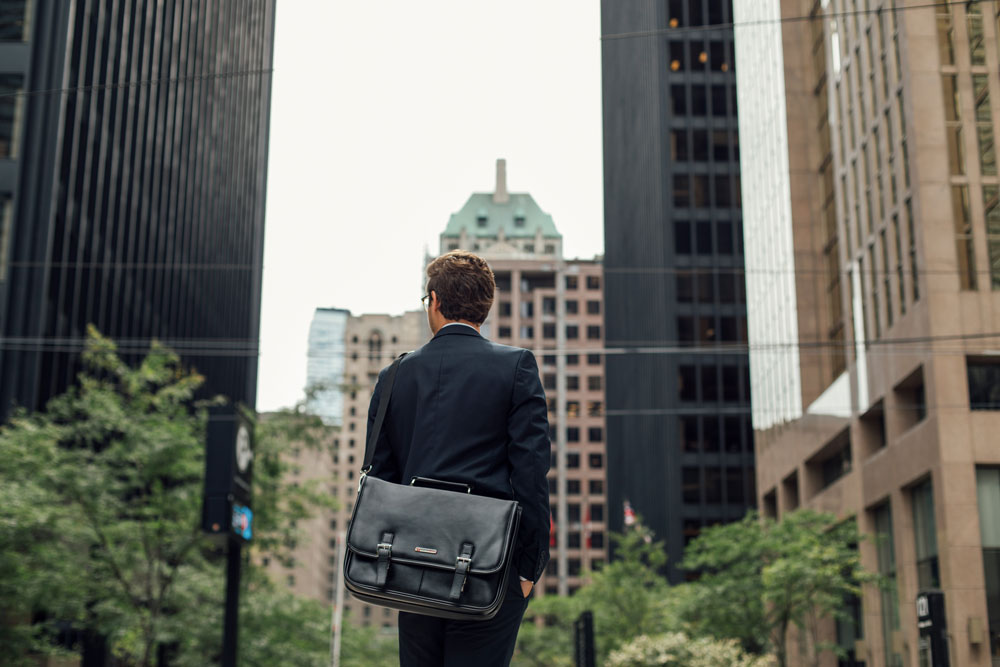 Portfolio
Another top choice is the portfolio briefcase. It's a great choice for professionals who are always on the go and prefer a carrier with maximum portability. Portfolio briefcases feature a zippered main compartment with a handle. Some may even come with outer open pockets. Inside, you will find several compartments, including slots for cards and other small items like pens, calculator, notepad, devices, etc. Portfolios are very easy to carry. If you're on a business trip or conference at a hotel, this briefcase type makes carrying important files a lot more convenient.
Padfolio
The padfolio is probably the thinnest and smallest type of briefcase available. It doesn't have a handle as it is designed to be carried by hand. Padfolios are designed to house a minimal number of items. And because it has a very thin frame, only flat objects are able to fit inside. A padfolio is a top pick by executives and CEOs. Not only is it convenient and light to carry, but a padfolio also makes a great impression during a business meeting. If you need something even smaller or compact that the padfolio, there's the 'folio case' which features a single main compartment and a handle. It can securely house a small laptop and a few documents.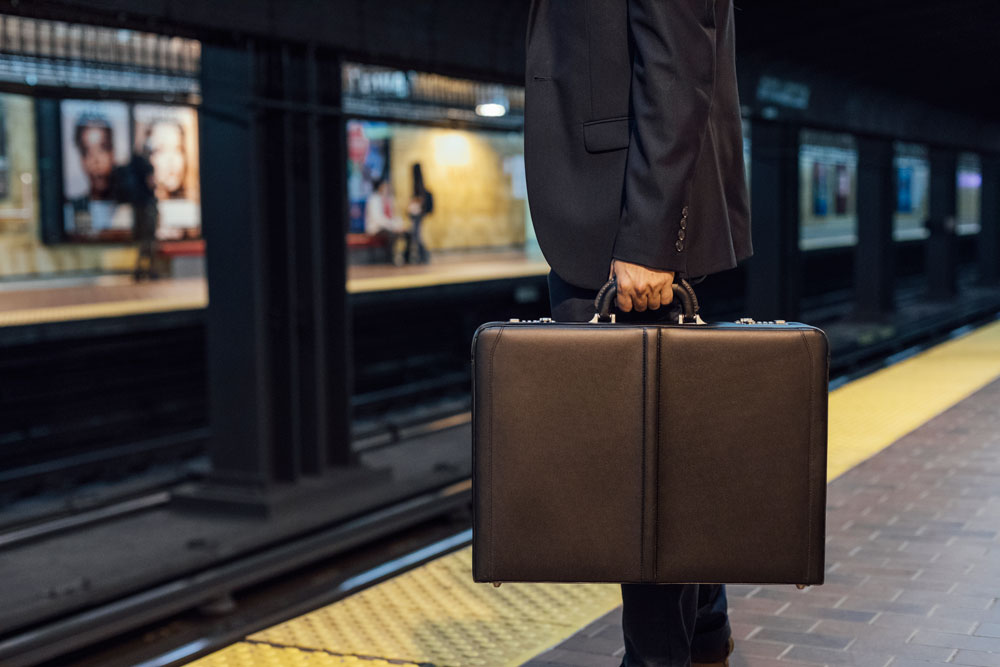 Attaché
You know it too well. Attaché is the traditional briefcase type with two compartments designed to be opened up on the side. It's larger and could house not just a laptop but a good number of files and documents. Even though attachés are roomy, they are very classy and features professional aesthetics. This type of briefcase makes a great choice for professionals who are looking for a versatile carrier that is suitable for most kinds of business meetings or events.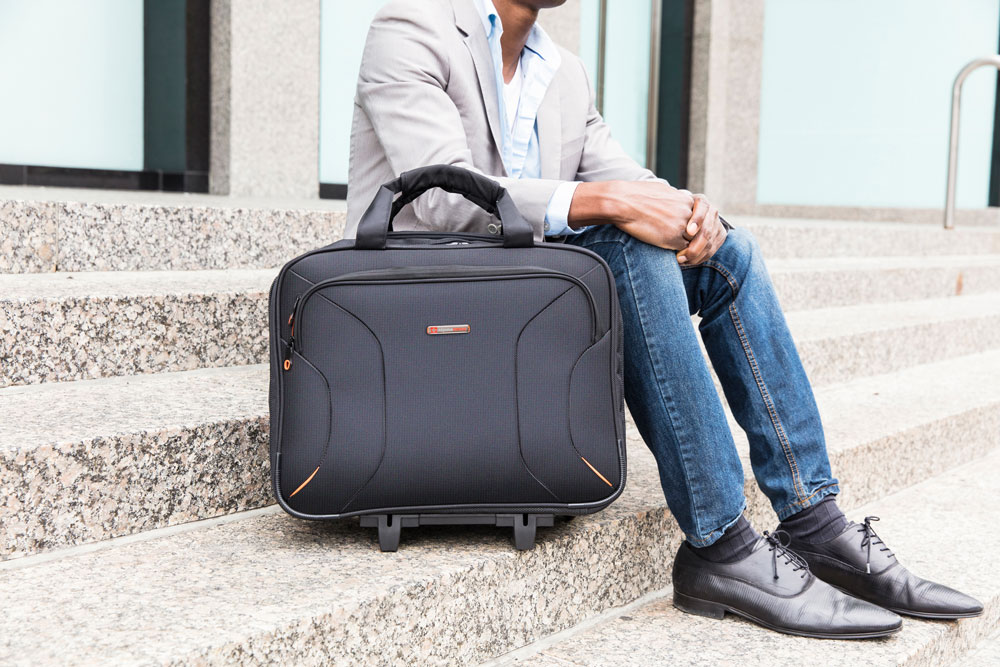 Rolling Briefcase
Rolling briefcases are similar to traditional briefcases only that they have wheels and a long handle, similar to the traveling bags or strollers. This type of carrier features a hard-outer cover to safely keep your laptop and other devices. Despite having the features of a traveling bag, the rolling briefcase is still small enough to be conveniently carried inside the meeting room without you looking like you've carried your entire wardrobe with you.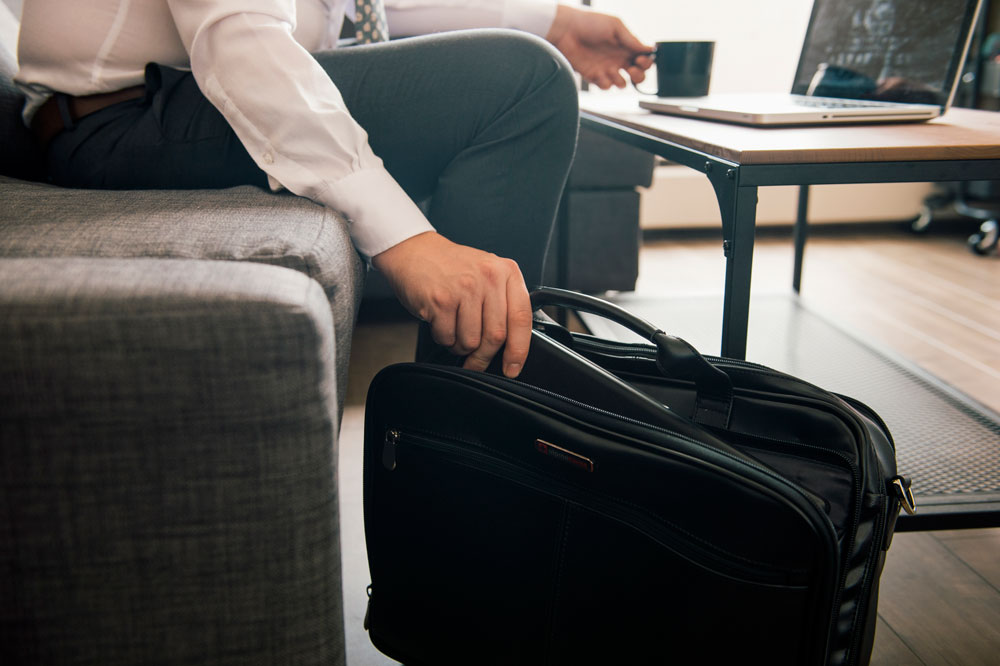 Leather Briefcase
When it comes to bags, leather briefcases never go out of fad. It's a top pick by many because leather looks classy, stylish and elegant while also being highly durable. Nothing can beat the sophistication, convenience, and durability that leather bags provide. Because leather is a softer material than what is traditionally used for briefcases, leather briefcases have a more modern look, shape, and feel. They can look like a regular high-end bag on the outside but has the features of a briefcase inside – secure compartments for your laptop and documents.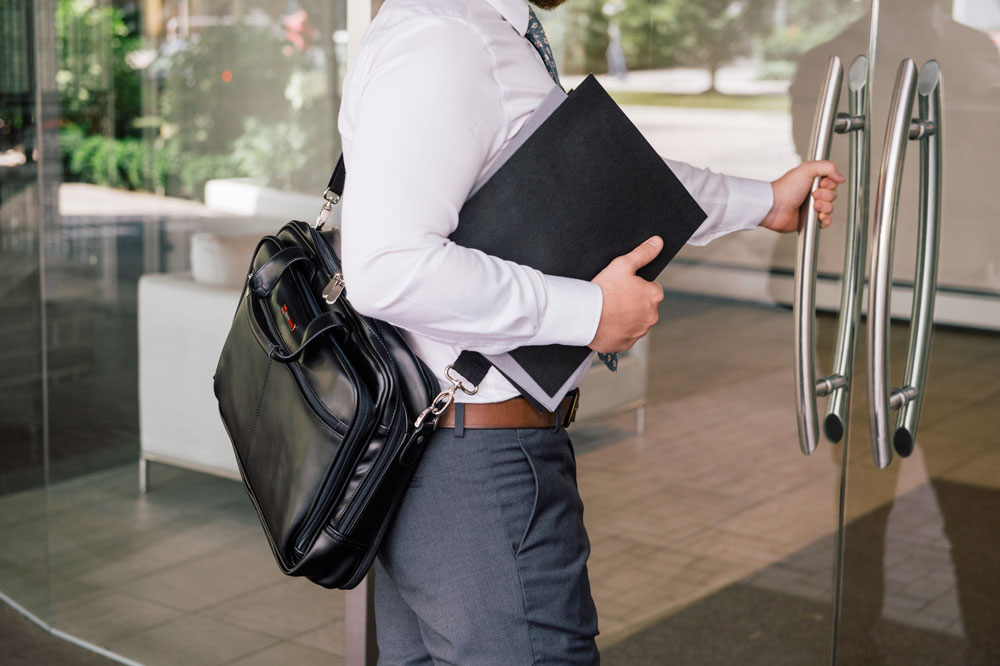 Wearable Briefcase
For the frequent traveler/backpacker, a casual pick is a briefcase that can be worn like a backpack. Many people choose this modernized briefcase because it is so convenient to carry. If you regularly commute to work, or you love exploring a destination during a business trip, or if you're a freelancer who travels the world for work and leisure, a wearable briefcase is a great way to conveniently and securely store all your work stuff.
Messenger Bag
Not really a briefcase, rather an alternative, the messenger bag is designed for professionals who work in a more relaxed environment. This bag is usually made of cloth (sometimes leather). It comes with a shoulder strap. Messenger bags look cool and stylish and are very functional too.
Choosing a Briefcase: Things to Consider
With so many options to choose from, shopping for the best briefcase can be challenging. As with other kinds of bags, briefcases come in so many designs, styles, sizes, colors, and build. Hopefully, this guide should help you find a really good quality briefcase that suits your needs and lifestyle.
Style
The first and most important thing to consider is the type of briefcase you prefer. When choosing the style of a briefcase, always consider your lifestyle, how often and how you like to use it. Look for the briefcase style that suits your workplace environment. For example, if you're a traveling professional, you might be better off with a rolling briefcase or a wearable briefcase.
Size
Another crucial factor to consider is size. To determine the right size of a briefcase that you require, you should first determine what you need at work every day. It may be tempting to buy a large briefcase that can store a lot of items but if you only carry a few items, time will come that you will find it very inconvenient to carry a larger briefcase. Same thing with choosing a small bag when you tend to carry a lot of stuff at work.
Material
Modern briefcases are made from various materials, including leather and cloth. If you have the budget, the best material is none other than leather. Not only does it look classy and elegant, but it is also very durable.
Career
There are briefcase types that are specifically crafted for certain professionals. Lawyers, accountants, corporate executives may require different types of briefcase for their careers. Some professionals like lawyers would need additional compartments to store and segment hefty documents.
Meanwhile, IT professionals are good with a sturdy briefcase with minimal compartments as long as they have enough space for their computers and other digital devices. Nonetheless, you should also consider your personal style. Of course, you need to feel and look comfortable wearing/carrying your briefcase so it's equally important to choose the briefcase that matches your aesthetic.
To find the perfect briefcase, always take into account these factors. Consider your briefcase a lifelong investment so avoid choosing one just because it's cheap or looks stylish. Your briefcase is going to house some of the most important things you need to progress in your career. It's fitting to give it time and effort to find the right one.
Mariam Simmons
Mariam Simmons is a fashion enthusiast and Content Manager at Alpine Swiss. She loves traveling to the world's top stylish destinations and gets inspired to create helpful fashion and lifestyle guides. With over a decade of writing experience, her main goal in creating content is to ensure readers learn something useful and provide value instead of noise.
---