​Wedding Outfit for Men: Guide for 2019
2019-07-22
It is every man's dilemma to talk about what to wear to a wedding. You might feel like you only have a few options, including a black tux and a grey checked suit. Well, wedding outfits for men have evolved in recent years and there are surely a few great picks for each season.
On this guide, learn about the best wedding attire for men and some helpful tips when choosing the right one.
Men's Wedding Attire by Season
The season is one of the major considerations when choosing a wedding appropriate dress or suit.
Summer Wedding Attire for Men
The summer is probably the best season to get creative when it comes to guys wedding outfits. While you can never go wrong with traditional black or grey suits, you can also go with modern summer wedding men's attire ranging from pastel hues to prints, casual mix, and more. Consider these suggestions for summer weddings:
Go with Pastel Pink Suit. Pink is originally a masculine color. The summer heat calls for a bright colored suit, along with some texture and accessories.Choose breathable fabrics. Choosing the right suit fabric is the most important consideration at any time of the year, particularly in summer when the rising temperature can bring you a lot of discomfort and perspiration. The best men's summer wedding attire is made from breathable fabrics like cotton and linen. Meanwhile, cotton-wool blends are great for weddings held at locations where the summer heat is relatively moderate.
Check out the venue. If it's a beach wedding, wearing a light-colored suit, white short-sleeved shirt, and loafers (worn without socks) are a wonderful idea. But if it's a city wedding, opt for a dark suit but spice things up with a stylish tie and handkerchief.
Fall Wedding Attire for Men
It can be a little difficult to dress up for a fall wedding simply because the weather can get very unpredictable. The secret to creating a fashionable men's fall wedding guest attire is with layering. Make sure to wear a vest that you can easily take off when it gets a little warmer. Here are some more important rules when choosing an attire for a fall wedding:
Add a pop of color. Fall tones are dark and muted. Aside from your favorite black suit, you can also stand out wearing a charcoal suit, a sophisticated navy suit, or a brown one. Make your look stand out by adding a pop of color or a bold accessory.
Go with patterns. Autumn colors in classic patterns can instantly add dimension to your wedding look. Among the best options are checks and plaids for a statement piece, such as a blazer. Avoid wearing a fully patterned suit as it may distract everyone's attention from the groom.
Choose warmer fabrics. Among the popular choices are flannel, tweed, and velvet.
Winter Wedding Attire for Men
Most winter weddings are formal. Make sure that you're feeling comfortable throughout the day by layering up. Adding a waistcoat gives you more warmth especially when you're waiting for your turn during the pictorial outdoors.
You won't go wrong with wool. When it comes to mens winter wedding attire, wool is the perfect fabric choice. You can also choose corduroy and tweed suits.
Colors play an important role too. Unless there's a specific color scheme, it's best to stick to neutral colors, such as greys and browns. Even so, take note that you are attending a joyous occasion so don't forget to wear accessories that will make your look pop.
Don't forget your overcoat. Choose neutral colors, such as black, brown, and charcoal.
Spring Wedding Attire for Men
The spring season is more like the fall. It could be too warm or cold, depending on where the wedding will be held.
Add colors to your look. Especially if it's going to be warm on the wedding day, along with a light-colored suit and accessories. However, if the forecasts reveal that it's going to be a cold day, opt for a grey or blue suit.
Go with a lighter fabric. Breathable materials like cotton will allow you to move (even dance) comfortably.
Don't hesitate to break the norm. A herringbone pattern, mixed with colorful pants and a printed tie look incredibly stylish for a joyous spring wedding.
Just as you want to pay attention to your suit, you also want to carefully choose the right shoes to complete your look. Men's shoes for weddings vary in styles and colors. Among the popular choices are classic loafers, Oxford, and dress shoes.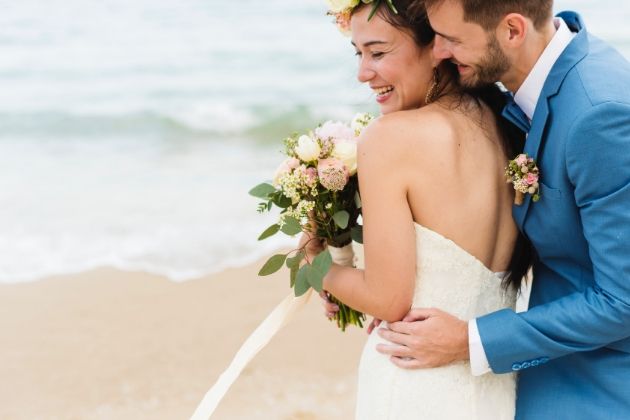 Men's Wedding Attire by Location
The location is another major consideration when deciding what should a guy wear to a wedding. Check out these tips based on where the wedding will be held.
Beach Wedding Attire for Men
Sure, you want to dress to impress, the same way brides want to impress everyone with their designer wedding dresses. But still, you should also dress for the elements – sand, sun, and water. There are very few reasons to dress formally on the beach except for a wedding. Stray for monochromatic outfits as well as bold and whimsical colors. Rather, choose light-colored suits. Great choices for beach weddings include a summer suit with a linen shirt, linen pants, and shoes. And yes, ties are not required.
Cruise Ship Wedding Attire for Men
Wearing a tuxedo is certainly fine especially for formal weddings. Vest suits are both classy and fun, which make them a great choice for cruise weddings. Meanwhile, a pocket square can add to your suit's formality. Colored pants are a fun option too, but avoid wearing bright colors.
Mountain-top Wedding Attire for Men
It's going to be much colder there. Thus, mens wedding outfit ideas in mountainous locations center around heavy, warm fabrics. Even if it's a semi-formal occasion, choose dark colors. Adding a tie also adds a rugged texture to your look.
Garden Wedding Attire for Men
Garden or backyard weddings are all about the beautiful, colorful sights of blooming florals. Such weddings are absolutely breath-taking which make them a top choice by many couples. You want to choose a light-colored suit with a floral tie. Choose something that is not too dark, such as grey or blue.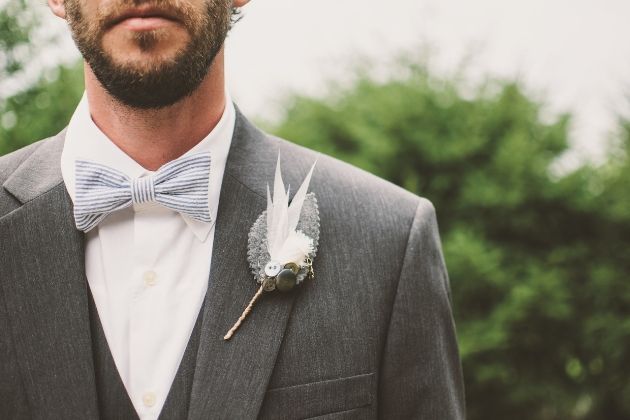 Men's Wedding Attire by Theme
Men's wedding fashion is typically confined within a chosen theme. The suits to wear to a wedding are endless, but yours should match or blend with the overall concept chosen by the bride and groom. Below are some of the most popular themes for weddings and what outfits perfectly match them.
Casual Wedding Attire for Men
A smart casual dress code allows men to wear something they're comfortable in. Black tie and formal dress codes are a great choice for occasions that call for a high level of formality so they are not included in casual wedding menswear. Instead, they call for dress slacks and a blazer. Suit and dress shirt are also recommended. The secret to casual wedding attire for men is to feel relaxed and comfortable while respecting the formality of a wedding.
Vintage Wedding Attire for Men
Vintage weddings are very popular not only because they bring such a wonderful vibe to the occasion but also because everything, from the décor to the guests' dresses, is picture-perfect. Vintage wedding attire for men has a cut in a traditional fit, usually with high waist pants and shirts with exact neck sizes. Don't forget to match your outfit with unique accessories that exude classic vintage, such as your grandfather's cufflinks.
Nautical Wedding Attire for Men
The best nautical wedding outfit for men centers on navy, blue, and white colors. Consider incorporating stripes into your suit to make your look fashionable. Another way to dress for a nautical wedding is to wear a navy or white blazer, jacket, or a coat. Speaking of coats, you won't go wrong with a classic navy trench coat.
Rustic Wedding Attire for Men
Rustic themes call for outfits that highlight varying textures. Choose a darker-colored suit, such as a charcoal or navy suit. Pair it with brass cufflinks for that bold, rustic fashion statement. Don't forget the vest though. It's a must.
Being invited to a wedding means that you are such a special person in the couple's life that they want to celebrate their momentous occasion with you. Thus, it is just fitting to dress well in this event. While the choices are incredibly varied for women, wedding outfits for men also come in a wide range of styles. When selecting a wedding outfit, make sure to take into account the season, location, and the theme of the event. You want to dress appropriately, feel comfortable, and in style. Again, wear lighter colors and fabrics for spring and summer weddings while choosing something warm and thick for winter and fall weddings. Check the dress code for the event. Wear something that matches your style while conforming to the theme of the wedding. While you can always play with accessories, colors, and fits, your attire shouldn't outshine that of the groom.
Mariam Simmons
Mariam Simmons is a fashion enthusiast and Content Manager at Alpine Swiss. She loves traveling to the world's top stylish destinations and gets inspired to create helpful fashion and lifestyle guides. With over a decade of writing experience, her main goal in creating content is to ensure readers learn something useful and provide value instead of noise.
---