​15 Types of Wallets: Here is How to Choose
2019-04-02
Our wallet is one of our most valuable accessories. We use it every day. We bring it anywhere we go. It holds all of our important stuff, from our cash and credit cards, personal identification cards, passport, emergency contact information, to our most treasured family photos.
Types of Wallets: Here is How to Choose
So how come most of us don't even give buying the right wallet a second thought? Many people choose wallets based only on appearance or design. Some don't even care what kind of wallet they buy, as long as they have one. But the thing is, that stuff you always have in your bag or pocket is more than just a wallet. It speaks so much about you – your lifestyle, your personality, and how organized you are.
Learning about the different types of wallets and their features is your starting point towards choosing the right one. If you are shopping around for the best types of wallets, this guide is for you.
So how do you choose the best wallet? What factors should you consider?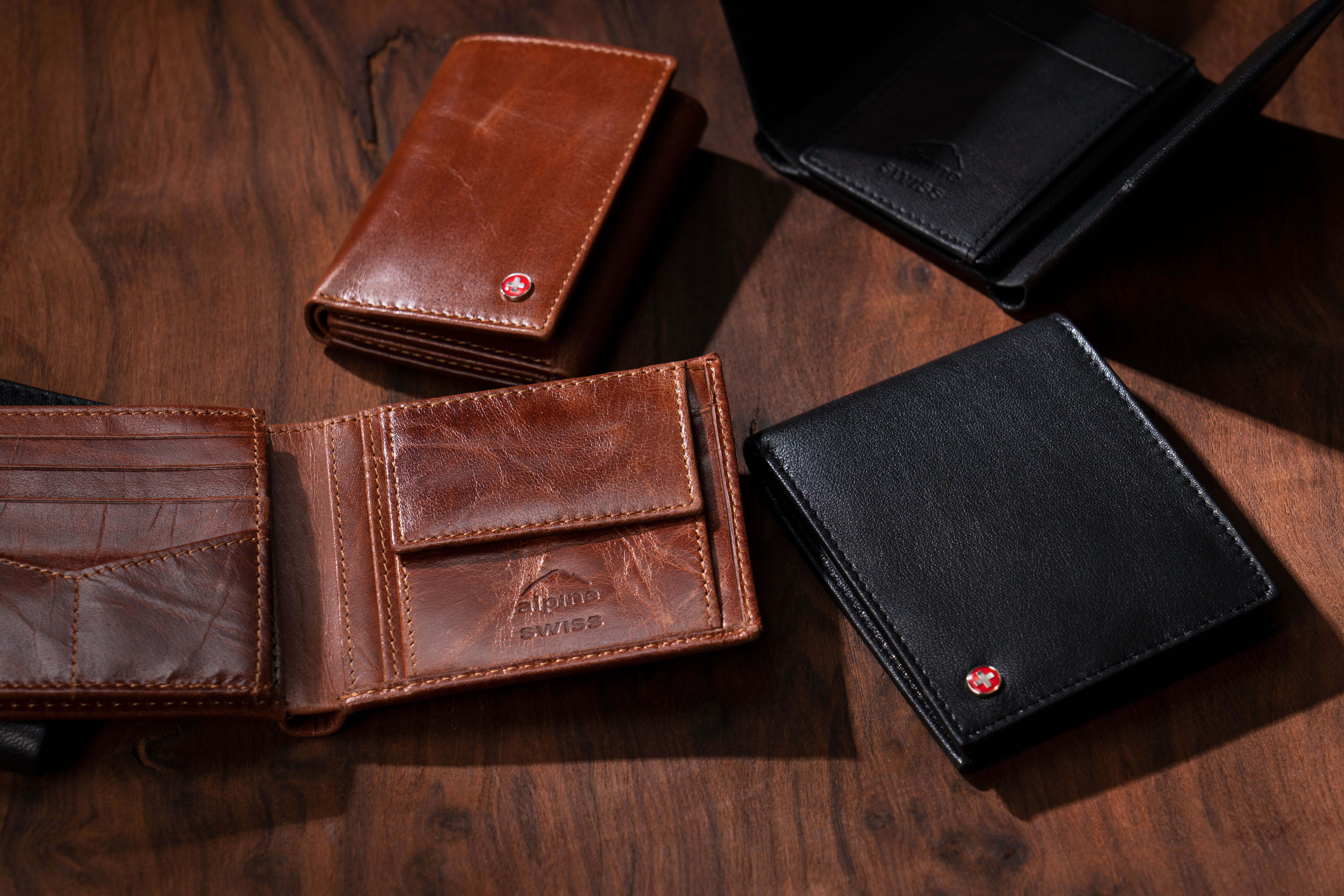 Style and Features
Just like most accessories, wallets come in a variety of styles. While all wallets have the same purpose, not all of them are suitable for your needs or lifestyle. Before you buy one, check whether it has all the features you need. If you are a frequent traveler, for example, you might need a wallet that is sleek yet large enough to house all your IDs, cards, and important travel docs such as your plane tickets, hotel room keycard, etc. If you don't go out much often, a basic, bifold wallet that has a few compartments is probably enough for you. If you have a lot of cards and prefer cashless transactions, then you're better off with a cardholder.
Functionality
Another important factor to consider is your wallet's functionality. Wallets are mainly designed to carry cash. But of course, you don't want to miss out on other uses like having a secure place for your credit cards and IDs. Some wallets even come with a zippered compartment where you can put coins, as well as transparent pockets for identifications (no need to take out your driver's license, just flip open your wallet).
Material Type
Once you've chosen the style and features you need, the next thing to look at is the material of your wallet. Aside from traditional materials like leather and fabric, there are many other choices like polyester, cotton, plastic, and metal. Each of these materials has its pros and cons.
Leather, which is the most popular type (and often the most expensive), provides a smooth, comfortable feel, and luxury looks to a wallet, regardless of the style and design. Because it's one of the smoothest materials, it makes the wallet easier to slip in and out of your pocket. The leather is also tough and durable, a great choice if you're looking for a wallet that can withstand heavy use. However, leather wallets are not water resistant and require some maintenance so it lasts long, such as applying a leather conditioner and washing the wallet by hand.
Polyester and cotton are also very popular materials used for wallets. Polyester is a great alternative for leather because it's durable and resistant to cracks. It can be dyed and designed in various ways, from classic floral and curve patterns to anime-inspired prints.
There are wallets made from metal too (particularly aluminum and titanium). Metal wallets are tough and durable, and highly resistant to impact, shocks, drops, and bumps. They also feature a very smooth, sleek design that fits easily even in smaller pockets. However, wallets made from metal have sharp edges that could damage the fabric of your pants or trousers and could scratch other items in your bag if you intend to put it there.
An elastic material is also very popular especially if you are looking for a compact, everyday 'carry wallet' or 'minimalist wallet'. It's also relatively cheap and could fit in few or more cards. The downside is that the card slots may be too tight that taking your cards out may be a little difficult.
Size
It might be tempting to get a big wallet with plenty of compartments but unless you will use these features, it isn't a good idea. An oversized wallet is difficult to carry and slide into your pocket. Not only that, it will create an ugly bulge in your trousers. Keep in mind that a wallet with a lot of compartments will increase its size and will be too inconvenient to carry around. Before purchasing a new wallet, a very useful trick is to clean out your old wallet and place all items on the table. Take away all items that you no longer need, such as old bills, store receipts, or expired cards. This will help you find the wallet with enough size to fit your need.
Types of Men's Wallets
For most men, wallets are a big part of their life. Men can go out without a bag but never without a wallet. There are different types of men's wallets and it can be confusing which one to choose without considering your lifestyle and design preference.
Alpine Swiss Wallets
Of all types of men's wallets, leather wallets are the most popular. And speaking of leather wallets, Alpine Swiss is the top choice by many. Alpine Swiss wallets come in different designs and colors (black, gray, blue, brown, etc.). They are generally inexpensive and are really good in quality. These wallets come with rubber composite backing overlaid with cloth, which helps the wallets retain their shape.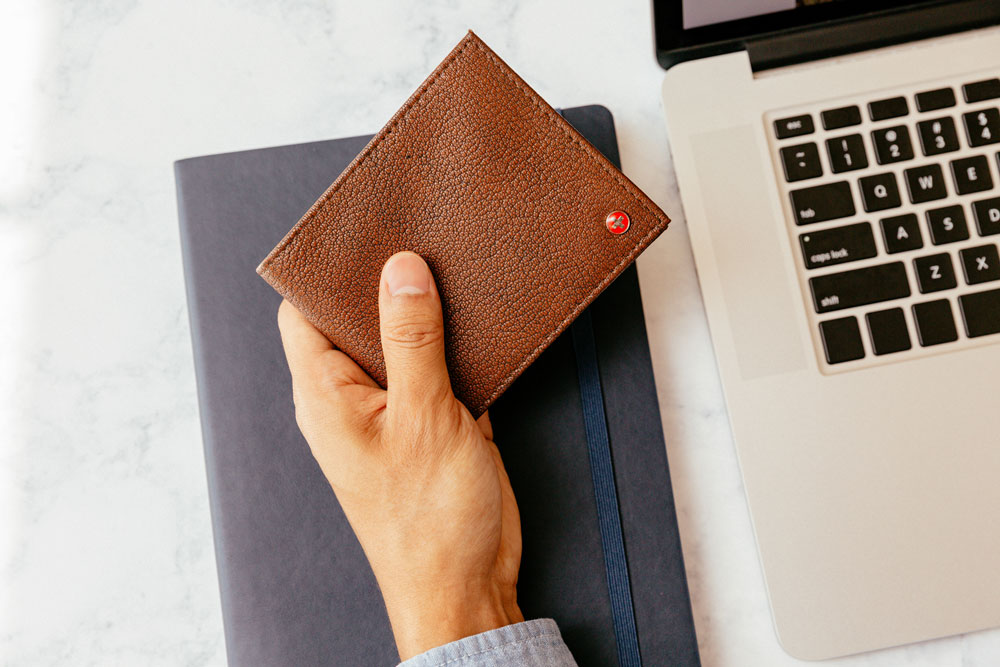 Bifolds
Bifolds (also called 'billfold wallets') are the traditional style wallets that fold in half. Your cash bills go into the rear pocket, while your cards can be placed on the card compartments on either side. Billfolds are really popular types of wallets for men because they have a sleek and simple design yet very functional. It could easily fit into your pocket without creating a bulge and causing discomfort.
RFID Bifold Commuter Wallet Cowhide Leather
Shop Now

Spencer Flip ID Wallet
Shop Now
Money Clips
Some men don't like bulky wallets. Some don't even want to be carrying a wallet all the time. Money clips are perhaps the smallest and simplest type of wallet that conveniently secures a few pieces of cash at once. Money clips are among the most common wallets used by men around the world. You can even find interesting designs that are made to double as knives or bottle openers.
Dermot RFID Spring Money Clip
Travel Wallets
There are different types of men's wallets based on functionality. Travel wallets, as the term suggests, are larger versions of breast wallets with extra room for important documents like passport, traveler's checks, identification cards, and ticket stubs. These wallets make a perfect travel accessory but are not suitable for everyday use.
Types of Women's Wallets
There are so many types of women's wallets available online. For most women, wallets are not just wallets. They are an expression of style too. Billfolds, travel wallets, money clips, are some options for women. But in addition to these, here are some additional types of wallets for ladies:
Clutch Wallets
A clutch is a popular choice by most women. It's a strapless purse that can carry not just money but other small personal items too, such as lipstick! Clutch bags come in different sizes and shapes, can be handheld, or used as a mini bag organizer. They are perfect for everyday use and even during special occasions.
Wristlets
When it comes to multitasking, women are winners. For busy moms who have to hold the stroller, grocery cart, and their phone at the same time, a wristlet is the best type of wallet. It can also double as a bag organizer and keyholder.
Wallet on a String
Very few women can go out of the house without wearing a bag and their wallet. Wallet on a string is among the multifunctional types of women's wallets that can be worn like a bag. It gives you all the benefits of a wallet (with cash and card slots) while allowing you to go hands-free.
Continental Wallets
These are large, elongated types of wallets for ladies that allow you to conveniently store money, cheque books, IDs, and even your passport. This type of wallet can serve as travel wallets too.
Card Case
Similar to a money clip, a card case can be used to carry a few cards and some cash. It's a sleek, convenient wallet that comes in handy for a quick trip to the store, the gym or a stroll around the neighborhood.
Here are All Types of Wallets
Wallets come in all types, sizes and materials. Apart from the ones mentioned above, you will find many other types of wallets in the market and ultimately, find the one that suits your needs. Personally, we recommend Alpine Swiss!
Belt Wallet
Having the look and functionality of a traditional belt, you won't know that it is actually a wallet until you look closer. A belt wallet has a secret compartment that can hold folded bills, documents, notes, and other small items. It's a highly functional wallet that you can carry around when you are biking or shopping because you can easily wear it around your waist.
ID Card Wallet
Showing your IDs (especially when traveling) is more convenient with this type of wallet. In addition to an ID card window, it also comes with slots for cards and banknotes. ID card wallets are mostly used by men who do not like large, bulky wallets.
Alpine Swiss RFID Business Card Case Wallet

Trade in your bulky wallet for this thin and practical
business card holder wallet. Our minimalist design has
room for the essentials and can fit comfortably
in your front or back pocket.
Shop Now
Leg Wallet
Modern wallets can be worn in so many ways, even around your legs. This wallet type is designed to discreetly store money, cards, and similar items. You can wear it underneath your trousers. Perfect choice for people joining marathons, fun runs, and similar events.
Neck Wallet
Also called 'neck pouches', this wallet makes a very useful travel accessory. It offers convenience, safety, and comfort. Apart from your cash, cards and ticket stubs, you can use a neck wallet to house your mobile phone.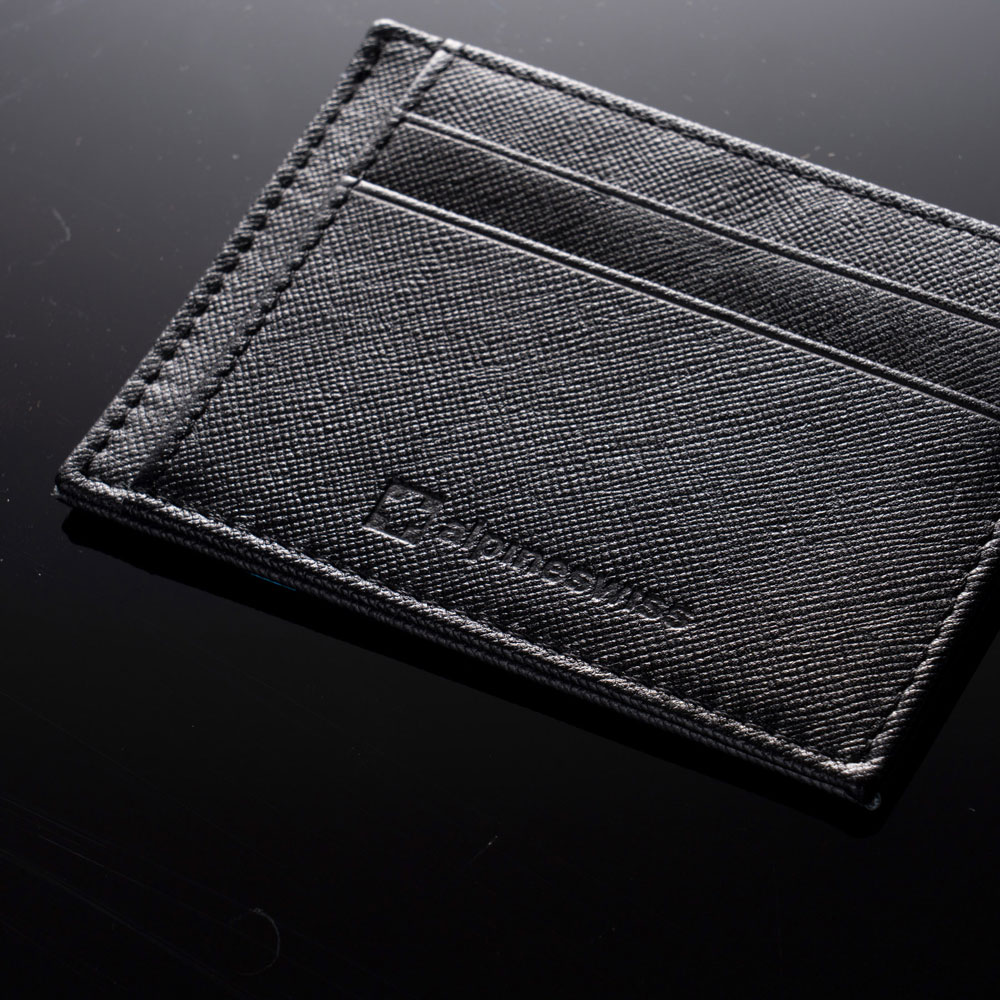 Slim Wallet
This is a compact wallet that can hold cash and several cards even when folded in half. They are slim enough to fit nicely on your pocket (front or back). In addition to an attractive design, this wallet type is convenient to use, sturdy, and puts less wear and tear on your clothing.
Taxi Wallet
A small-folding wallet that can easily fit in your pocket or inside a small bag. It's the perfect wallet for weekend getaways, nights-out, and holiday trips.
Conclusion
Choosing the best wallet goes beyond looking at what seems to be the 'coolest' or prettiest. Wallets are more than accessories. They have a very important function in our everyday life. When it's time to replace your old wallet, here are some things to consider so you end up buying the best one. Take into account the style and features, functionality, material type, and size of the wallet. It should fit your lifestyle, when and where you want to use it, and what contents it will hold.
There are so many types of wallets for men and women. Whatever wallet type you decide to buy, always give emphasis on its quality. Wallets are something we replace only when necessary. Look for the product that does not only meet your design preference but will also give you satisfaction.
Consider a wallet a long-term investment. You should spend some time looking for the best one. Another factor to consider is your budget for the wallet since wallets range in prices. You can find really cheap ones ($5-$10) and really expensive ones ($250 to $300). A premium-quality wallet from a trusted brand will most likely last for a long time.
Mariam Simmons
Mariam Simmons is a fashion enthusiast and Content Manager at Alpine Swiss. She loves traveling to the world's top stylish destinations and gets inspired to create helpful fashion and lifestyle guides. With over a decade of writing experience, her main goal in creating content is to ensure readers learn something useful and provide value instead of noise.
---