Backpack vs. Briefcase: Which Is Better for Work?
2023-01-25
Backpacks and briefcases have become a key symbol of the modern working professional. As businesses shift their focus towards more casual attire, it can be difficult to determine which is right for a specific work setting.
Both backpacks and briefcases offer a range of advantages for different types of people. From business dress codes to business-casual styles, this article will explore the differences between backpacks and briefcases to help you decide which work bag is best for your needs.
When Can You Carry a Briefcase?
While backpacks have become a popular option for commuters and people on the go, briefcases are still the go-to choice for many professionals, but when is it appropriate to carry a briefcase? If your workplace is more of a tie-and-suit arrangement, consider switching out your backpack for a more formal item, such as a briefcase.
For example, briefcases will keep suits or dress shirts at the office wrinkle-free. However, for most suits, wearing a backpack often leaves creases on the back of the jacket or suit. Not to mention the constant fabric friction that will accelerate the suit's wear and tear. In addition, briefcases are designed to be handheld, which means they can be easily carried around without affecting presentability or style.
Another advantage of a briefcase is keeping important documents organized. Unlike a backpack with multiple main storage areas, a briefcase has several compartments specially designed to securely accommodate different items, such as contracts or personal documents.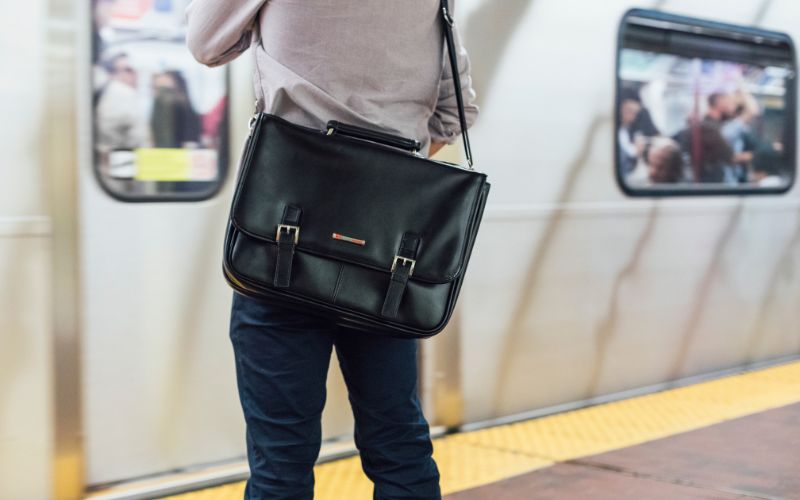 Are briefcases out of style?
With the changing times and fashion trends, some professionals switched from a briefcase to a backpack as their go-to business accessory. Despite this shift, there are still some contexts in which a briefcase can be useful, such as important meetings or job interviews. In addition, some professions still require a briefcase, such as law firms or banks. So, it still has its place in certain professional settings.
Types of briefcases
Briefcases come in many shapes and sizes, and various types of briefcases are available to suit different needs and preferences.
Wheeled or rolling briefcases - this is the most common type of briefcase. It rolls and locks into place easily, allowing users to maneuver through crowded spaces while keeping their belongings secure.
Messenger or laptop bags – this type of bag allows users to easily carry laptops, iPads, and other electronic devices that do not usually fit into a typical bag. They also have more spacious pockets for phones, accessories, folders, and other essentials without sacrificing usability or style.
Portfolio bags – This type of bag offers ample space for office supplies such as papers, pencils and pens, and personal documents.
Are briefcases too formal?
Indeed, many professionals opt for alternatives such as messenger bags or backpacks instead of briefcases as they provide convenience and mobility. However, this does not necessarily mean that briefcases are no longer relevant.
In some contexts and occasions, such as court appearances or business meetings, they are still viewed as formal attire and convey an aura of professionalism and respect. Therefore, briefcases are not too formal to use nowadays; it simply depends on the context in which they are used.
How to carry a briefcase?
From formal events to daily commuting, understanding the basics of briefcase etiquette can make the best choice for any occasion. Whether a lawyer, banker, business executive, or entrepreneur, knowing what to wear for different meetings and occasions gives you the confidence to make an impression.
For example, if you are attending a business meeting, pair a briefcase with something more formal such as a dress shirt and coat with leather boots. However, if you are going to a more relaxed professional setting, a polo shirt and chinos might be more appropriate.
When Can You Carry a Backpack?
Comfort-wise, a cool work backpack can be a good option for long days at the office or commuting. Style-wise, it can be an attractive accessory that adds character and casualty to the look with jeans and white sneakers or a blazer and tailored pants for a smart-casual look.
In all cases, consider the context and occasion to make sure you look presentable and stylish. For example, wearing a backpack with a suit might not be appropriate for some professional environments.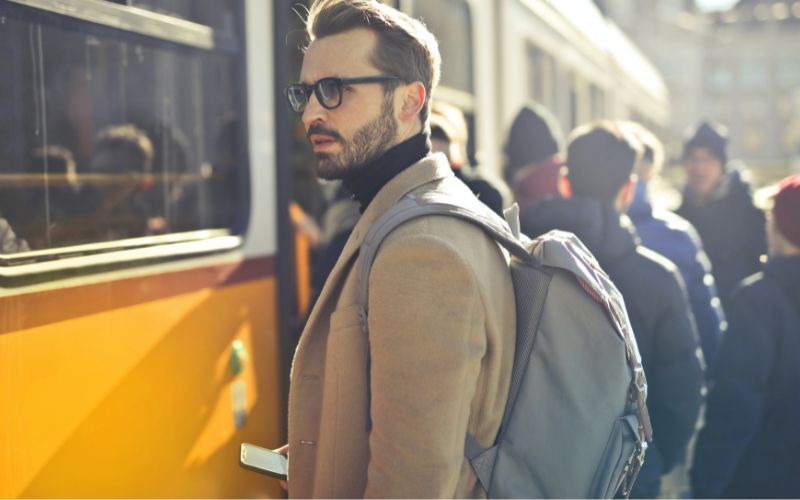 When backpacks became popular
In the last decade, backpacks have become increasingly popular in workplaces. They are no longer rucksacks dedicated to hiking and camping but are now considered modern functional accessories. With numerous pockets and compartments, backpacks can store items such as laptops, documents, notebooks, and any necessities. Furthermore, backpacks are comfortable and easy to carry around, which is perfect for those long days at work.
Are backpacks unprofessional?
Backpacks are great for carrying around essential items when one is on the go. Still, it is important to consider whether wearing a backpack in certain professional settings is appropriate. When it comes to wearing backpacks, the key question one should always ask is: does this send out the right message?
For example, when moving around in big cities like Houston, Las Vegas, and New York among others, using a backpack might work because you need every important item in one place on the go. Also you might just be visiting friends and not going to any serious meetings.
Consider wearing a backpack if it fits the dress code and looks professional. However, if there is an important meeting or conference where looking your best matters, carrying a backpack might send out an unintended message of unpreparedness or lack of seriousness.
Backpacks for professionals
Work backpacks should be practical, comfortable, and durable, with a sleek, waterproof design and enough room to carry essential items such as a laptop and documents. In addition, a minimalist design in neutral colors is often preferred since it looks more sophisticated and can match different clothing items.
When can you carry a backpack?
Depending on the type of job, office dress code, and industry, you can wear a backpack to work. For example, bringing a backpack might be helpful if items need to be moved from one place to another while kept secure and organized, such as a work laptop or important documents.
Otherwise, if the workspace is limited and items can fit into the laptop bag, it is best to leave the backpack at home. Ultimately, the answer depends on the workplace culture and personal preference.
Final Thoughts
Even though the ongoing dilemma about backpacks vs. briefcases at work can seem confusing, it is evident that both bags have their time and place. Today we can find cool work backpacks that combine style and functionality, from classic leather bags to modern rucksacks with multiple compartments that meet all needs. Similarly, briefcases have also long evolved from their bulky folder-like style to polished pieces that can be paired with modern business formal attire. Whether a backpack or a briefcase, it all comes down to the business dress code, culture, and personal preferences.
Mariam Simmons
Mariam Simmons is a fashion enthusiast and Content Manager at Alpine Swiss. She loves traveling to the world's top stylish destinations and gets inspired to create helpful fashion and lifestyle guides. With over a decade of writing experience, her main goal in creating content is to ensure readers learn something useful and provide value instead of noise.
---