How To Buy a Belt For Men: Guide To Finding a Perfect One
2019-06-14
A belt is an underrated accessory. A lot of men pay much attention to their clothes and shoes, but forget everything about the belt. And if you're like most people, you might think that all belts are the same. Well, not until you read this guide.
It might be the simplest, no-brainer accessory to wear. But still, most men get it wrong when it comes to choosing the types of belt to match their outfit.
If you're looking to buy belts but are clueless about the important things you should consider other than the belt width and belt sizes, this guide is for you. There are so much more than traditional men's leather belts or dress belts. On this guide, learn about the different types of men's belts and how to buy the best one.
Types of Men's Belts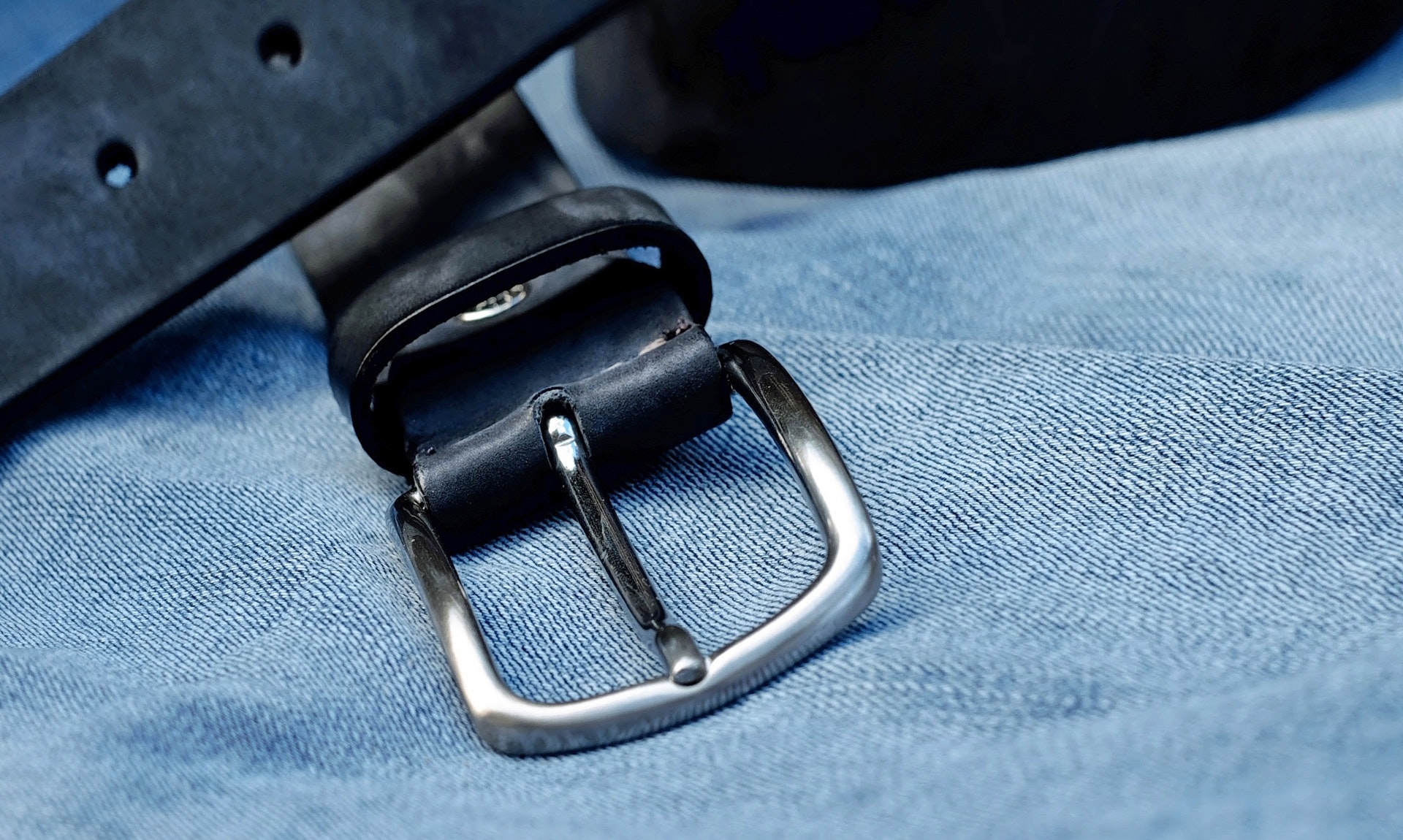 Belts are used to secure or hold up clothing. But there's more to it! Belts are a wonderful way to showcase your personal style and fashion statement too.
There are different types of belt for any occasion. More than that, varied belt types are available not only for functional use but also as beautiful adornments to make your outfit stand out.
Formal Belts
Okay, the King of belts – the classic black leather belt never goes out of fad. Leather makes everything, including belts, posh and sophisticated. Leather belts are highly suitable for formal outfits, such as with trousers or suits. A black leather belt is an easy way to sharpen your look.
The classic black leather belt is classified as a formal belt. Speaking of formal belts, they have certain features that make them different from other types of belts for pants. First is that formal belts have a frame-style style buckle which is smaller and flatter than casual belts. The buckle of formal belts usually come in gold or silver color and are shiny and sleek.
Aside from the traditional black, formal belts also come in brown color. Brown belts pair perfectly with polished brown leather shoes and almost any combination of shirts and trousers.
Casual Belts
If there are belts for formal attires there are belts for casual outfits too. Unlike the formal ones, the choice of style, buckle, size, color, and material is more diverse.
What makes casual belts different from formal belts is their buckle types. Aside from the frame-style buckle, casual belts also come plate-style, box, O-ring, and snap buckles.
Casual belts vary in material type too. Aside from leather, among the most popular choices are canvas, webbing, rope, and vinyl.
Buying belts can be a tedious process. There are many questions to be answered. How should a belt fit? How do belt sizes work? And most of all, how long should a belt be?
Keep reading, we're down to the next and most important part: how to buy a belt.
How to Buy a Belt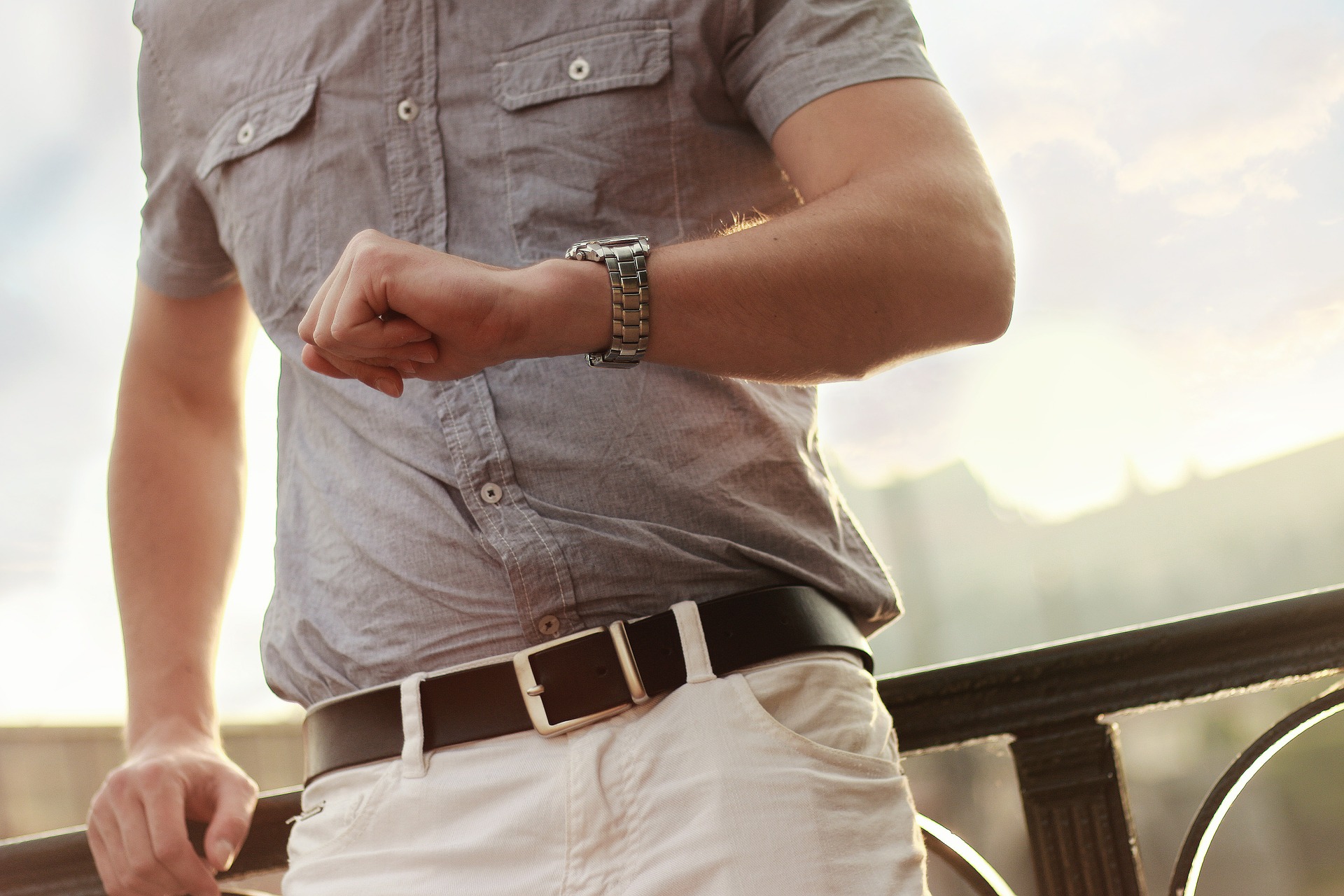 Aside from choosing the type and style of belt you want or need, there are some other factors that you should take into account when buying a belt particularly the size, length, color, and buckle.
Belt Length
Belt sizes differ but they are generally categorized into four – small (27 to 29 inches), medium (30 to 32 inches), large (33 to 35 inches), and extra-large (36 to 38 inches). When selecting a belt, add 2 inches to your waist measurement to get your belt size. For example, if your waistline is 32 inches, your belt size is 34 which means you should buy a belt with large size.
Belt Buckles
As mentioned earlier in this guide, belts come in different buckles. You have more options if you're looking to purchase a casual belt. The following are the major types of belt buckles:
Plate-style – this buckle is detachable and paired with snap belts.
Box-frame – hollow and open-ended, usually made with metal.
O-ring – comes with one or two rings from the buckle and is paired with braided, webbed, or canvass belts.
Snap – resembles the buckle in a seat belt.
Belt Colors
Like anything else in a man's wardrobe, belts come in a myriad of colors too. Make sure you have belts in neutral colors like black and brown to match most types and styles of outfits. And since belts are a fashion statement these days, you're likely to find the color that fits your personality. For example, it can make a bold statement with a contrasting color. When shopping for belts, be sure to find a color that will go with your general clothing choices.
Styles of Buckle
You will be surprised to know that there are so many different belt buckle types. Belt buckles according to attach type include the screw closure, clamp closure, and stitch closure. Meanwhile, the buckle styles according to shape are more diverse. They include the tongue buckles (single and double), double side, reversible, double ring, auto-grip, military, clip, wrestling, auto lock, and auto press buckles.
Buying the Right Belt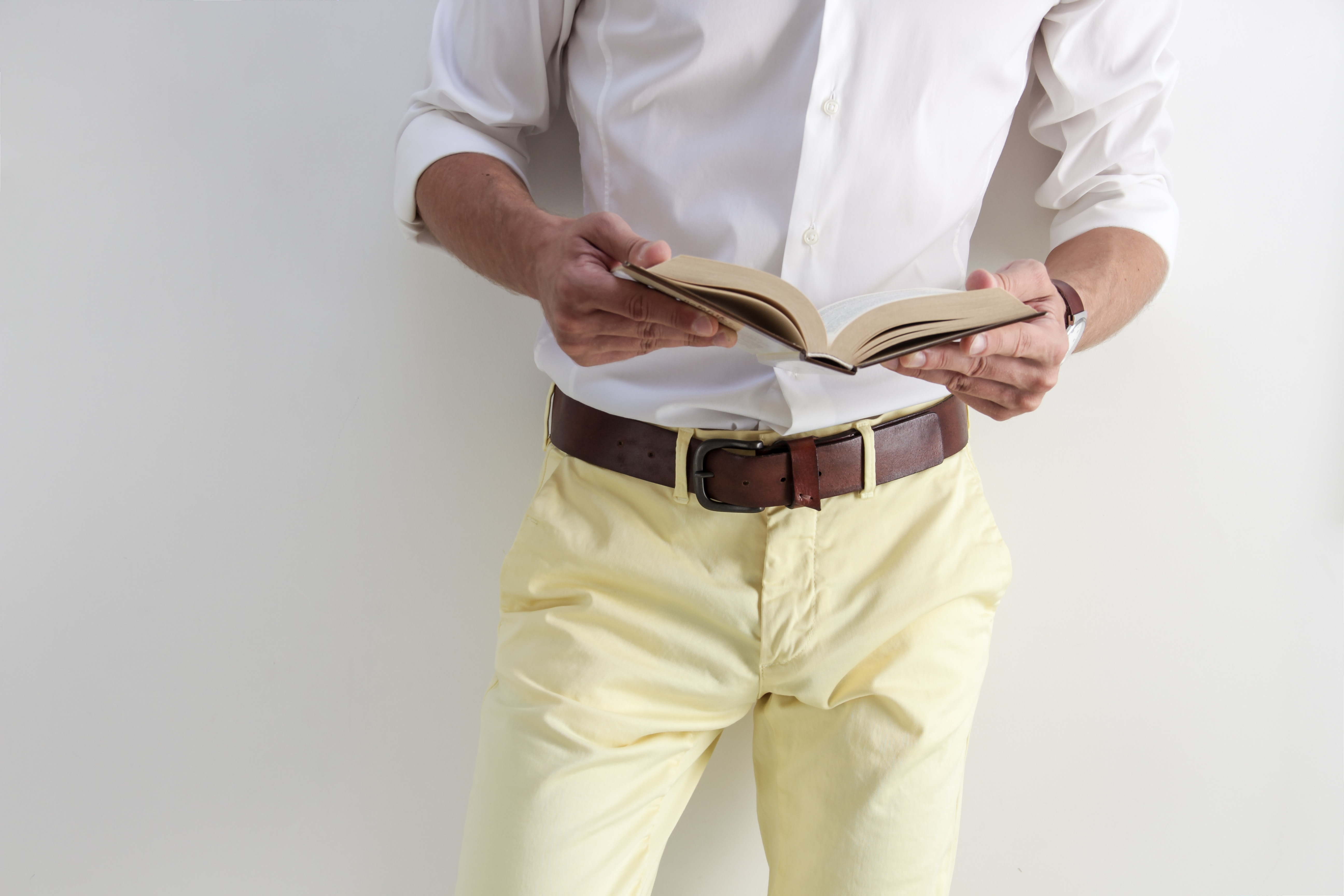 Of course, this belt buying guide is incomplete without knowing the right size, type, and style of belt for you.
Determining Belt Size
In order to make the most out of your belt, you need to make sure that you are getting the right size for you. This can be a tricky process because the belt size is not usually the same size as your waist. As mentioned earlier, it has to be two inches longer. Well, that's just one way to determine your belt size. There are two other methods to do so:
Measuring an existing belt – this should be the simplest approach to choosing the right size for you. You can try belts at the store where you plan to buy. Make sure it comes with several notches on each side of the notch you choose.
Getting professionally measured – you can also enlist the help of a tailor. It might mean spending a little more but it ensures the accuracy of your belt size. If that doesn't work, you can ask the employee at a clothing store to help you figure it out.
In addition to the length, you should also consider the width of your belt. Most men prefer a wider belt width for jeans or khakis (1 1/4 inch to 1 1/2 inch). But for dress pants, you want to choose a narrower belt.
Picking Belt Style
It's always a good idea to have both types of belts– formal and casual – in your wardrobe. Black and brown belts are perfect for conservative environments while belts with bolder colors and styles are great for showing off your character.
Avoiding the Cheap Belt
Lastly, you want to invest in a good-quality belt. Generally, cheap belts don't last as long as they are made from poor materials. You won't need so many belts in your wardrobe. Actually, two or three are fine so there's really no need to skimp on the price range. Do your research and read customer reviews to get to know the best brands for men's belts.
Conclusion
By now, you already know about the belt basics and the important things you should know, such as how to use a belt buckle and how should a belt fit. Whether you're shopping for the best leather belts for men or some uniquely designed casual belts, hope this guide has given you enough information to find a high-quality belt that matches your needs and style.
Mariam Simmons
Mariam Simmons is a fashion enthusiast and Content Manager at Alpine Swiss. She loves traveling to the world's top stylish destinations and gets inspired to create helpful fashion and lifestyle guides. With over a decade of writing experience, her main goal in creating content is to ensure readers learn something useful and provide value instead of noise.
---