What to Wear to the Gym: A Guide for Fashion Conscious Men
2019-07-26
It's just the gym. It's not like you're attending a special event or getting on the runway. So why bother with your outfit? You've said these to yourself so many times. Still, something inside you insists that you should look good even at the gym.
Why not?
When you look good, you feel good. And that all adds to your motivation to work harder and keep pounding that treadmill, enduring the heavy weights, and beating your plank record.
If you're looking for great tips to amp your workout style, you're in the right place. Here are ways to look fantastic in the gym.
Get a Bag That Works In and Out of the Gym
If you're like most working professionals, you don't always have the time to go home and prepare your workout must-haves. Good if it's a weekend. You're fine with a gym backpack. But if it's a typical workday, after your shift, all you want to do is get your bag and head straight to the gym. So, before you think about what to wear to the gym, you should get yourself a nice bag that is versatile enough to match different gym outfits and purposes. Here are some features you should look for when shopping for a gym bag for men:
Big enough to accommodate everything you will need, from your sexy gym workout clothes to your water bottle, healthy snacking foods, towels, etc. without looking too bulky.
Versatile color. Stick to muted colors.
Clean and classic. Since you're taking it to work too, aim for a clean and classic style.
Easy to clean. The last thing you want is to have a smelly, wet, and dusty bag. Choose a bag that has a waterproof bottom, hanger-friendly, and easy to clean. You will appreciate a male gym bag that has wipe-clean linings.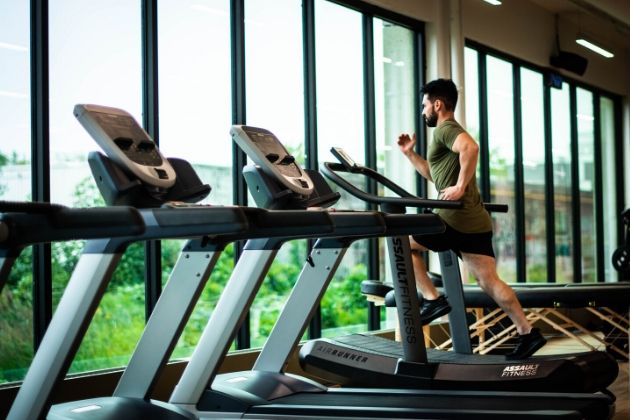 Wear Enough Clothes
What do guys wear to the gym? Forget about what you see in magazines or some fashion websites. You don't want to go topless at the gym. It's not only uncomfortable, but it's also non-hygienic. Imagine using the bench press full of other people's sweat. Learning how to dress for the gym should keep you from potential health issues.
Here are some great gym outfit ideas:
Wear moisture-wicking clothes
Look for stylish workout clothes that are designed to draw perspiration away from your body. These performance fabrics are usually made with a blend of Lycra blend and polyester. They cost a little more than the regular shirts but they dry faster, last longer, and more comfortable to wear.
Go for tees
You might be tempted to look like one of the hot guys in tank tops. But really, girls find men who wear performance tees sexier. They are also more comfortable to wear. Also, muscle shirts that show the nipples are a big NO.
Keep it well-fit
Trade your oversized tees for ones that are more fitted. Baggy clothes have no room for a productive and enjoyable workout. Neither do they have a spot in men's gym clothes. Make sure your clothes fit so they don't flap around while you're running or get into the joints of some workout machine and cause you major injury.
Avoid short shorts
Leggings or compression tights are the best workout pants for men because they give protection, comfort, and much flexibility to move around especially if you like to practice yoga poses. What's more, they make you feel like you're working out at the UFC training camp. Alternately, you can wear a pair of jogger pants for a comfortable workout.
Flatter your figure
Even though leggings are the best way to go, if you are more comfortable with gym shorts, that's fine. While fashion comes and goes, what truly matters is that you feel comfortable with your outfit and that you can achieve your workout goals. Go for clothes that flatter your body shape, not too loose or tight, and kind' to highlight your best features.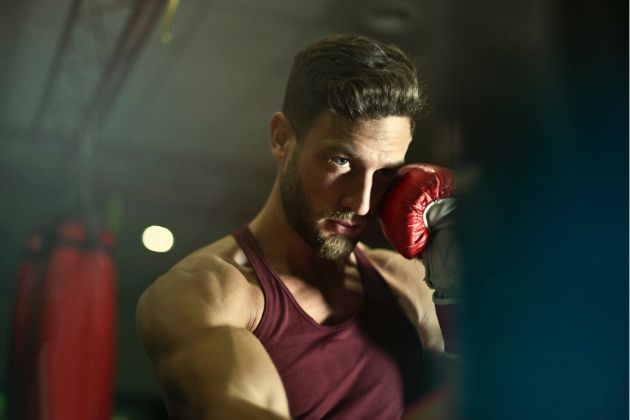 Choose the Best Activewear Fabric for You
Gym outfits for guys are made from varying materials and fabrics. Here are the most common fabrics for activewear:
Spandex. This is used for tight-fitting active wear which is critical for allowing your body to move comfortably.
Polyester. This inexpensive fabric holds is shape better than other fabrics. It also makes a strong and durable material for active wear. With the right treatment, it can have wicking and quick-dry properties.
Nylon. This material is highly resistant to abrasion. It is also treated to add wicking qualities.
Bamboo. Fabrics made with bamboo are soft, cool, and comfortable to the skin.
Wool. This natural fiber is highly breathable and moisture-absorbing. It also has thermo regulation properties.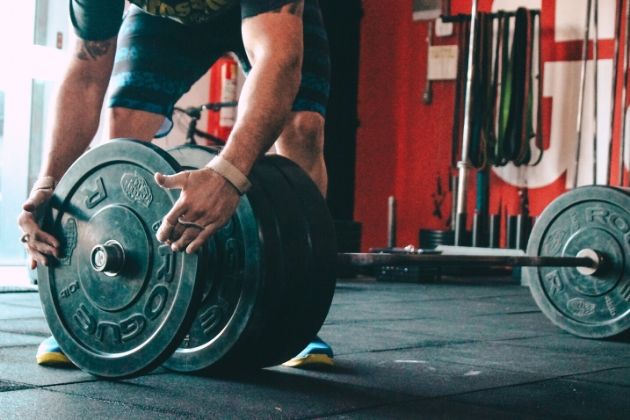 Get the Right Workout Shoes
Your workout shoes are just as important as your workout clothes. You will find many stylish sneakers for men that can complement your gym outfits but men's training shoes should always be comfortable. Remember that men's gym fashion isn't just all about what looks great. It's also about what feels great. So, before you pick one, keep in mind the following guidelines:
Trainers for gym class
The best men's shoes for working out provide great support, comfort, and balance. While running shoes sound suitable, they are suitable only for that. If you regularly go to the gym to work out, a good pair of training shoes is a good investment.
Flat-soled shoes for weight-lifting
For strength and weight training exercises, you need shoes that have a firm and flat base. Well, you are better off with your bare feet. But if the gym does not allow this, you need shoes with firm soles.
Running shoes for the treadmill
If you clock in time on the treadmill whenever you are at the gym, you should also get yourself a pair of running shoes.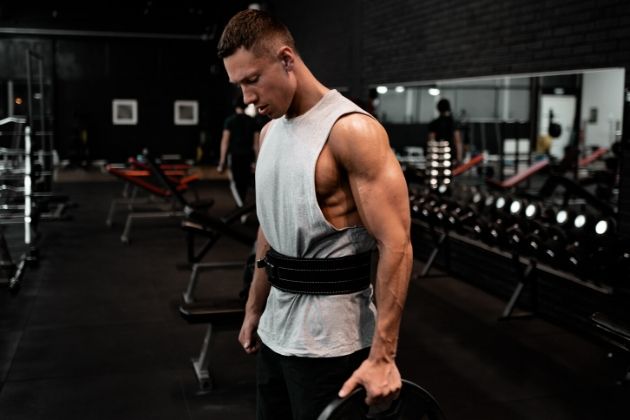 Wear Only Useful Accessories
What's men's gym fashion without accessories? Of course, you need them to complete your outfit. But then, you want to limit yourself to only those that are necessary for your workout.
Jewelry is not only unnecessary in the gym
They're also unsafe. Not only will you be causing damage to your precious items, they may also lead to accidents. For instance, wearing rings while lifting heavy weights can cause discomfort to your fingers.
Phone wear band
If you're one of the many guys who can't work out without music, or if you constantly have to check your phone for some important matters, a phone wear band is a super helpful gym accessory.
Fitness trackers
A fitness watch is a great accessory for monitoring your progress. Surely, it adds to your motivation to know how many calories you've burned or how many steps you've run. Look for a watch with monitor and GPS, which is ideally water-resistant.
Weight belt
If lifting weights is part of your program, you should include a weight belt in your wardrobe. It's such a helpful accessory that gives you enough support for your back and core, and there are even exercises women should avoid without appropriate workout accessories.
Breathable socks
Choose lightweight and breathable socks that are neither too tight or too lose.
Go wireless
Go with wireless or over-ear headphones. It makes life so much better.
Wash bag is a must
Of course, you want to freshen up after a sweaty gym session. Go for dual-action products (such as a 3-in-1 shampoo) to save space. Don't forget to include sanitizing wipes, deodorant, body cologne, hand sanitizer, and a face towel in your wash bag.
Wear Season-Appropriate Top Layer
As you enter the gym, you're probably in your hoodie most of the time. But it doesn't give sufficient coverage, comfort, and convenience.
Gilet for colder months
When it gets seriously chilly, a jacket alone won't cut it. Getting yourself a gilet is the best way to get comfortable working out during the winter. It's excellent in keeping you warm without the bulk and intensity of a regular jacket. Choose thin shell versions of the gilet in neutral colors, such as black, grey or blue. Thin gilets make moving around easy and comfortable.
Windbreakers for warmer days
An activewear windbreaker is a great addition to your fitness wardrobe. It doesn't just look stylish. It also makes working out more comfortable when it's warm. Choose something lightweight and slim fit.
Summary
To pull off fashionable activewear, there are five things you have to consider.
The first one is having a versatile bag that you can use in and out of the gym.
Secondly, wear enough clothes. Choose moisture-wicking gym outfits that are breathable, comfortable, and fit your body.
Third, wear the right shoes. You may need more than one pair of shoes for various workout activities.
Fourth, bring only essential accessories.
And lastly, invest in a season-appropriate layer.
Looking great in the gym can boost your confidence. While you don't want to look like a fashion model while pounding the treadmill or lifting weights, keeping in style surely adds to your motivation. More importantly, learning about the best gym clothes for men is crucial to feel comfortable, safe, and confident during each workout session.
Mariam Simmons
Mariam Simmons is a fashion enthusiast and Content Manager at Alpine Swiss. She loves traveling to the world's top stylish destinations and gets inspired to create helpful fashion and lifestyle guides. With over a decade of writing experience, her main goal in creating content is to ensure readers learn something useful and provide value instead of noise.
---