Do you always find yourself wondering about your OOTD? Every man, regardless of his age, profession and status in life, deserves a complete wardrobe. By "complete", we mean a wardrobe that contains all of the clothing essentials that will keep them confident and looking good in any occasion. This is not necessarily a wardrobe filled with high-end suits or fashionable yet unnecessary clothing that one can only wear once or twice a year.
Whether you're starting a new career, moving to a different city, or simply want to revamp your closet, here are some men's wardrobe essentials that you should have, regardless of your personal style.
Men's Wardrobe Basics
In most cases, men's fashion basics are greatly dependent on the weather of the living location. For example, it is not expected to own lot of sweaters or men's jackets when you live in a warmer region like Texas or Arizona. However, you don't want to look the same all the time. A few pieces of this and that should help you achieve a look that will reflect your style and personality.
You don't want to look the same all time, so keeping key pieces to mix up your wardrobe is key. You don't need a huge wardrobe, a few pieces of this and that should help you achieve a look that will reflect your style and personality. There are certain men's wardrobe basics that you shouldn't go without because the last thing you want to happen is running out of a suitable outfit when you're running late for work, school, or an event..
Here are men's basic clothing essentials that you should have in your wardrobe:
Bomber Jacket
A good-quality bomber jacket is a must-have all year long. Choose something light and loose (preferably made of cotton material) for something comfy to wear during the summer or cozy during the winter when layered up. Bomber jackets are also very versatile. You can pair them with slim-fit pieces of denim, roll necks, or even just plain T-shirts.
Slim-fit Jeans
Demin styles may come and go but no man can go wrong with slim-fit jeans. This basic men's wardrobe staple is a great alternative to the straight legs which might look baggy for some men. Slim-fit jeans can make any man look edgy and stylish. You can pair it with long-sleeves or a polo shirt for a more formal look or just a graphic shirt if you prefer a more casual look.
Button Down Collar Shirt
Wear it with a suit for a more casual look, tuck it your slim-fit pair of jeans, or pair it with a crew neck jumper – you won't go wrong with this versatile staple. A classic white is the best choice because it matches anything. Keep in mind to opt for softer collar shirts like the Oxford button-down as it has a more casual feel than the stiff-collared shirts.
Slim Chino Trousers
Perfect for summer or winter, a pair of slim chino trousers are a great alternative to jeans. It pairs well with a shirt, jacket, a bomber, etc. The combinations are endless. It also creates a casual look – a great choice for an everyday work outfit.
Sweatshirt
Of course, you need one! Maybe a few more. Sweatshirts are among the men's clothing basics that prove timeless. You could have different colors but never skip the grey one as this color pairs well with just about any style and color of pants, trousers, joggers, and shorts.
Crewneck T-shirts
Within every man's essential wardrobe is a pile of crewneck T-shirts that you can wear on its own or as a bottom layer. T-shirts are always comfy to wear, whatever the season. More and more gents are also choosing to wear them at work or in school over traditional suits. Make sure you have a variety of colors. Navy blue, white, black, and grey are a must-have!
Dress Shirt
You'll never know when you need it – an urgent job interview, a presentation at work, business meeting, or a formal event – you definitely need a dress shirt even if you don't think you need one. Go for a black or white shirt so it matches any color tie, suit, or blazer.
Midlayers
Perfect for fall and winter, midlayers make great pieces to have as a layering piece over a shirt when it's breezy weather enough or underneath a coat when it's freezing outside.
Trench Coat
Of all the styles of overcoats available in the market today, the trench is probably the most timeless and versatile. It looks and feels comfortable and can be worn over a suit, or a T-shirt and jeans. Look for a camel or beige color with a more relaxed, slightly longer cut.
Belts
You don't need a lot. 2 or 3 belts in your wardrobe will give you enough options for your daily and occasional outfits. The rule of thumb is that your belt should match your shoes. So, make sure you have black and brown colors.
Sneakers
Of course, you need a pair of sneakers! They make every man look cool, regardless of their outfit. Choose a white pair with minimal designs so you can pair it with most outfits.
Loafers
Great everyday shoes for work, loafers are stylish and comfortable to wear, and never run out of fad. Go for smart-casual loafers that could be paired with a suit or with jeans.
Ankle Socks
Certainly, you need socks. Look for quality socks and always have white and black socks handy. You also need a few pairs of no-show socks because sometimes, you just want your ankles to breathe, especially during the summer.
Underwear
Just because you do.
Men's Capsule Wardrobe Checklist
Less is more. Even with clothes.
You don't need a lot to have a functional men capsule wardrobe. A few pieces/varieties of the clothing essentials discussed above should get you ready for everyday work or any occasion.
Before you get rid of items in your closet or rush to the store to buy new ones, consider this men's capsule wardrobe checklist if you don't know where to start: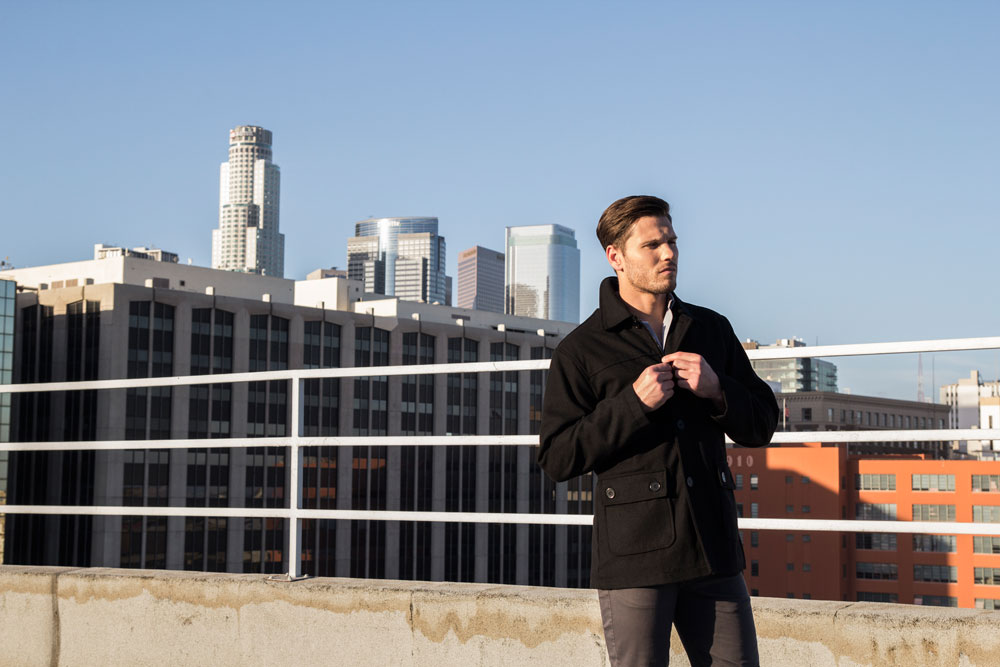 Clothing:
3 basic T-shirts
2 collared shirts
1 Trench Coat
1 bomber jacket
1 pair of slim jeans
1 pair of joggers
1 pair of slim chino trousers
2 sweatshirts
2 Midlayers
1 twill shorts
1 denim shorts
1 Cardigan
1 Hoodie
8 pairs of underwear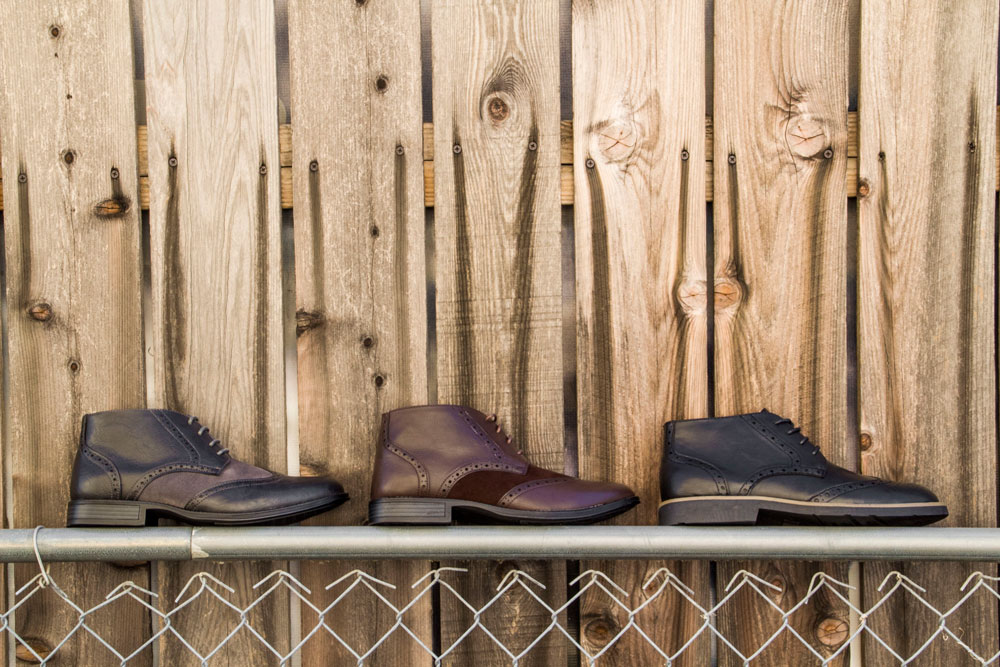 Shoes:
1 pair of White Sneakers
1 pair of Brown or Black Loafers
1 pair of No-lace boots
1 pair of slides
8 pairs of socks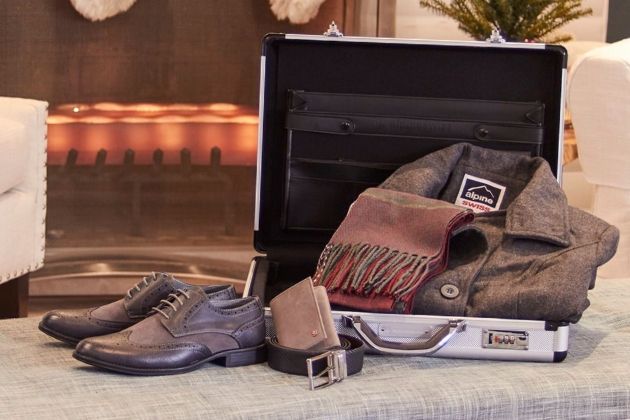 Accessories:
Sunglasses
Hat Belts (up to three)
Tie
Back Pack
Messenger Bag
Watch
Men's Wardrobe Staples
In addition to the items listed above, there are a few more men's fashion staples that every guy should have.
Single-breasted Suit
This workwear must-have will keep you looking great on your next presentation, business meeting, or conference. It's also a great pick for fancier evening occasions. Choose a grey or navy suit for the most versatility.
Tuxedo
A man's wardrobe is incomplete without a solid, black tuxedo. It is not an everyday necessity but still a staple. It's a stylish pick for a formal event.
Polos
Pink and blue are perfect colors for everyday work and also make a wonderful weekend attire.
What Every Man Needs in His Wardrobe
Now that you have a simplified men's wardrobe checklist along with men's wardrobe must-haves, it is time to start sorting through your stuff.
Be sure to include:
Bomber Jacket
Slim-fit Jeans
Button Down Collar Shirt
Slim Chino Trousers
Sweatshirt
Crewneck T-shirts
Dress shirt
Midlayers
Trench Coat
Single-breasted Suit
Tuxedo
Polos
Underwear
Socks
Loafers
Sneakers
Belts Sunglasses
Hat
Belts (up to three)
Tie
Back Pack
Messenger Bag
Watch
Final Words
Regardless of your fashion style, the wardrobe basics for every man is the same. You don't need a lot, but you certainly need the essential pieces listed above. These wardrobe essentials are your starting point for stylish outfits that will make you look and feel good at any day and during any season.
---