Protect Your Money on the Road: Secure Wallets That Worth Buying
2020-03-31
There's no question that technological advancements have made life easier. Just think, there's no longer a need to carry cash in your wallet if you've got an RFID chip in your credit and/or debit card. Just tap to pay. This has definitely upped the convenience factor. Unfortunately, the same can be said for modern day thievery. Instead of picking pockets on a crowded street, thieves can easily capture your credit card information using an RFID without even touching a hair on your head. And you won't even know that they've done it until you find out that someone's been charging stuff on your account. Welcome to the world of RFID skimming. So, how do you protect yourself from modern day thieves like these? That's where secure wallets come in. Specifically, the credit card security wallet.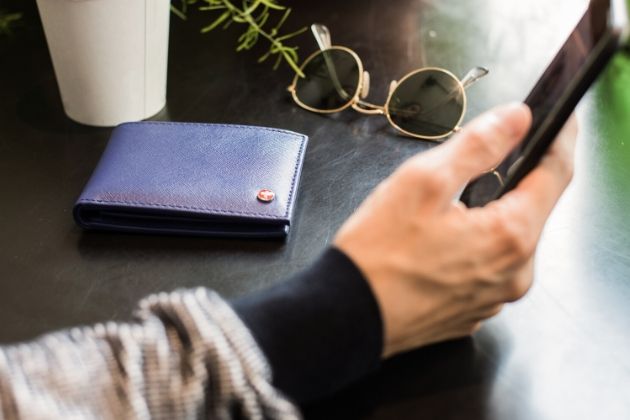 What are secure wallets
Just to be clear, we're talking about RFID wallets here. Not the wallets that are used to keep your cryptocurrency safe. So, what are RFID wallets? What do they do? Well, these are wallets that prevent credit card scanning. They feature technology and materials that have been specifically designed to block any RFID frequencies coming from scanners that are mimicking the same waves that are sent and received by your card during a transaction. In short, this type of wallet will prevent people from stealing your information without your consent.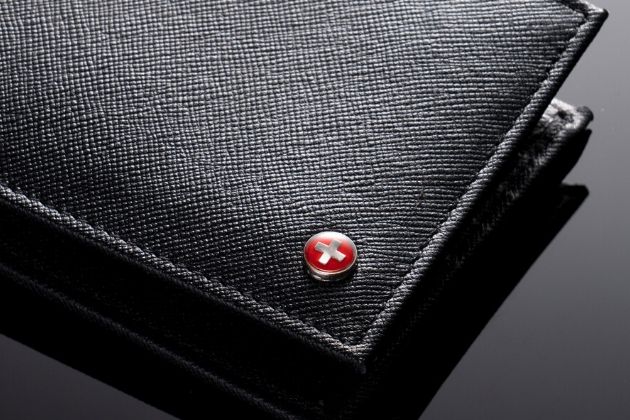 What are the advantages of secure wallets
The most obvious advantage to obtaining a secure wallet is the RFID-blocking technology. Having this wallet allows you to be the one in control, the person deciding on who you trust your information with. You won't be vulnerable to identity theft, at least through RFID skimming. As a result, you're able to protect your money. More importantly, you're able to ensure that your credit stays safe.
Aside from protecting yourself from identity theft, one other advantage to using a secure credit card wallet is because it provides you with peace of mind. This is especially true if you're incredibly risk-averse. While the chances of someone scanning the RFID chip in your credit and/or debit card are not very high, it's also not non-zero. It's possible and it has happened before. The possibility goes higher if you are frequently passing through crowded places.
Types of Secure Wallets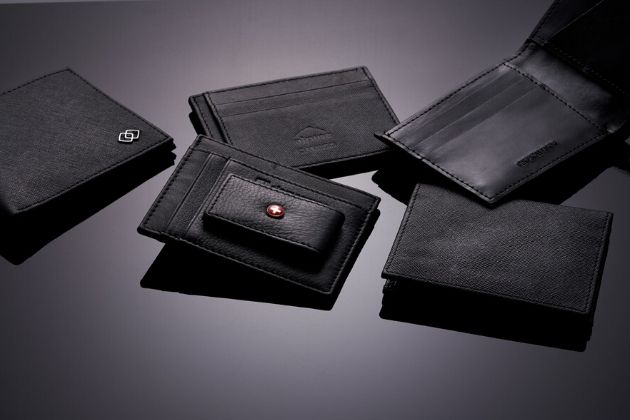 There are different types of wallets that provide credit card protection or RFID-blocking technology. Below, we discuss in detail the most popular types to help you figure out which secure wallet is most appropriate for you.
Money Clip
The money clip is specifically designed with accessibility in mind. It makes it easy for you to quickly get your cash or card whenever necessary. As an added bonus, it contains card slots to keep yours organized. However, compared to wallets, the slots are limited which means that you'll be limited in the number of cards you can protect with the RFID technology. Cards stored under the money clip itself will be vulnerable to scanning. When choosing this secure wallet, look for one that had more cardholders than you actually need, so you have extra space just in case.
Credit Card Holder
This credit card security wallet is not so much a wallet as it is a storage space for all your credit cards. Usually, this "wallet" features a single sleeve where you can store cash and cards in the inside pouch. Naturally, this limits the number of cards you can store in it. But if you prefer to keep your pockets light and less bulky, then this is a good option for you.
Bifold Wallet
Of all the wallet types in the market, the bifold is perhaps the most popular. So, it really doesn't surprise us that a lot of RFID blocking wallets for men fall under this category. Typically, this wallet is much slimmer than the trifold wallet. It features a protective sleeve where you can store all your credit and debit cards. The biggest advantage of this style is that it looks just like any other guy's wallet; this keeps the fact that you're using a men's RFID wallet on the down low. As an added bonus, this classic wallet features a design that won't be going out of style anytime soon.
Trifold Wallet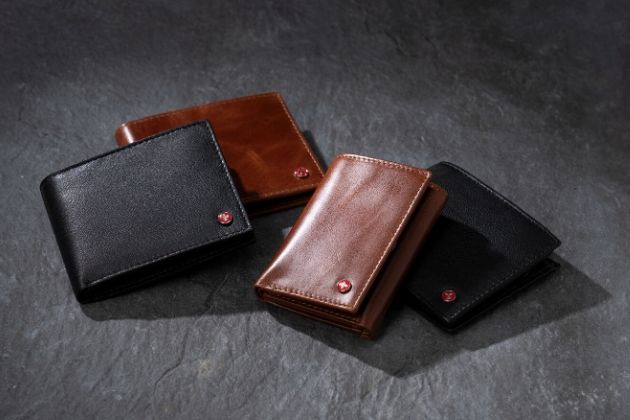 Similar to the bifold wallet, the trifold features a protective sleeve that's sewn to the wallet where you can safely store your credit and debit cards. However, unlike the bifold, this wallet can become quite bulky. I can even become so bulky that sitting down on it can feel uncomfortable. The trifold is a good option if you only plan on putting very few items in your wallet but are not comfortable using a money clip or a credit card holder.
Passport Wallet
Your credit and debit cards are not the only things in your possession that feature an RFID chip. Your passport does too. Instead of your account information, it contains your name, birthdate, and other biological information. If you're afraid for being vulnerable to identity theft, you're going to need to protect your passport too. People who love to travel abroad can rest easy with a passport wallet. This type of secure wallet features RFID blocking technology just like your bifold and trifold wallets. The main difference is that the passport one is bigger to accommodate this precious document. It conforms to the International Civil Aviation Organization – ISO/IEC 7810 ID-3 Standard, so the wallet typically measures 5″ x 3.5″. The biggest drawback to this wallet is the fact that it won't easily fit in your pocket. It needs to be carried in your bag.
Sleeves
If getting an entirely new wallet is not in the cards for you, not to worry. You can still protect your credit card using a sleeve. You can "install" the sleeve in your wallet and slide in the card you want to protect. Sleeves are easy to use and very affordable. You can opt to use more than one in your wallet. However, the drawback is that you are not protecting all the contents of your wallet. If there's a card that you mistakenly assumed did not contain RFID technology, you may be placing it at risk.
Phone Wallet
One of the new types of wallets that have been recently introduced to the public is the phone wallet. As the name suggests, this is a wallet that also doubles as a case for your smartphone. The 2-in-1 functionality of the phone wallet is great. However, there's a possible drawback. The RFID-blocking technology works by stopping certain frequencies. It could potentially block your phone from sending and receiving calls. If you're opting for a phone wallet, you should make sure that the RFID protection does not negatively impact your phone's signal quality as well as battery performance.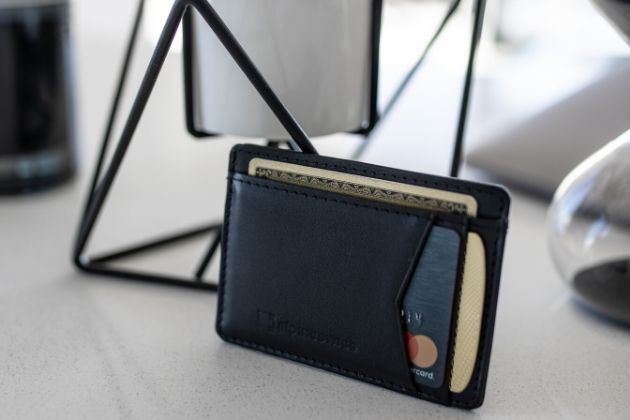 How to Choose a Wallet For Credit Card Protection
After learning about how to choose a wallet and the different types of wallets that prevent credit card scanning, what's next? How do you know which secure wallet is best for you? Below are other factors that you can use to determine your decision:
Storage: How many card slots are available? Make sure to take inventory of all the items you want to carry in your wallet. Add a few extra slots to that count, just to be sure you have space for new cards in the future.
Picture Sleeve: Do you like carrying a physical picture of your loved ones in your wallet? Then, this is a factor you'll need to take into account.
Coin Pocket: Coins in your pocket can be such a bother. If you're not a fan of hearing them bounce or getting your phone scratched, you might want to consider a secure wallet with a storage space for coins.
ID window: This is a feature that's designed for convenience. Instead of taking out your ID every time you need to have your identity and/age verified, you can just flip your wallet open and show them your ID. You're done in seconds.
Material: Wallets that protect your credit cards come in a variety of materials. These include leather RFID blocking wallets. You can also expect to find wallets made of carbon fiber, aluminum, canvas, and EDC. wallets that protect your credit cards
Mariam Simmons
Mariam Simmons is a fashion enthusiast and Content Manager at Alpine Swiss. She loves traveling to the world's top stylish destinations and gets inspired to create helpful fashion and lifestyle guides. With over a decade of writing experience, her main goal in creating content is to ensure readers learn something useful and provide value instead of noise.
---